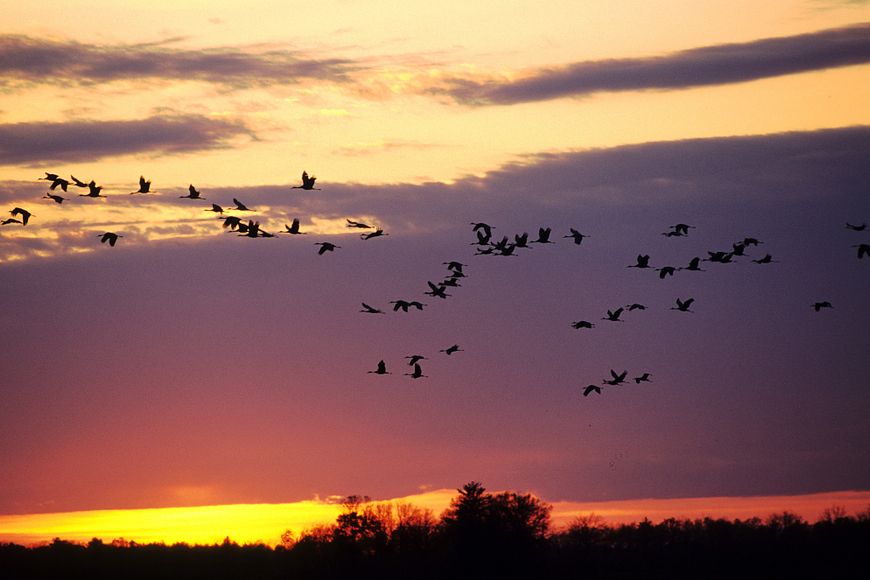 Attention Visitors: Sandhill Wildlife Area Vehicle Access is Closed for the Season
The Trumpeter Trail will re-open in mid-April.
The 9,150-acre State Wildlife Area was named for a series of gently rolling sandy ridges crisscrossing the property. Sandhill Wildlife Area lies within the bed of ancient Glacial Lake Wisconsin - an expansive region of flat, marshy land interspersed with forests covering parts of seven counties in central Wisconsin. The property features low, sandy uplands of oak, aspen and jack pine forests, large marshes and many flowages. A small herd of American bison, white-tailed deer, ruffed grouse, Canada geese, ducks, loons, bald eagles, sandhill cranes, shorebirds, songbirds, hawks, owls and furbearers find a great home here at Sandhill. You will find the land is a remote, quiet wildlife oasis amidst a bustling world dominated by people.
Sandhill Wildlife Management Area is managed by a team of Wisconsin DNR wildlife technicians, a wildlife biologist, a forester and the property supervisor. This unique property is surrounded by a 9' deer-proof fence, providing the perfect environment for wildlife research. Special permits and restrictions are in place within the fenced area of the property. Please visit the Hunting/Trapping tab for further information. DNR staff manages the Sandhill property, the Wood County Wildlife Area, and the Meadow Valley Wildlife Area. The Sandhill-Meadow Valley Work Unit master plan was completed in 2011 and guides the long-term management of this property.
The Friends of Sandhill [exit DNR] has been a nonprofit group supporting Sandhill Wildlife Area since 2002. All their activities and the money they raise benefit Sandhill Educational/Demonstration Area and its visitors. They are an organization of interested persons from all backgrounds dedicated to furthering Sandhill's interpretive, educational, and visitor service programs. To become a member or for more information, visit them on the web [exit DNR] or Facebook [exit DNR].
Sandhill Wildlife Area is located in southwestern Wood County, approximately 25 miles south of Marshfield and 17 miles west of Wisconsin Rapids. The property headquarters and visitor's entrance are one mile west of Babcock on County Highway X. The headquarters address is 1715 County Highway X, Babcock, WI 54413. Sandhill is just one of many state wildlife areas throughout Wisconsin owned and managed by the Department of Natural Resources.