Outdoor skills trainers (OST) oversee the safety programs taught in their area. The OST Team are non-law enforcement safety specialists responsible for coordinating a recreational safety and educational program within their assigned area. Our OSTs recruit, train and monitor the services of volunteer safety program instructors and assist in the development of recreational safety course content. The OST is your first point of contact regarding any request or concerns about safety education programs.
The Wisconsin DNR outdoor skills trainers administrative areas map is separated by color according to the OST providing coverage for those counties.
Linda Xiong - Eau Claire (WCR)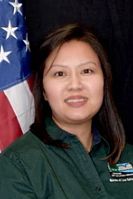 Contact Linda Xiong
Linda Xiong was born in Eau Claire and spent the majority of her childhood growing up in Stevens Point. Linda graduated from UW-Eau Claire in 2012 with a bachelor's degree in criminal justice. She began her career with the DNR in 2013 as an office associate and natural resource educator. Linda and her husband Kee have two children. In her free time, she enjoys hunting, gardening, reading and photography.
Kimberly Cooley - Fitchburg (SCR)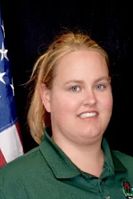 Contact Kimberly Cooley
Kim Cooley is originally from Grant County. Kim went to college at UW-Stevens Point where she received her bachelor of science in wildlife management, with minors in biology, conservation biology and captive wildlife management. She has completed several internships including spending a summer in Texas bottle raising white-tail fawns, two summers at Wildwood Wildlife Park in Minocqua and a summer/fall at Bay Beach Wildlife Sanctuary in Green Bay. Kim has been a part of the safety programs with the Department since November of 2011, first in the Northeast and now in the South Central Region. In Kim's spare time, she enjoys crafting and reading. Kim and her finance Nik also have 4 dogs, which they train and compete in dog agility.
Kayla Sasse - Green Bay (NER)
Contact Kayla Sasse
Kayla Sasse is originally from Lincoln County and grew up in north-central Wisconsin. She graduated from UW-Stevens Point in 2014 with a bachelor's degree in Forestry Recreation and a minor in Adventure Education. She worked for several years as an environmental educator in Wisconsin and Montana. Kayla began her career at the DNR as a customer and outreach services representative before transitioning to the Division of Public Safety & Resource Protection. In her free time, she likes to garden, hunt, fish, and camp.
Vacant - Waukesha (SER)
Kate Juza - Spooner (NOR)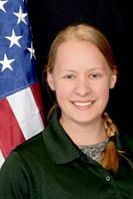 Contact Kate Juza
Kate Juza (YOU-ZA) was born and raised in Rice Lake, Wis. She received her associate's degree from the University of Wisconsin Barron County and later went on to study mortuary science at Worsham College near Chicago. She has been working with the Wisconsin DNR as the recreational safety program assistant and natural resources educator in the northern region since 2012 and currently serves as a volunteer with Shell Lake Fire Department and director of marketing and outreach at her husband's architectural woodworking firm, DP Juza Woods and Fixtures.
Kate is a seasoned musician and has performed with orchestras and organizations throughout the U.S. and Europe for nearly 25 years, but her true passions are weightlifting, nutrition coaching, hunting and most of all -- fishing.
Within the next year, Kate's goal is to introduce new ideas, develop new relationships and help create a strong program within R3 that fulfills the vision of the team and Division of Public Safety and Resource Protection.