Nature Center and Programs
Devil's Lake State Park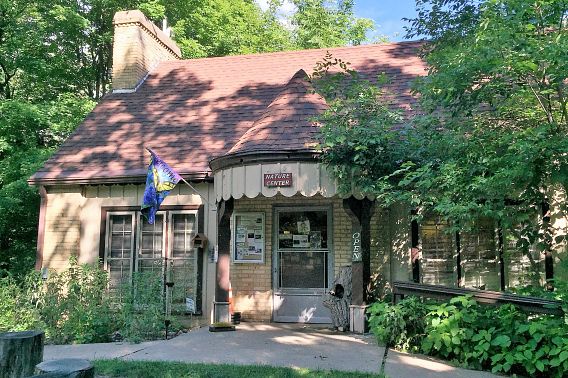 Location
S5975 Park Rd.
Baraboo, WI 53913
Located near the park's north entrance. It is the first building you come to, before heading down to the lake/beach area.
Phone Number
608-356-8301 Ext. 140
Hours
Monday-Saturday
Sunday
Hours are subject to change due to staff schedules and scheduled programs.
Snowshoes
Devil's Lake State Park has snowshoes that visitors can borrow for free. Snowshoes can be borrowed anytime the Nature Center or North Shore Visitor Center are open. The park's snowshoes cannot be taken off the property and are handed out on a first-come, first-served basis.
Things to Do
The Nature Center makes a great start for your visit to Devil's Lake State Park. Friendly staff and volunteers will help you become acquainted with the park's trails, recreational opportunities, unique geology, history and all the natural curiosities of the park.
At the Nature Center, you'll find a three-dimensional, birds-eye model of the park – great for helping you plan your hike! There are several live Wisconsin reptile and amphibian terrariums as well as lots of displays on the park's wildlife. Check out the geology displays and learn how Devil's Lake's unique landscape was formed. Discover the park's human history with the Nature Center's extensive historic photograph collection housed in the center's lower level. Kids can enjoy lots of hands-on displays and items upstairs and on the lower level. Come and play in the kids' exploration room with puzzles, mystery boxes, fun games and activities.
Throughout the year, the park naturalist presents a wide array of fun-filled, hands-on educational and outdoor recreation programs. Programs happen at the Nature Center and throughout various areas within the park. The programs are for all interests and age levels.
Gift Shop
No
School Field Trips
Yes - Contact property staff for more details.