Wolf hunting and trapping
Following a federal court ruling on Feb. 10, 2022, gray wolves are listed as an endangered species in the lower 48 states (excluding the northern Rocky Mountains region). As such, wolves are federally protected. Harvest and lethal depredation control are prohibited.
Wisconsin's wolf population remains healthy and secure in the state. The department will continue its robust wolf population monitoring program and the development of an updated wolf management plan. The DNR will continue to partner with USDA-Wildlife Services to address wolf conflicts in Wisconsin.
If you suspect wolves in the depredation of livestock, pets or hunting dogs, or if wolves are exhibiting threatening or dangerous behavior, contact USDA-Wildlife Services staff immediately. If in northern Wisconsin, call 1-800-228-1368 or 715-369-5221; if in southern Wisconsin, call 1-800-433-0663 or 920-324-4514. While gray wolves are listed as a federally endangered species, it remains unlawful to shoot a wolf unless there is an immediate threat to human safety.
Fall 2021 Harvest Season
Fall 2021 Wolf Hunting and Trapping Regulations [PDF]
The DNR prepared for a Fall 2021 wolf harvest season through a transparent and science-based process. The DNR convened a 2021 Wolf Harvest Advisory Committee to provide input on the management objectives and harvest quota for the fall season. The committee considered the current management plan, state statute and the February 2021 season report in providing input to the department. In addition, the DNR coordinated with our Tribal partners and sought further public input on harvest objectives.
The statewide quota for the Fall 2021 wolf season was set at 130 wolves. The Department set an objective of no significant population change based on the consideration of all of the relevant factors set forth in statutes and in our administrative code and asked agency scientists to determine a quota to meet this objective using the best available science. Prior to setting the quota, there was an extensive public input period followed by thorough review of the information gathered.
State-licensed hunters and trappers were authorized to harvest 74 wolves within the six zones established in the department's regulations with the remaining 56 allocated to the Ojibwe Tribes'.
The table below shows how the quota will be distributed between the six hunting zones, taking into consideration the Ojibwe Tribal Declaration.
Fall 2021 Wolf Season Quota Allocation and Tribal Declaration
Zone
DNR Quota
Ojibwe Tribal Declaration
State Quota
State Licenses
(5:1 ratio)
1
48
24
24
 
2
36
16
20
 
3
20
10
10
 
4
8
3
5
 
5
10
1
9
 
6
8
2
6
 
 
130
56
74
370
In light of the state quota of 74 wolves, the department used a license ratio of 5:1 to offer the opportunity to 370 successful applicants to purchase a state wolf hunting license. 
The department's decision is consistent with state statutes and department regulations, which authorize the department to make the final decision on the quota and the number of licenses. The department's analysis can be accessed here.
Application Dates: March 1 - Aug. 1, 2021
On October 25, 2021, a court-ordered injunction was issued against the season. The DNR is currently reviewing the court-ordered injunction of the 2021 Fall wolf season, including issuing wolf harvest licenses. Wolf harvest applications will remain in their submitted status until further notice. We thank you for your patience.
Season Dates: Nov. 6 - Feb. 28 or when all harvest zones are closed.
License fee: $49 (resident) | $251 (non-resident)
Quota: The Natural Resources Board considered the DNR's quota recommendation, informed by the 2021 Wolf Harvest Advisory Committee and public input, at its August meeting.
The map of wolf harvest zones is currently available.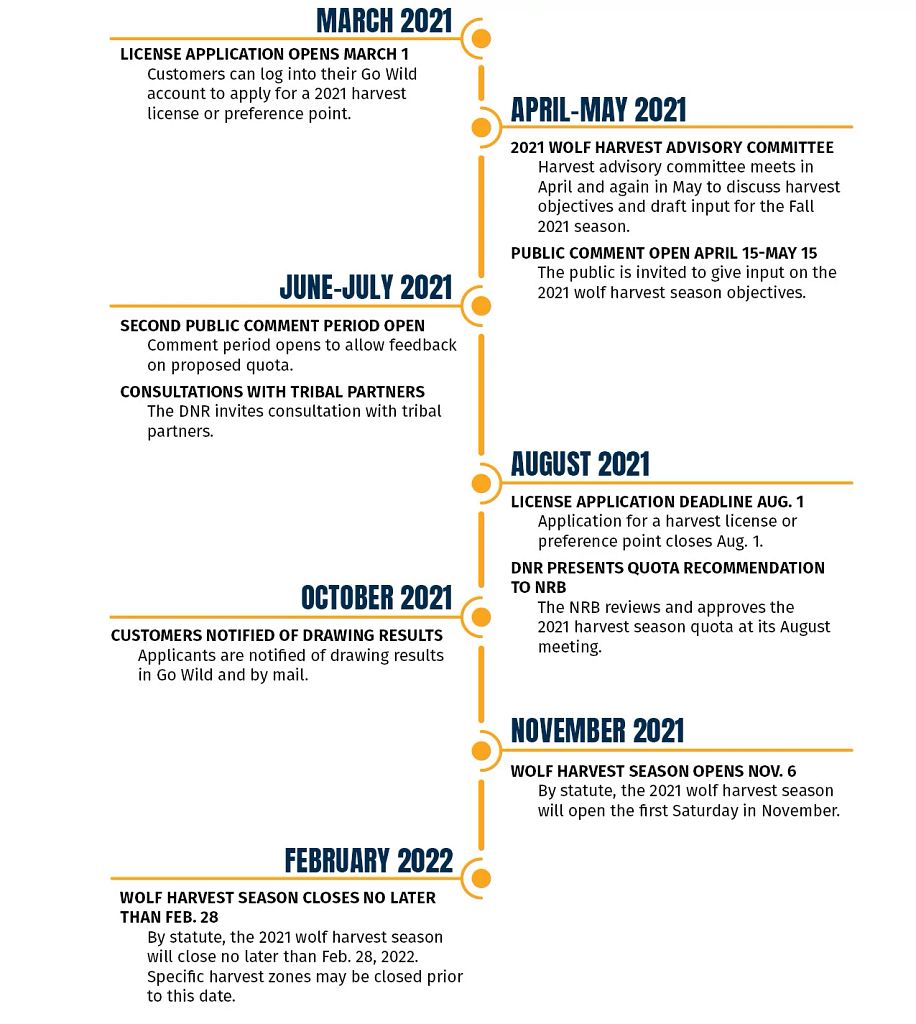 Preference Point Status
To find out about how many points you have accumulated, log in to your Go Wild account and look under "Applications and Points" on your home page.
As identified in state statute, wolf harvest licenses are issued through an application and 2-stage drawing process. The initial drawing for 50% of the available licenses are issued through a random lottery in which all applicants are entered. The remaining 50% of the available licenses are issued based upon the cumulative preference points of applicants, which provides unsuccessful applicants from prior years a greater chance to obtain a license. Residency status does not influence the drawing. Each awarded license, once purchased, allows the licensed hunter or trapper to harvest one wolf by any legal method.
Past Harvest Seasons
Information on past regulated wolf harvest seasons in Wisconsin is available in the reports below. 
Historic Season Information:
Wolf Identification
While gray wolves and coyotes may look alike at first glance, hunters and trappers can look for several traits to identify their target species:

Ears: Wolves' ears are smaller in proportion to their heads than those of coyotes. Wolves ears are also more rounded than coyote ears.
Snout: Wolves have a blocky snout while coyotes have a pointed snout.
Body Length: Nose to tail, mature wolves measure approximately 5-6 feet in length while mature coyotes measure 3.5-4.5 feet in length.
Weight: Wolves weigh significantly more than coyotes. A grown wolf will weigh between 50-100 pounds. A grown coyote will weigh between 25-45 pounds.