Wolf hunting and trapping
The U.S. Fish and Wildlife Service removed gray wolves from the federal endangered species list on Jan. 4, 2021, returning management authority to state agencies. The Wisconsin DNR has successfully managed gray wolves for decades and will continue to do so in accordance with the laws of our state and the best science available.
The DNR is updating Wisconsin's wolf management plan with input from a Wolf Management Plan Committee, tribal partners and the public. For more on wolves in Wisconsin, visit the DNR website for additional information on wolf hunting and trapping, wolf management and wolf conflict abatement.
Fall 2021 Harvest Season
The DNR is preparing for a Fall 2021 wolf harvest season through a transparent and science-based process. The DNR has convened a 2021 Wolf Harvest Advisory Committee to provide input on the management objectives and harvest quota for the fall season. The committee will consider the current management plan, state statute and the February 2021 season report in providing input to the department. In addition, the DNR will coordinate with our Tribal partners and will seek further public input on harvest objectives.
Application Dates: March 1 - Aug. 1, 2021
The application period for the Fall 2021 wolf harvest season is open March 1 through Aug. 1. The application fee is $10. Visit your Go Wild account or a license agent to submit your application. Drawing results will be available by mid-September.
Season Dates: Nov. 6 - Feb. 28 or when all harvest zones are closed.
License fee: $49 (resident) | $251 (non-resident)
Quota: The Natural Resources Board will consider the DNR's quota recommendation, informed by the 2021 Wolf Harvest Advisory Committee and public input, at its August meeting.
The map of wolf harvest zones is currently available. Wolf hunting and trapping regulations will be available in August.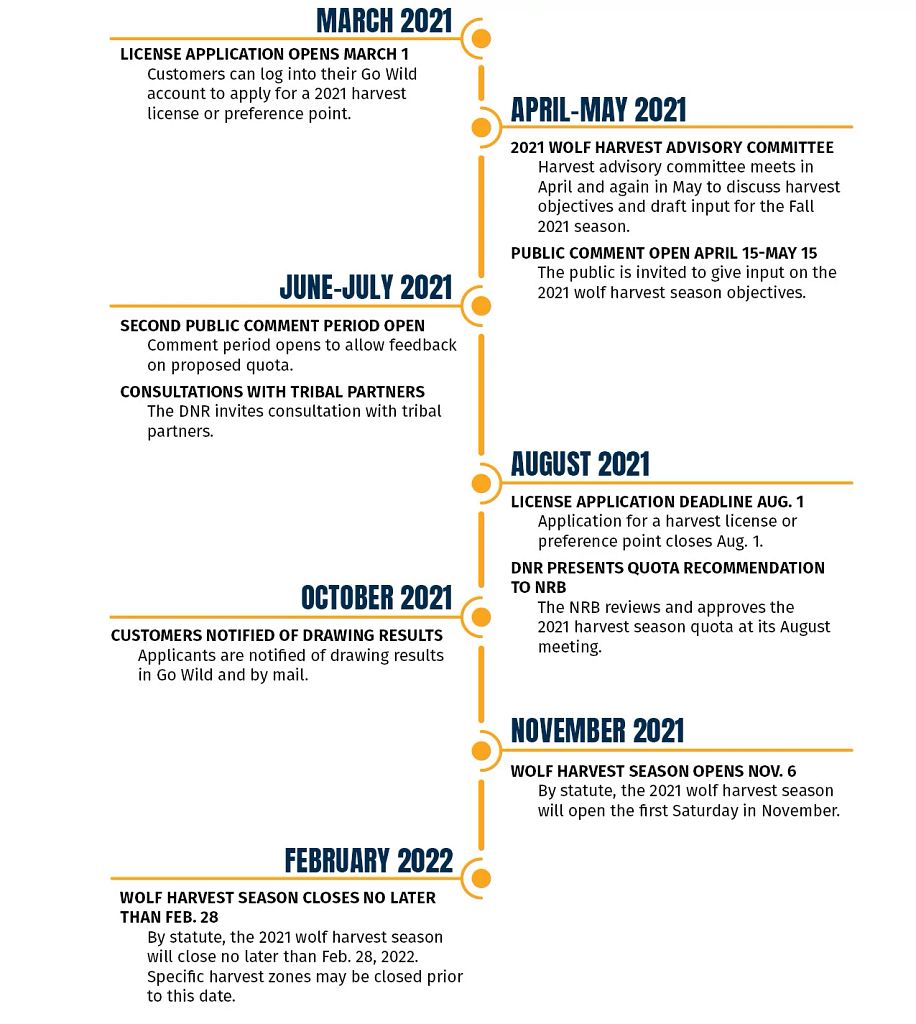 Preference Point Status
To find out about how many points you have accumulated, log in to your Go Wild account and look under "Applications and Points" on your home page.
As identified in state statute, wolf harvest licenses are issued through an application and 2-stage drawing process. The initial drawing for 50% of the available licenses are issued through a random lottery in which all applicants are entered. The remaining 50% of the available licenses are issued based upon the cumulative preference points of applicants, which provides unsuccessful applicants from prior years a greater chance to obtain a license. Residency status does not influence the drawing. Each awarded license, once purchased, allows the licensed hunter or trapper to harvest one wolf by any legal method.
Past Harvest Seasons
The February 2021 wolf harvest season closed at 3 p.m. on Wednesday, Feb. 24. The final season report contains information on season structure and harvest. The season drawing summary is also available.
During the Natural Resources Board Special Meeting on Feb. 15, the board unanimously voted for a harvest quota of 200 wolves outside reservation lands. Of the approved quota, 119 wolves are allocated to the state, and 81 wolves are allocated to the Ojibwe Tribes in response to the Tribes' declaration and in accordance with their treaty rights within the Ceded Territory.
The department's approved quota considered 2020 wolf population data, population response to previous harvest seasons, scientific literature, and population model projections. The quota's objective was to allow for a sustainable harvest that resulted in no annual increase or decrease in the state's wolf population.
February 2021 Rules and Regulations
View and download the February 2021 Wolf Hunting And Trapping Regulations pamphlet.
February 2021 Harvest Zones
During the February 2021 season, wolves were pursued statewide except in zones that are closed early.
Wolf harvest licenses and tags were not valid to be used within the exterior boundaries of the Bad River, Lac Courte Oreilles, Lac du Flambeau, Menominee and Red Cliff reservations nor within the designated Stockbridge-Munsee wolf zone except with DNR depredation permits.
Hunting and Trapping in State Parks
Visit our page on hunting and trapping in state parks for more information.
Hunting and Trapping at Fort McCoy
Fort McCoy was closed to wolf hunting and trapping during the February 2021 season. Fort McCoy conducts its own hunting seasons independent of the DNR's seasons. For Fort McCoy season dates and regulation information, please see mccoy.iSportsman.net [EXIT DNR].
Hunting and Trapping on the St. Croix Riverway and Apostle Islands
Hunting is allowed according to Wisconsin state regulations with a few exceptions in the St. Croix National Scenic Riverway and the Apostle Islands National Lakeshore. For more information, please visit the National Park Service's page on hunting.
Trapping is restricted in the St. Croix National Scenic Riverway and the Apostle Islands National Lakeshore. The National Park Service has specific regulations on these sites to inform the public of special federal regulations already in place. For more information visit the National Park Service's page on trapping.
Historic Season Information:
Wolf Identification
While gray wolves and coyotes may look alike at first glance, hunters and trappers can look for several traits to identify their target species:

Ears: Wolves' ears are smaller in proportion to their heads than those of coyotes. Wolves ears are also more rounded than coyote ears.
Snout: Wolves have a blocky snout while coyotes have a pointed snout.
Body Length: Nose to tail, mature wolves measure approximately 5-6 feet in length while mature coyotes measure 3.5-4.5 feet in length.
Weight: Wolves weigh significantly more than coyotes. A grown wolf will weigh between 50-100 pounds. A grown coyote will weigh between 25-45 pounds.