Wisconsin Master Logger Environmental Results Charter
Charter participant since 04/16/2012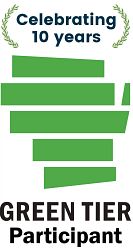 The Wisconsin Master Logger program represents loggers from across Wisconsin that are committed to going beyond compliance in harvesting practices. These dedicated professionals demonstrate their commitment to sustainable forestry by practicing environmentally sound approaches. They ensure that timber is harvested with high sustainability standards to guarantee Wisconsin's working forests continue to regenerate for this and future generations.
About the charter
The Wisconsin Department of Natural Resources and the Wisconsin Master Logger program drafted this charter to establish a foundation by which voluntary methods will be used to improve forest management practices for consistent protection of the state's natural resources. These seven areas, listed below, also include standards and practices for each responsibility.
Protection of water quality and soils.
Compliance with government regulations appropriate to a logging business.
Conformance with acceptable silviculture and utilization standards.
Participation in ongoing training programs.
Application of aesthetic management techniques where applicable.
Following management plans that are site specific and agreed to by the landowner.
Use of sound, ethical business management practices.
Charter participants
The following entities have signed the Wisconsin Master Logger Environmental Results Charter.
Wisconsin Department of Natural Resources
Documents
News Release
Videos
Reports
Charter
DNR contact
Company contact
Brian Zweifel
1500 N Johns St
Dodgeville WI 53533
Cell 715-605-2615
Kari Divine
Program Director
Sustainable Resources Institute, Inc.
337 Superior Ave
Crystal Falls, MI 49920
906-875-3720