FOR IMMEDIATE RELEASE: 2022-09-23
DNR Welcomes Fincantieri Marinette Marine To Wisconsin's Green Tier Program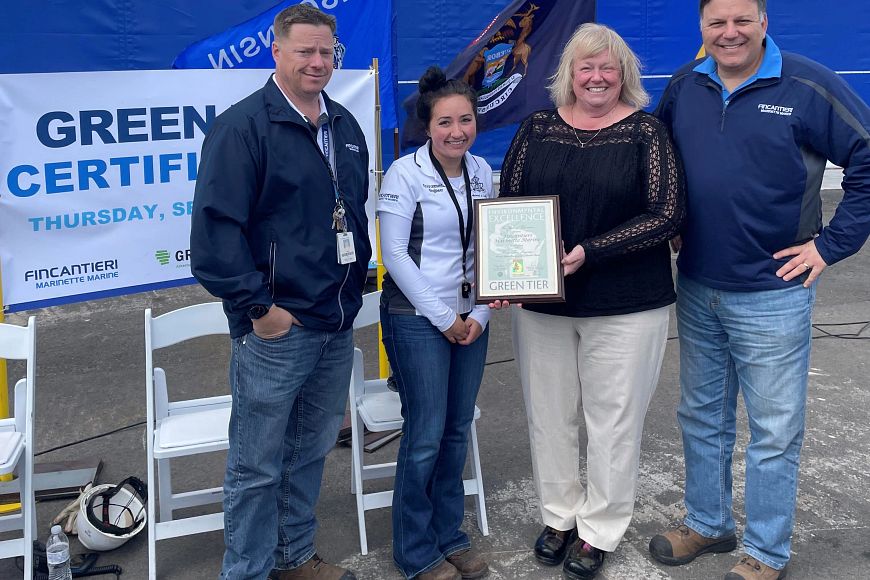 Photo credit: Wisconsin DNR
MADISON, Wis. – The Wisconsin Department of Natural Resources (DNR) welcomes Fincantieri Marinette Marine (FMM) in Marinette as a Tier 1 participant of the state's Green Tier program. 
The DNR's Green Tier program recognizes organizations committed to going above and beyond compliance to improve their environmental performance and impact. Green Tier empowers organizations who are on the path to sustainability by requiring them to use a systematic approach to minimize environmental risk.
Tier 1 of Green Tier encourages, recognizes and rewards companies committed to superior environmental performance. As a Tier 1 participant, Fincantieri Marinette Marine commits to improving its environmental impacts through its environmental management system. 
Fincantieri Marinette Marine is part of the Fincantieri Marine Group, the U.S. division of the Italian enterprise FINCANTIERI, one of the world's largest shipbuilders. The company is internationally recognized for innovative and highly efficient, modular, subassembly and assembly-line manufacturing techniques.
"The DNR is pleased to welcome Fincantieri Marinette Marine to be one of our Green Tier participants," said Jean Romback-Bartels, DNR Secretary's Director, Northeast Region. "We are excited to see the results of Fincantieri Marinette Marine's activities to reduce water and energy consumption at the Marinette facility. We look forward to supporting their continued efforts to limit disruptions to the surrounding ecosystems."
The DNR celebrated Fincantieri Marinette Marine's acceptance into the program with an event at the facility on Thursday, Sept. 22, 2022. Secretary's Director Romback-Bartels presented a framed certificate and Green Tier flag to representatives of Fincantieri Marinette Marine.
Fincantieri Marinette Marine has an ISO 14001 certified environmental management system, an internationally accepted certification standard for businesses to manage and improve their environmental performance.
Environmental goals for the facility include reducing water and energy consumption and increasing environmental awareness among employees so they understand the positive impact of their everyday work. The facility has pursued creative awareness campaigns for its employees to promote water and air quality protection and waste reduction through recycling programs.
In January 2022, Fincantieri Marinette Marine became a participant in another voluntary environmentally focused program called Green Marine. Green Marine is the largest voluntary environmental certification program for North America's maritime industry.
More information about Green Tier and Fincantieri Marinette Marine's participation is available on the DNR website.