FOR IMMEDIATE RELEASE: 2021-11-11
DNR Welcomes Kimberly-Clark Marinette To Wisconsin's Green Tier Program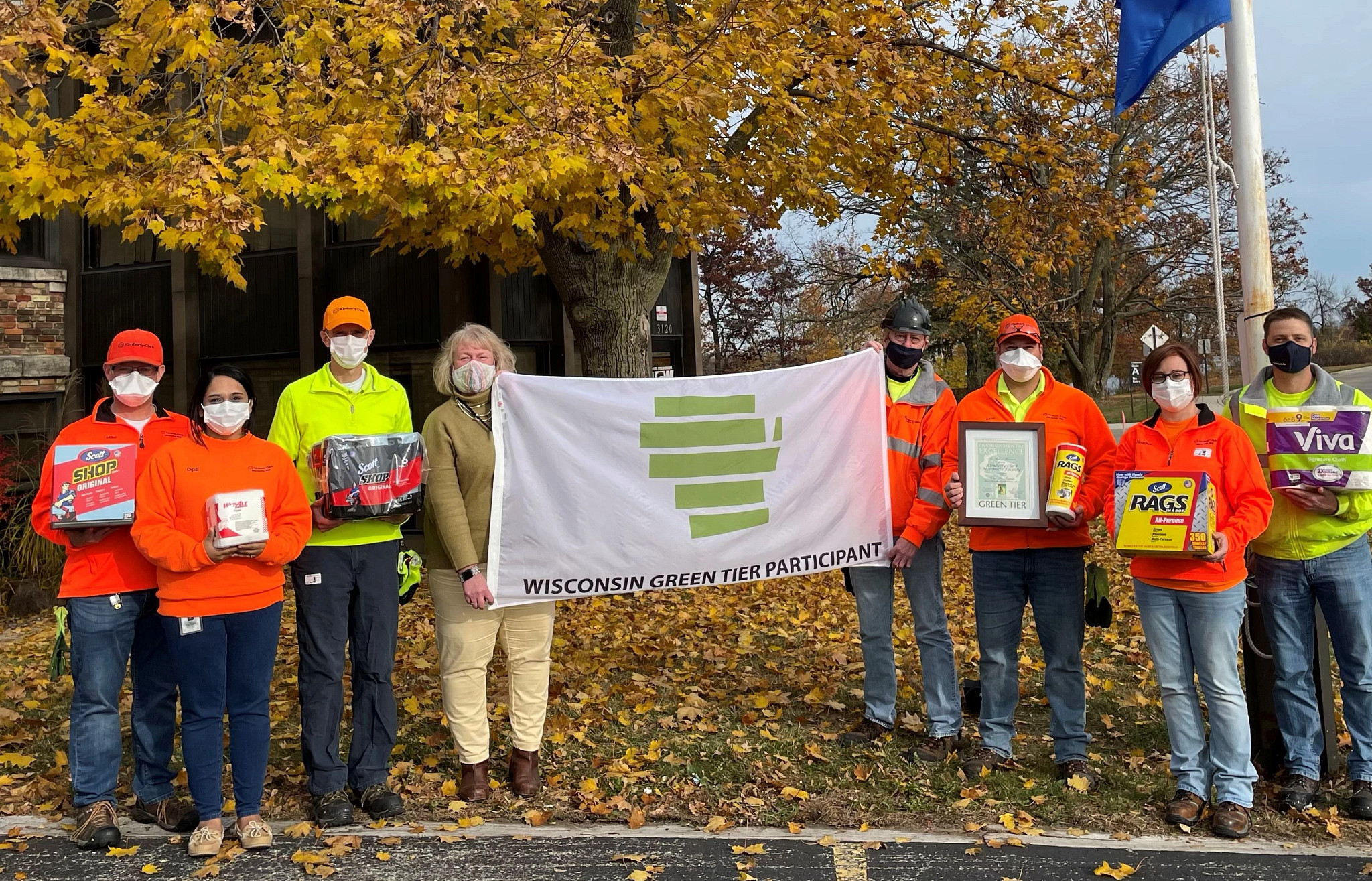 Photo credit: Wisconsin DNR
MADISON, Wis. – The Wisconsin Department of Natural Resources (DNR) welcomes Kimberly-Clark Corporation's Marinette manufacturing facility as a Tier 1 participant of the state's Green Tier program.
As a Tier 1 participant, the facility commits to improving its environmental impacts through implementing an environmental management system. The Marinette facility currently utilizes an EHS Management System that helps location teams oversee all aspects of environmental, health and safety performance on-site.
The DNR's Green Tier program recognizes organization commitments to going above and beyond compliance to achieve continual improvement. Tier 1 of Green Tier encourages, recognizes and rewards companies committed to superior environmental performance.
Kimberly-Clark Corporation's Marinette facility manufactures Scott® Shop Towels, Scott® Rags-in-a-Box, Wypall® wiping products for the workplace, and Viva® paper towels for global household and consumer use.
"With its strong environmental record, we are pleased to welcome Kimberly-Clark's Marinette manufacturing facility into the Green Tier program," said Jean Romback-Bartels, DNR Secretary's Director, Northeast Region. "We look forward to celebrating the facility's successes as they work toward achieving 100% diversion of manufacturing waste from landfills and reducing their greenhouse gas emissions. By leveraging an environmental management system, the facility will continue to better its relationship with the environment, customers and the community."
In 2020, Kimberly-Clark Corporation announced its 2030 ambition and sustainability goals to address the social and environmental challenges of the next decade. Commitments include improving the lives and well-being of 1 billion people in underserved communities globally by 2030 with the smallest environmental footprint. 
Kimberly-Clark Corporation's goal is to reduce its environmental footprint by 50% by 2030. The company's focus is on the areas where it can make the most significant difference, including climate, forests, water and plastics. The Marinette manufacturing facility supports its sustainability goals by diverting operational waste from landfills to higher value alternatives and reducing greenhouse gas emissions by 55% since 2005.
"At Kimberly-Clark, we believe that better lives happen in healthy environments, and we are committed to innovating new ways to give consumers the essentials they need while safeguarding natural systems and the life they support," said Joe Canning, Plant Manager at Kimberly-Clark's Marinette Manufacturing Facility.
"Sustainability is at the heart of our operations at Marinette, and our team is excited to continue making progress on our sustainability goals as we contribute to the company's ambition to halve its environmental footprint by 2030."  
More information about Green Tier and Kimberly Clark Corporation's Marinette facility's participation is available on this DNR webpage.