Wisconsin Recycling Excellence Awards
The 2022 Recycling Excellence Awards nomination period is now open until 11:59 p.m., Sept. 16, 2022.
The Department of Natural Resources recognizes outstanding recycling and waste minimization efforts through its annual Recycling Excellence Award program. This page contains information about the award nomination process and highlights the achievements of recent winners.
The Recycling Excellence Awards celebrate outstanding recycling efforts, innovation and performance throughout Wisconsin. Communities, organizations, schools and businesses — both small and large — are eligible and encouraged to apply for recognition of recent recycling and waste diversion initiatives. The DNR offers the Recycling Excellence Awards not only in recognition of efforts made but also as a way of highlighting ideas with proven track records that others might use to improve their recycling endeavors.
Awards are offered in four categories: overall program; projects and initiatives; innovation; and special events. Programs may self-nominate or submit an application on behalf of another program. More information on each of these categories and a list of the 2021 award winners is provided in the table below.
Nominations should include a written description of the outstanding recycling achievements that deserve recognition, including dates, locations and data, if applicable and available. Applicants are also encouraged to submit supporting materials, including education and outreach examples, high resolution photos, tables, charts and website links.
2021 Award Categories and Winners
Category
Recognition
Winners
Projects and Initiatives
Recognizes a defined project or initiative that increases materials recycled or diverted, and/or improves the cost-effectiveness of a recycling/diversion program.

Clement J Zablocki VA Medical Center*
Milwaukee County Zoo*
Sustain Dane
Stockbridge-Munsee Community Compost Program*

Honorable Mention: Sadoff & Rudoy Industries, Immucor

Overall Program
Recognizes programs that are robust and constantly improving, demonstrating a commitment to advance the overall recycling/diversion program.

D&D Products
Inpro
Outagamie County Resource Recovery Park
Waupaca Foundry

Honorable Mention: Recycling Connections

Innovation
Recognizes a program that demonstrates unique and innovative approaches to recycling.

Madison College Culinary Baking Program*

Special Events
Recognizes effective recycling at special events, offering participants an enhanced opportunity to recycle or reuse materials.

Pepin County Recycling
Tosa Green Summit
Town of Excelsior
Town of Mentor

Honorable Mention: Town of Russell
*One of the goals identified in the DNR's climate action plan for 2021-2025 is to reduce per-capita food waste disposed of in Wisconsin landfills by half by 2030. In recognition of this important goal, food waste recovery or diversion programs were an emphasis of this year's awards. These 2021 winners are contributing to the diversion of food waste or scraps from landfills.
About The 2021 Award Winners
Clement J Zablocki VA Medical Center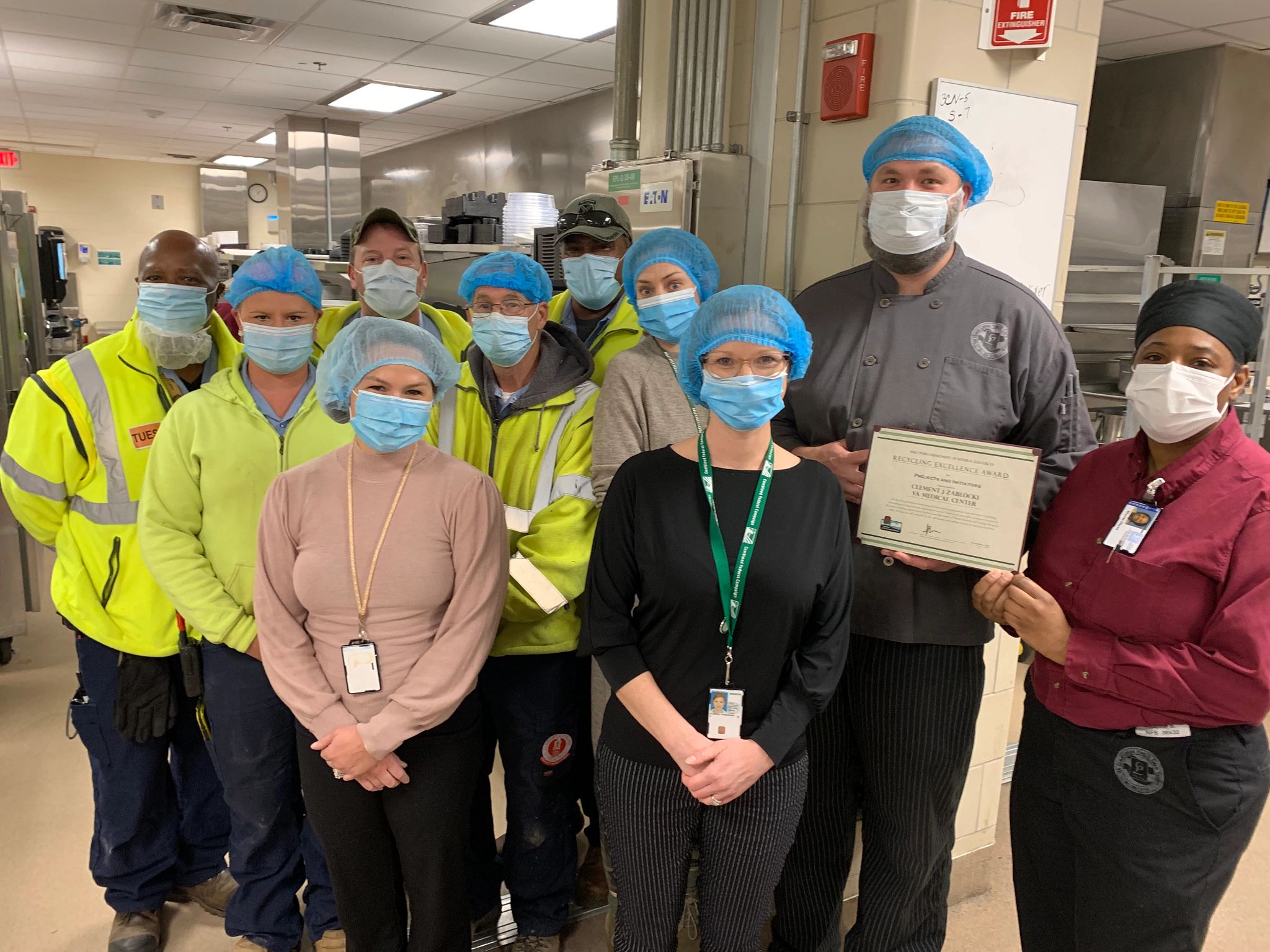 Staff at the Clement J. Zablocki VA Medical Center noted the volume of food waste being discarded daily in the kitchen and decided to take action. Unserved food from tray lines was identified as a diversion target. However, the food is government-owned property, which limits donation options. Staff overcame this obstacle by identifying two internal programs that could benefit from the excess food: 1) The Treatment Alternative Group, a part of the mental health department, which serves as a harm reduction program for veterans struggling with substance abuse, and; 2) Hoptel, where veterans and caregivers in need can stay overnight. This innovative approach reduces the need to purchase single-serving meals, saving $2,482 per year, and diverts over 8,000 pounds of food per year from the landfill. The Clement J. Zablocki VA Medical Center has shared the food program on larger platforms so other VA medical centers may implement similar processes.
D&D Products, Inc.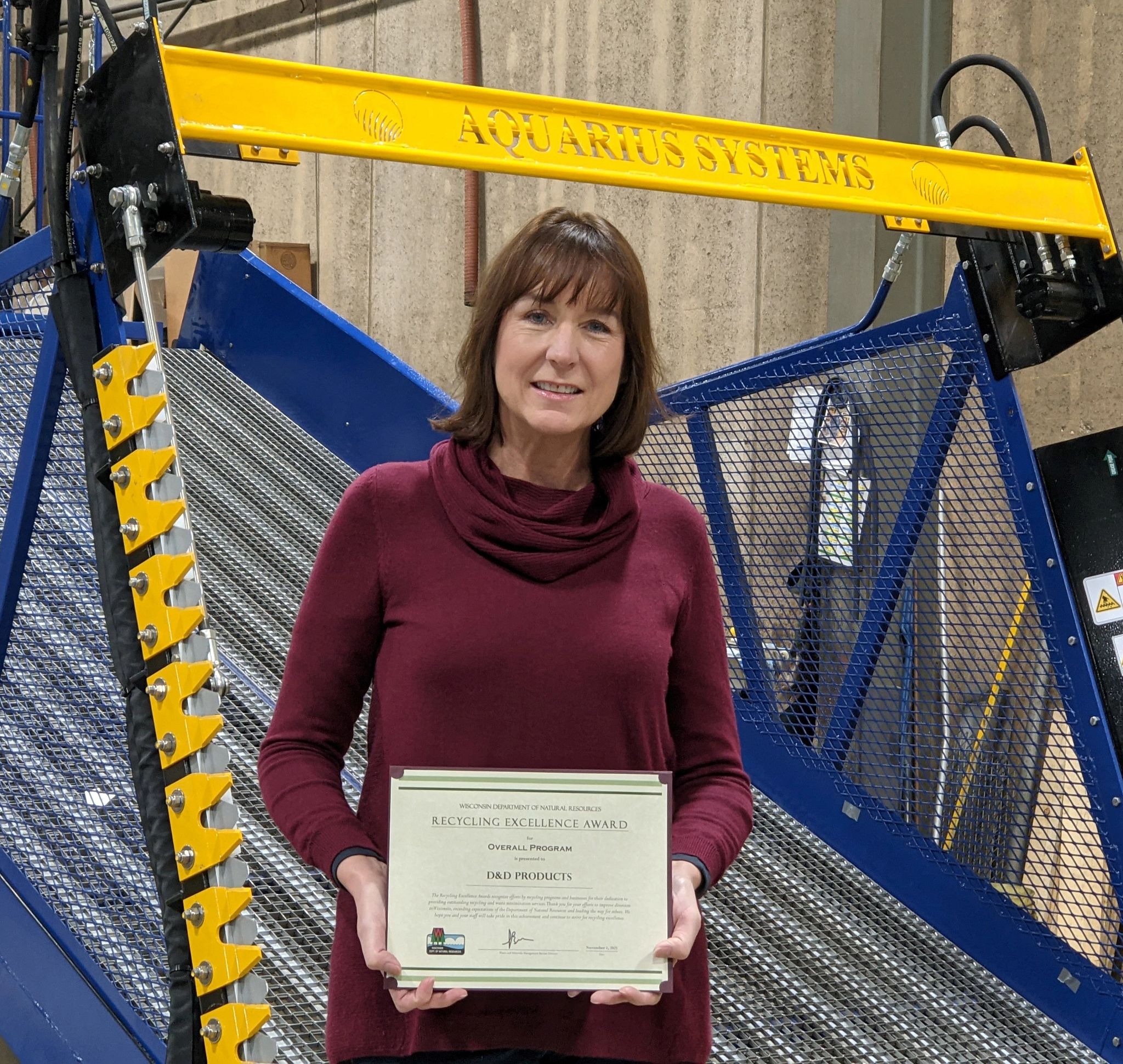 D&D Products, Inc. is a second-generation manufacturing company located in North Prairie. Waste reduction initiatives include using water coolers to reduce the use of plastic water bottles and disposable cups; providing employees and visitors with reusable travel mugs; saving scrap lumber and creating packing crates for trucking purposes; and reusing incoming boxes and packaging material to ship out parts to customers. In addition to traditional office recycling, company-wide practices include recycling ink cartridges, batteries, electronics, metal scrap, wire, oil and more. D&D even uses the water from its dehumidifier to water plants and outdoor flowers.
Inpro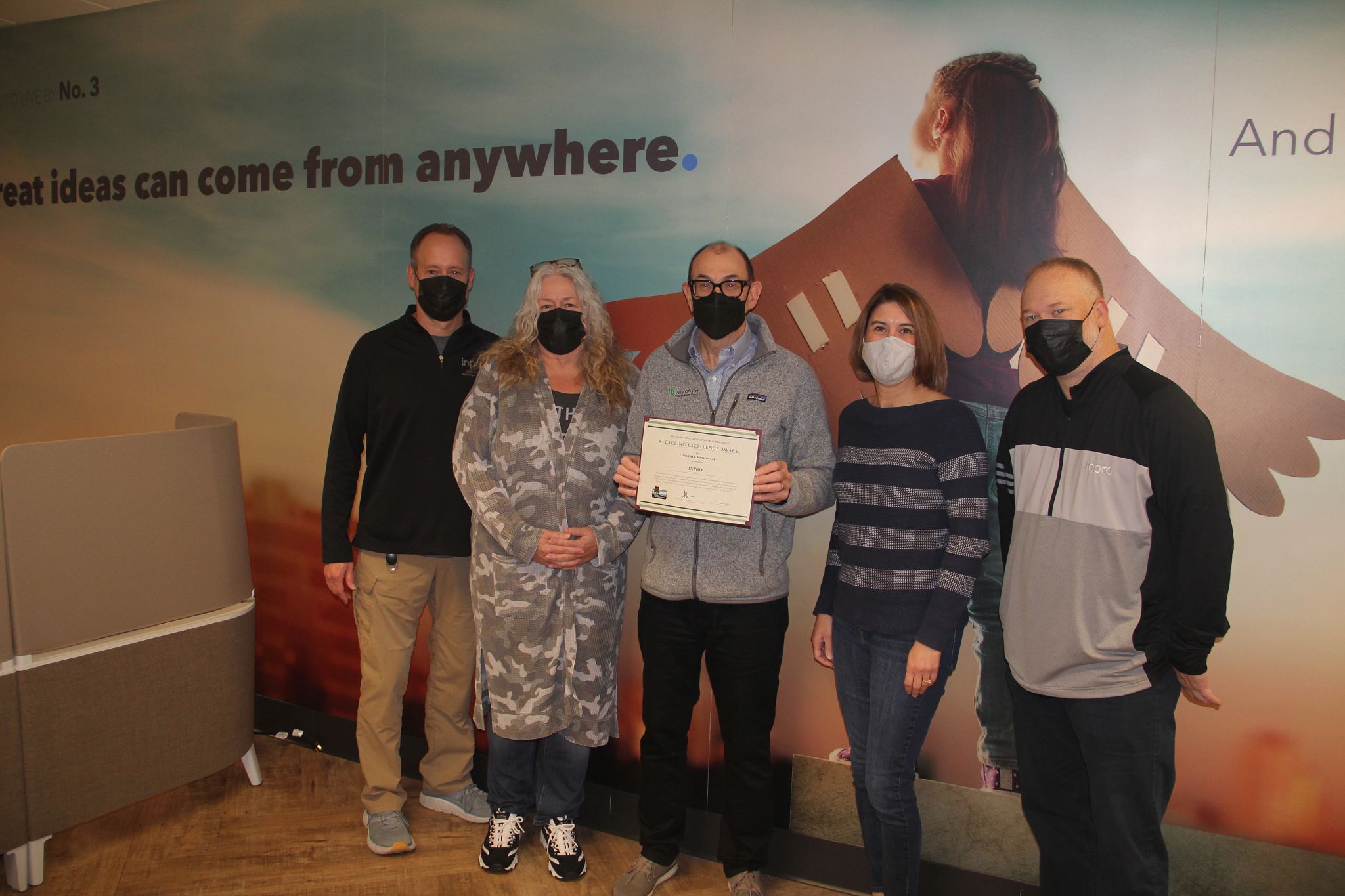 In 2019, Inpro, an architectural products manufacturer in Muskego, set a goal of becoming net zero to landfill by 2025. Starting in 2020, Inpro implemented initiatives including a more robust recycling program and increasing product yields to produce less scrap. This resulted in an overall 79.4% diversion rate. In 2020 Inpro conducted a waste audit, which Inpro dubbed the "Dumpster Divers' Daring Discovery." Demonstrating leadership commitment, members of the Dumpster Diver Team included Inpro CEO, VP of Global Supply Chain, VP of Product Development, SVP of Product Management and Development, Facility Manager and Estimator. Lessons learned from the waste audit included identifying paper towels as compostable, as well as various recyclable items incorrectly deposited in the trash. Inpro is improving employee education on its quest to divert waste from landfills.
Madison College Culinary Baking Program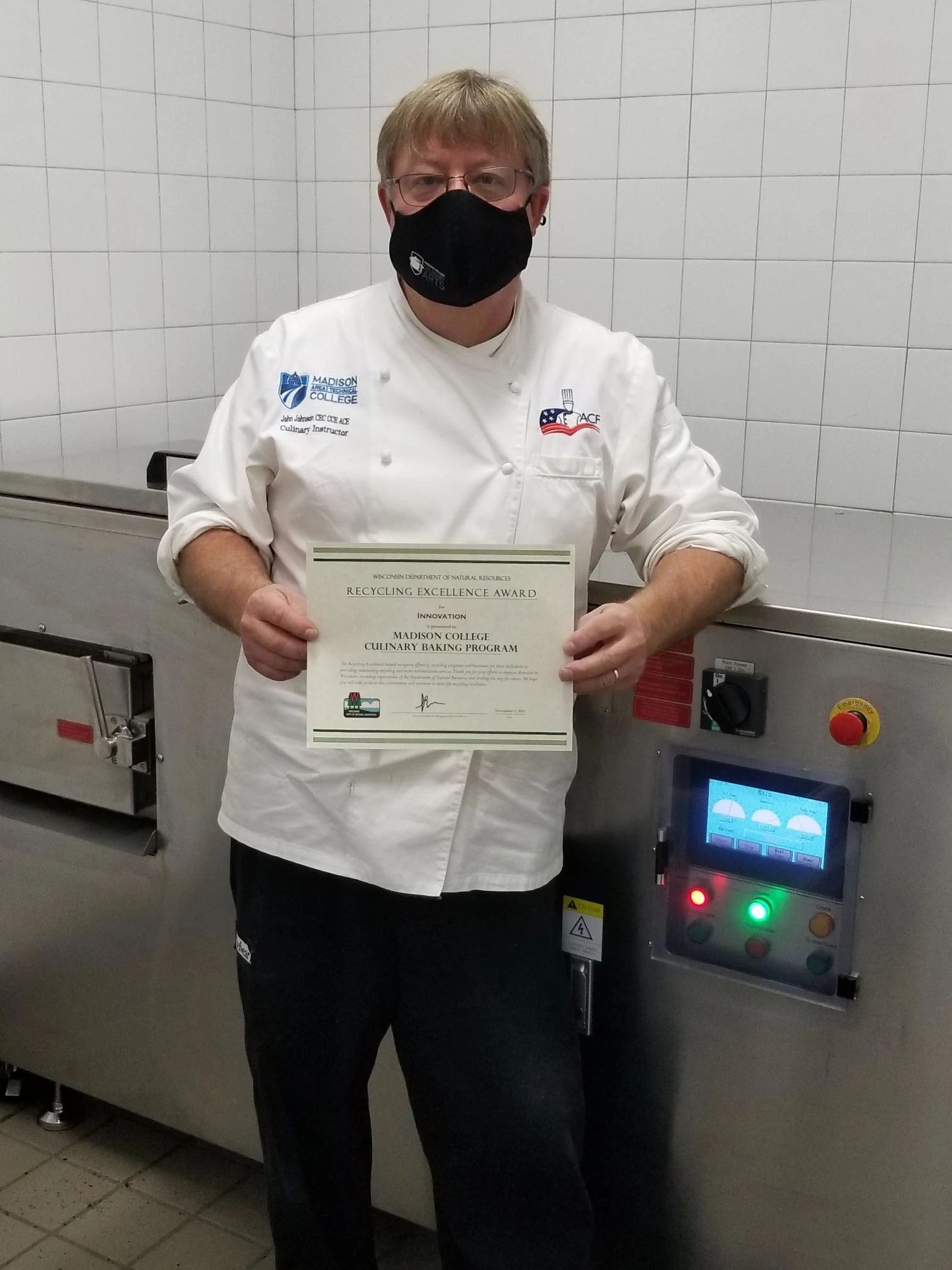 When the Madison College Culinary Baking Program learned that a biodigester could consume all compostable products from the culinary baking program and the cafeteria, they decided 'we have to do it.' Thus began discussions with facilities, engineering, the cafeteria and culinary arts to figure out how to put a biodigester in a small space, provide power and work on ventilation in the middle of the college to ensure no odors. Madison College credits the project success to the interdisciplinary ideas and solutions from each department. The biodigester was purchased from Oklin International and was the first such system in the United States. Kitchen scraps are loaded into the system and after two days, hot compost is removed, which cures for an additional 30 days before use. Weight reduction of food scraps is 90%. The Culinary Arts' trash receptacles have gotten very light with 25 tons of material composted per year. In addition, Madison College now has compost to use on campus landscapes and is also bagging it for sale, with all proceeds going to a food insecurity scholarship.
Milwaukee County Zoo
The Milwaukee County Zoo strives to divert waste from landfills whenever possible. The zoo has programs to compost organics from animal diets and herbivore waste, and to recycle various materials. From the public, the zoo collects handheld electronics such as cellphones and tablets and has placed over 200 recycling bins around the park for guests. Most recently, the zoo sought to address another waste stream: plastics bags and wrap from packaged animal food and habitat supplies. Staff began segregating this material and transporting it to retail stores that participate in the Trex recycling program. This effort kept 837.5 pounds out of the landfill in 2020, or the equivalent of 760,000 plastic grocery bags. Efforts continued in 2021 with over 1,700 pounds of plastic wrap and bags diverted to date.
Outagamie County Resource Recovery Park
The Outagamie County Resource Recovery Park opened to the public on Oct. 15, 2020 after nine months of designing and constructing the expanded site. The intent of the design was to make it easier for customers to safely sort and unload their materials. Thirty color-coded dumpsters are arranged to encourage the continuous flow of customers. Outagamie's source separation goals focus on eight different material outlets: clean wood; construction and demolition materials; metal; single stream recycling; rigid plastics; mattresses and box springs; furniture; and trash. All new customers are provided with a guide to help them go through the facility. Additional outreach efforts have included virtual tours, TV appearances, promotional videos and social media. Customer visits have increased, as demonstrated by usage on Saturdays from March to August when the site had 5,176 transactions in 2020, compared to 5,555 transactions in 2021.
Pepin County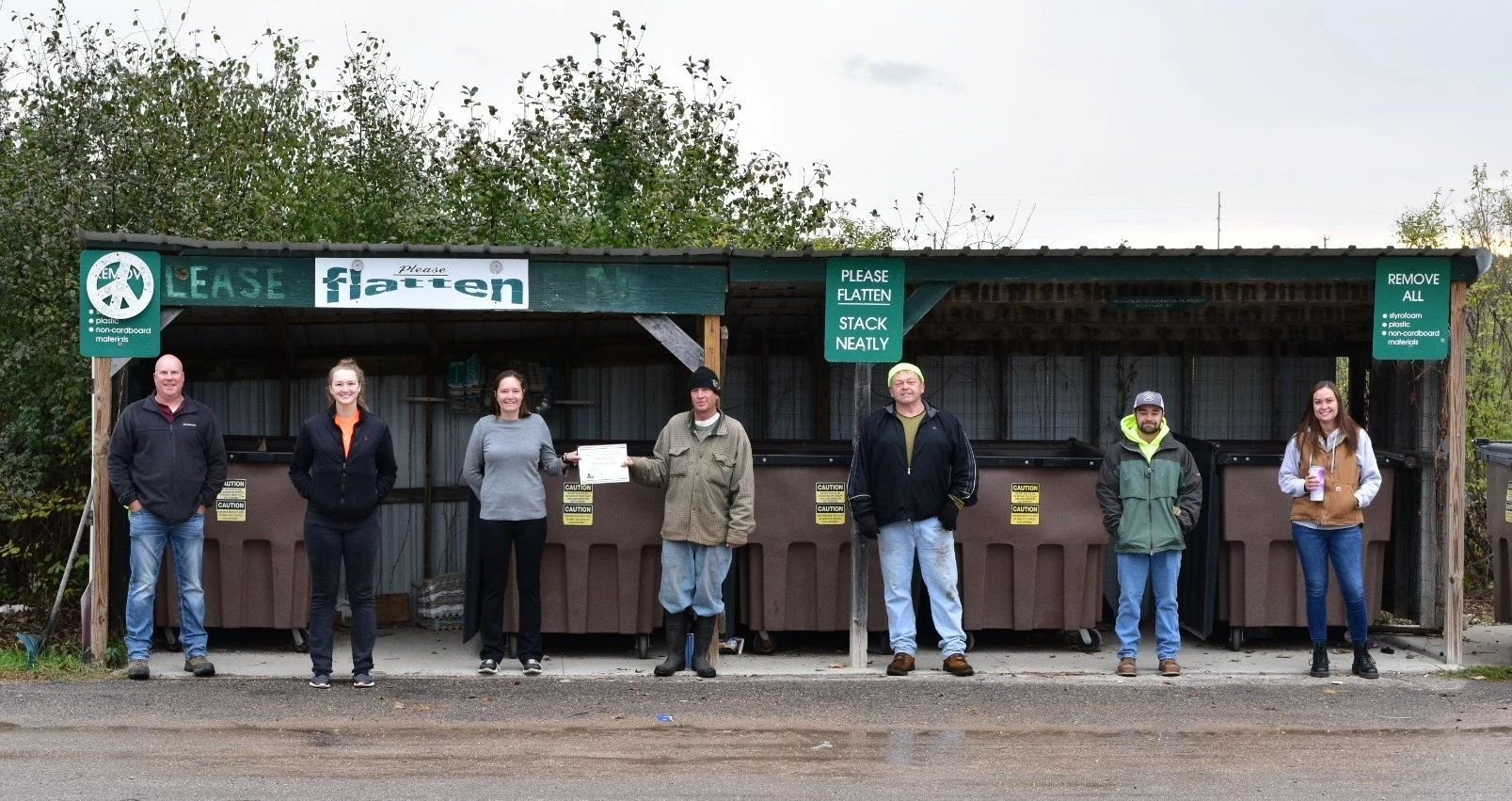 Pepin County credits their new Recycling Coordinator, Ryan Yarrington, for the reinvigoration of their recycling program. Mr. Yarrington worked within the county budget to address issues that had been neglected over years of operation and expanded outreach efforts on diversion opportunities for organic materials. While many counties paused events for the public during the pandemic, Pepin County was determined to continue to offer electronics collection. Working with RetroFit Companies, Inc., a socially distanced, minimal contact, drive-through event was designed and hosted. The May event was well-attended and yielded 14,588 pounds of electronics. Building on this success, a second event was held at a local high school parking lot with an additional 24,080 pounds being collected, despite temperatures exceeding 90 degrees for much of the event.
Stockbridge-Munsee Community Compost Program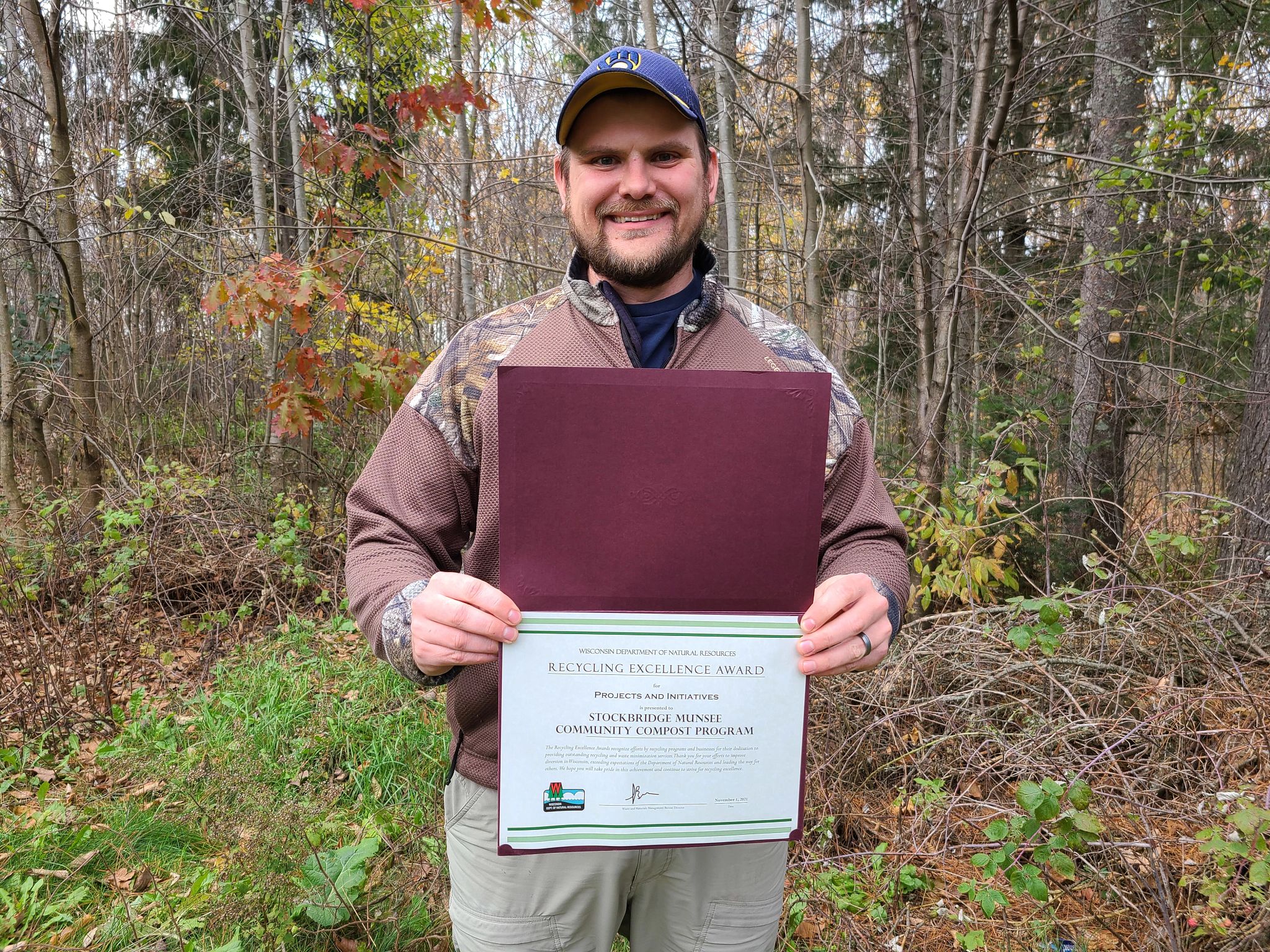 The Stockbridge-Munsee Community Compost Program has several goals: to reduce the amount of food waste generated at the North Star Mohican Casino; to bring about awareness of food waste throughout the Reservation; to continue the Tribe's drive be a "Green" community; to reduce ecological footprint; and to provide rich compost for the community garden. In 2020, the program diverted 4,191 pounds of food waste from landfills. Through composting, the volume was reduced to two cubic yards of finished compost, which was utilized in the community garden to grow 36 varieties of produce. Education is also an important component of the program. Overcoming obstacles during the pandemic, Stockbridge-Munsee did outreach to tribes nationwide and taught others how their program operates through a virtual course called Growing Compost to Grow Your Food System with the Institute for Tribal Environmental Professionals (ITEP).
Sustain Dane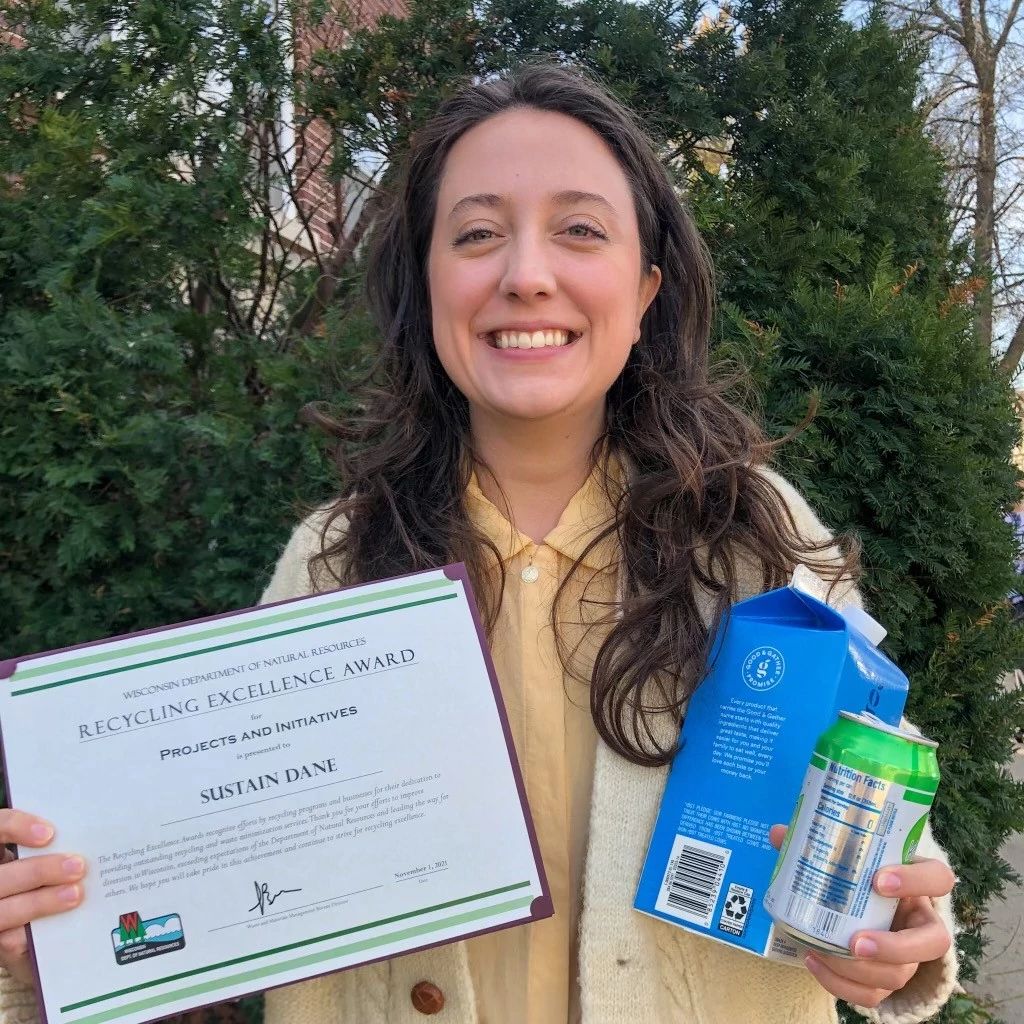 In 2021, Sustain Dane, in collaboration with the City of Madison and with support from the Carton Council, launched the first-in-Wisconsin Master Recycler program. The course comprised of two online 90-minute sessions where a group of interested residents learned the finer points of local recycling rules and waste diversion opportunities. The course followed a model similar to the UW-Extension classes to become a Master Gardener or Master Composter. To become a certified Master Recycler, participants had to complete an outreach project where they pass on their knowledge. After certification, Master Recyclers receive a large decal for their recycling cart and a digital picture frame that helps identify them as a recycling expert in their communities. Nearly 500 Dane County residents attended the Master Recycler offerings and have reached over 11,000 additional people and counting.
Tosa Green Summit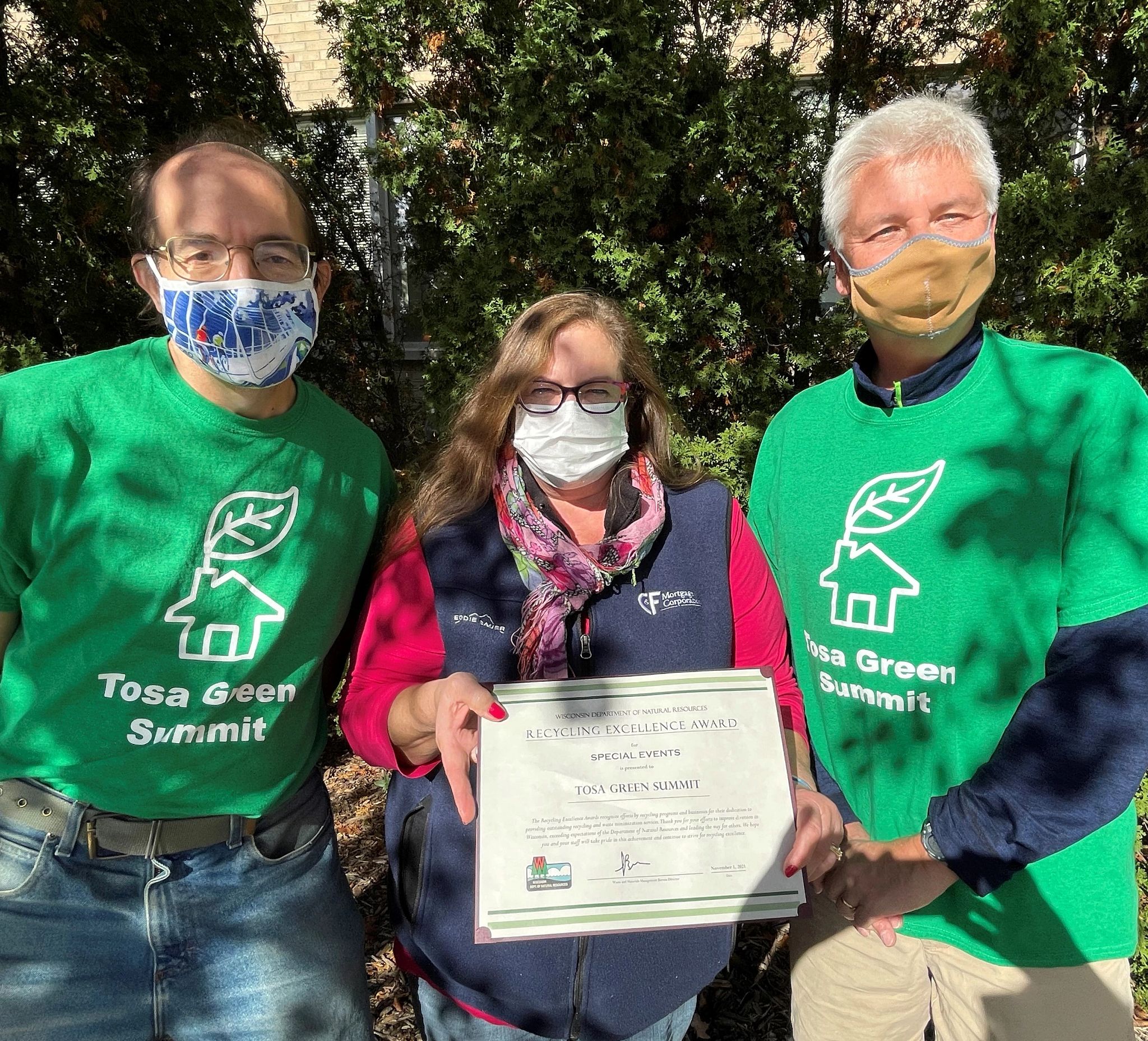 The mission of the Tosa Green Summit is to create awareness and take action on all things green and sustainable for Milwaukee-area residents. Guests of the summit can learn about organizations and initiatives that promote sustainability and have the ability to recycle a vast variety of items, all in a "one-stop-shop" format, creating a great day to celebrate being green. An interactive exhibit hall features 15-25 booths highlighting land, water, air, transit and energy. Local agencies and organizations have provided various recycling stations including paper shredding, electronics, bicycles, clothes and textiles, and household hazardous waste, as well as conducting a non-perishable food and personal care item drive. In 2020, the Tosa Green Summit event collected over 92,000 pounds for recycling or diversion.
Town of Excelsior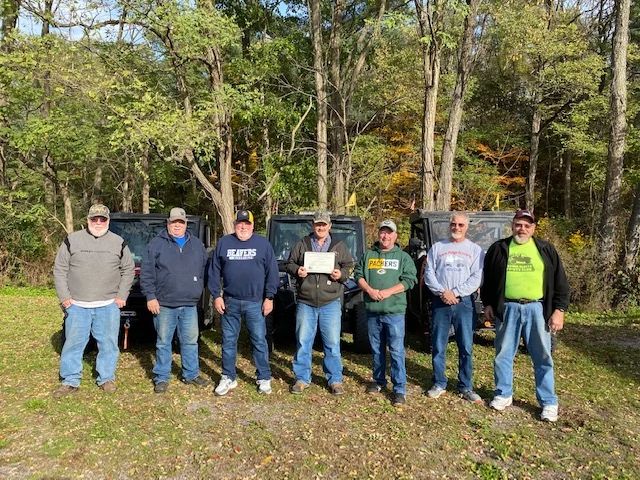 In partnership with local UTV/ATV clubs, the town of Excelsior held spring and fall clean-up days to help clear roadside litter including tires, appliances, furniture, cans and bottles. Abandoned tires were among the most common items, yet are also most expensive for the town to manage. Materials were taken to Sauk County for proper recycling and disposal. Town board members and residents teamed up to take on this dirty, but greatly needed event.
Town of Mentor
Due to the amount of debris found along roadsides, the town of Mentor held a special clean-up day at the town shop. Items accepted included bulky items or difficult-to-handle items like furniture, appliances and electronics. The event was heavily promoted on social media, in the local newspaper, on their website and via direct mail flyers. The day was an overwhelming success. Lines of vehicles and trailers started in the early morning and did not subside for over 2 hours.
Waupaca Foundry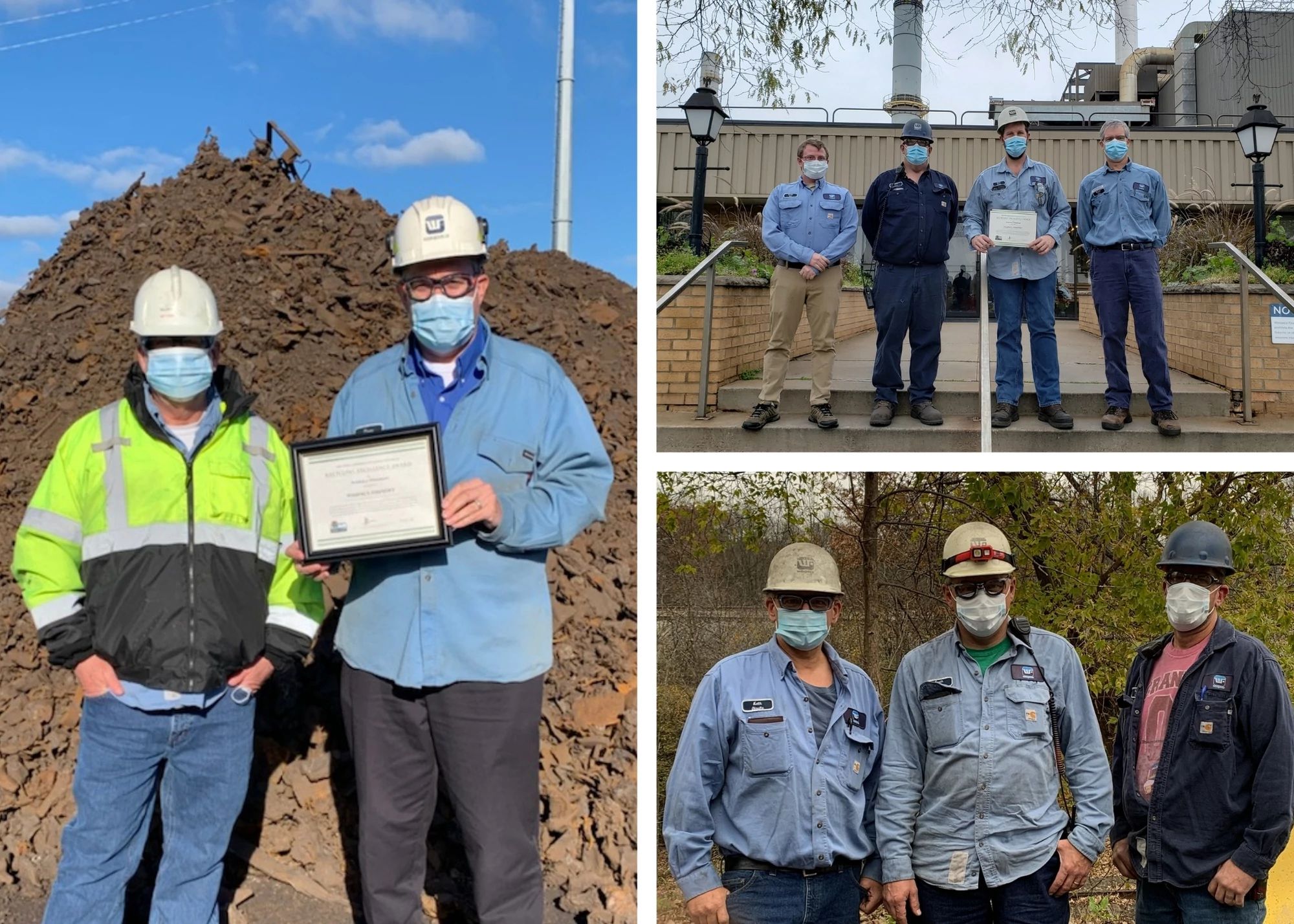 Waupaca Foundry, a participant in the DNR's Green Tier Program, operates three foundries in Wisconsin and is one of the largest producers of specialty iron products in the world. The casting process requires large volumes of sand, which are continually used, reconditioned and reused in the foundry. Sand that can no longer be used in the foundry process can be beneficially reused in lieu of landfill disposal. Waupaca Foundry uses specific systems to screen metal chunks and debris out of the sand so that it can be used in a variety of applications and industries. Over 75% of the byproducts generated from Waupaca Foundry processes are reused and incorporated into a multitude of beneficial reuse projects. Examples of such uses include geotechnical fill, road construction, mine reclamations, agricultural projects, cement manufacturing, concrete products, commercial blasting media and asphalt. In 2020 alone, 137,000 cubic yards of Waupaca's foundry byproducts were reused in Wisconsin.
2021 Honorable Mentions
Immucor
Immucor is a medical device manufacturing company in Waukesha. In collaboration with Kimberly Clark, Immucor began a nitrile glove recycling program. Staff can use gloves at a rate of one pair per hour. This recycling program has diverted approximately 720 pounds of that waste from the landfill. Inspired to do more, the personal protective equipment (PPE) recycling program was expanded to single-use lab apparel as well. Finally, the packaging recycling program was expanded from cardboard only to include styrofoam and urethane foam. Since the start of the foam recycling program in February 2020, Immucor has diverted 232 cubic feet of urethane foam and 4850 cubic feet of styrofoam from the landfill.
Recycling Connections
Recycling Connections in Stevens Point has a 40-year history of recycling, composting and waste diversion in Wisconsin. In celebration of this milestone, Recycling Connections conducted a sticker design contest and created an Earth Day maze. Of the 50 sticker design submittals, seven will be used to promote the message of waste reduction and reuse. Partnering with UW-Steven's Point, an Earth Day maze was made of bales of recycled cardboard and included educational signs, local recycling tips and recycling facts and figures. In addition, Recycling Connections created an educational kiosk out of nearly 1,000 recyclable plastic bottles, which was on display from Memorial Day through Labor Day. Ready to embark on the next 40 years, Recycling Connections purchased a trailer to do more waste reduction initiatives "on the road" and launched new Near Zero Waste Event services.
Sadoff & Rudoy Industries
Sadoff & Rudoy Industries is an electronics processing and recycling company headquartered in Oshkosh, Wisconsin and a participant in the DNR's Green Tier Program. In 2021, Sadoff trialed the use of a new service called "Smash My Trash." The service utilizes a patented weighted and hydraulic-controlled roller system on a mobile piece of equipment to condense material in collection containers, which creates more capacity in each container and allows them to pack more materials within. As a result, trips have been reduced by 33%. Overall, Sadoff seeks to minimize solid waste generation and maximize diversion throughout its operation.
Town of Russell
The town of Russell held a community clean-up day in June. Items accepted for no charge included appliances, select tires, batteries, farm equipment, fuel oil tanks, scrap metal and other metal items. Items collected for a fee included televisions, computers, monitors and other tires. The clean-up day helps decrease illegal dumping by providing a local opportunity to properly dispose of many materials.
---
2020 Highlights of Award Winners
Advanced Drainage Systems, Inc.
Advanced Drainage Systems, Inc., won the Innovation Award. The company has made sustainability and sustainable practices a priority. It has five recycling facilities that take in recycled plastic in various stages of reprocessing. Advanced Drainage Systems purchases bales, flakes and pellets of recycled HDPE from post-consumer and post-industrial sources. Over half of the plastic the company purchases is recycled. Advanced Drainage Systems and Infiltrator Water Technologies combine to create the second largest plastic recycler in North America. Annually, approximately 730 million pounds of carbon emissions are avoided using recycled Advanced Drainage Systems plastics.
Calibre, Inc.
Calibre, Inc., won an Overall Program Award. It is a paint finish company, with four locations in Ozaukee County, that serves customers in the marine, powersport and transportation industry. The company works with Enviro-Safe Resource Recovery in Germantown to recycle or repurpose the hazardous waste it generates. In addition, it has a solvent recovery distillation unit at the paint application facilities to reclaim and reuse cleaning solvents used to clean paint guns and flush paint lines. Calibre also sends all empty, flattened steel paint cans to a steel recycler, and has recycled approximately 150,000 pounds of steel since 2013. In that same period, Calibre has sent approximately 27,000 pounds of plastic shrink wrap material to be recycled.
Central Wisconsin Recycling Collective
The Central Wisconsin Recycling Collective won the Projects and Initiatives Award. Marathon County Solid Waste, Portage County Solid Waste, and Recycling Connections partnered to form the Central Wisconsin Recycling Collective, which has gotten back to the recycling basics with their clever "To Bin or Not To Bin" campaign/message. CWRC's mission is to have consistency in the region when it comes to recycling education in hopes to reduce contamination coming into materials recovery facilities. Together, the three organizations have created a recycling guide, a Facebook, Instagram and YouTube following. CWRC attended the Local Food Fair, where representatives from the three organizations spent the entire day sharing information on how to recycle correctly and challenged event attendees with a game of "To Bin or Not To Bin."
City of Baraboo Public Works
The city of Baraboo won the Overall Program Award. In addition to organizational and efficiency efforts at the residential yard waste drop-off site and increased efforts to repurpose that material into usable compost, Baraboo has been focusing on improvements to its curbside recycling program. Outreach efforts to residents included new labels on carts specifying what can be recycled, what can't and how to properly dispose of materials. The city also revised its recycling ordinance to allow the purchase of an additional recycling cart to fit overflowing materials. This provides residents a better opportunity for compliance and significantly reduces the risk of injury to collection staff and others. Additional community outreach enhancements include an improved biannual newsletter and flyers showing the "Do's and Don'ts of Recycling."
City of Sheboygan Department of Public Works
The city of Sheboygan won the Projects and Initiatives Award. The city has been hard at work adopting a new automated cart-based garbage and recycling collection program. The city, along with Sun Graphics Media, worked closely with The Recycling Partnership to help develop a communication strategy. The city used a combination of printed materials, direct mailers, videos, social media advertising and blog posts. The city, with the help of Sun Graphics Media, launched a new website, Facebook, Twitter, LinkedIn, YouTube and Instagram in December 2019. The social media pages are used to inform residents about the new program. Preliminary data has shown an increase of pounds per household. There was a 13% increase in recycling with 112 new tons. This represents an increase of four pounds per household.
Fredman Bag Corporation
The Fredman Bag Corporation won the Overall Program Award. The company is a manufacturer of custom flexible packaging products for consumer goods, as well as promotional and specialty applications. It works with customers to downsize material thickness and package dimensions, recapture and recycle unconsumed solvents, ship on recycled pallets, use motion detectors and setback thermostats to help conserve energy, and use regenerative thermal oxidizer to destroy VOCs. Fredman tracks waste carefully and monitors recycling using a daily scoreboard to keep up employee interest and engagement, and sent zero waste to landfill for 1,794 days as of July 30, 2020.
Good News Project
Good News Project won the Special Events Award. It is a small nonprofit in Wausau that has been a long-standing registered collector with the E-Cycle Wisconsin program. In 2019, it was able to responsibly recycle 272,076 pounds of e-waste, using 908.5 hours of volunteer time. Over the past decade, Good News has recycled 2,287,663 pounds of electronics. Since 2016, the Good News Project has worked specifically to increase outreach locally and to communities that have difficulty accessing e-cycling. This is a much-needed service in northern Wisconsin, and people from many surrounding communities participate in this event. Proceeds from the events are shared with partnering nonprofits so that they can provide additional services in their communities with the funds raised.
Green Bay Packaging
Green Bay Packaging won the Innovation Award. It is a privately owned containerboard company and fully integrated pulp and paper mill that produces linerboard and corrugated medium using 100% post-consumer recycled fiber. Between 2005 and 2018, the mill achieved a 15% reduction in overall water use and an 18% reduction in water use per ton of paper production, while increasing production by 10%. Improving water reuse and recycling also reduced energy use and related greenhouse gas emissions and provided resource savings to the community.
Iron River Recycle and Waste Transfer Center
The Iron River Recycle and Waste Transfer Center won the Projects and Initiatives Award. Iron County has been working to make an easier experience for customers and attendants by adding new signage and equipment. The new signage directs customers through the center, improving compliance with proper disposal of household garbage, cardboard, appliances, yard waste, construction waste and recyclable materials. The center also encourages reuse with a 'shop' of free, reusable items, striving to repurpose items rather than placing them immediately in a receptacle for disposal. Another unique practice is staging automobiles brought for disposal, allowing Iron River Volunteer Fire and Ambulance to train on emergency situations.
Outlook Group, LLC
Outlook Group, LLC won the Overall Program Award. They are a manufacturer of flexible packaging, folding cartons, pressure sensitive labels and shrink sleeve labels in Neenah, Wisconsin. They divert more than 95% of manufacturing waste from going to landfills—either by recycling fiber and other materials, or by sending laminated films, pressure-sensitive label material, matrix waste and release liner to their waste-to-energy partners. Outlook Group limits potential waste before materials enter the facility for processing, guiding customers to achieve sustainability goals related to packaging waste reduction and landfill diversion. They utilize sustainable packaging development, material selection and design for recycling consultation services and inventory management programs.
Pierce Manufacturing, Inc.
Pierce Manufacturing won the Overall Program Award. The company builds fire trucks and equipment, has right-sized collection containers by waste stream and works with suppliers to reduce packaging and design returnable packaging. In addition, Pierce reuses product drums and shipping containers, uses separate bins for compostable paper hand towels, and tracks all materials that are diverted from landfills. The company holds annual drives to collect electronic waste and recycle these materials at the company's expense, collecting over 40,000 pounds of electronics from employees. Since 2014, Pierce Manufacturing has sent just over 100,000 pairs of safety glasses to Contractivity, a Goodwill job-training program to clean and repackage the glasses. By reusing safety glasses, Pierce Manufacturing has substantially reduced the amount of safety glasses purchased.
Scenic Bluffs Community Health Centers
Scenic Bluffs Community Health Centers won the Special Events Award. Scenic Bluffs has made substantial investments to improve environmental health in the communities it serves. One of the most notable efforts is the annual Technolog-E Recycling Event, held at Scenic Bluffs in Cashton during the National Health Center Week celebration. This event is free and open to the public, which allows individuals to recycle unwanted electronic devices. Since 2016, more than 153,000 pounds of recyclable electronics have been collected from Cashton and surrounding communities and kept out of landfills. Through Dynamic Lifecycle Innovations in Onalaska, every portion of the recycled electronics collected is recycled or reused. This investment in safer recycling totals nearly $30,000 in recycling costs since 2016, with the additional investment of Scenic Bluffs' staff dedicating more than 400 hours collecting and unloading materials brought by community members.
Vernon County Solid Waste and Recycling
Vernon County Solid Waste and Recycling won the Overall Program Award. The county's recycling program continues to use a source-separated collection system, rather than "single stream," where all recyclable materials are combined. Despite challenging commodity markets, Vernon County continues to provide recycling service to its participating municipalities at no cost, covering two-thirds of the county's population. Free dumpsters are provided in spring and fall for municipal clean up events, collecting tires, appliances, e-waste, and mattresses. The county remains committed to offering mattress and battery recycling despite the challenges in collecting and processing these materials. Continuous operational improvements with site attendants and strong recycling messaging are cornerstones of the program.
Waukesha County Department of Parks and Land Use
Waukesha County won the Innovation Award. The county designed and developed an entire system to collect and report out on programmatic data, which culminated with the release of a new educational guide. Topics included recycling right, backyard composting, plastics recycling, reducing back-to-school waste, upcycling, leaf mulching and green gift giving for the holidays. The most impactful action in 2019 was the development of an app for recycling drivers to identify contaminated recycling carts. Once a cart is identified as containing a specified prohibited item(s), a postcard is mailed to the resident with a note about the mistake and a recycling guide. By using the app, the time management and safety concerns typically associated with traditional cart tagging are removed, while still providing the resident important, individualized feedback on how to improve their recycling.
Yunker Industries, Inc.
Yunker Industries won the Projects and Initiatives Award. Yunker is a graphics and décor manufacturer for the retail industry. In 2019, they began a partnership with Trex Plastic Recycling when they were looking for resources to assist in recycling efforts. Trex recycling bins were placed in their building for items such as plastic strapping, plastic bags, grocery bags and bubble wrap. Creating one centralized location for employees to bring their plastic from home created awareness with employees and their families on recycling. Once the goal is reached you are given a bench which is made from approximately 40,500 plastic bags. So far, over 1,000 pounds of plastic had been kept out of the landfill. Yunker donated their first bench to Tree House Child & Family Services in Elkhorn, Wisconsin, and continues to operate the plastic collection program.
Past winners