Wisconsin Recycling Excellence Awards
The 2023 Recycling Excellence Awards nomination period closed Sept. 15, 2023. The DNR will announce winners in November.
The Department of Natural Resources recognizes outstanding recycling and waste minimization efforts through its annual Recycling Excellence Award program. This page contains information about the award nomination process and highlights the achievements of recent winners.
The Recycling Excellence Awards celebrate outstanding recycling efforts, innovation and performance throughout Wisconsin. Communities, organizations, schools and businesses—both small and large—are eligible and encouraged to apply for recognition of recent recycling and waste diversion initiatives. The DNR offers the Recycling Excellence Awards not only in recognition of efforts made but also as a way of highlighting ideas with proven track records that others might use to improve their recycling endeavors..
One of the goals identified in A Blueprint for DNR Climate Action 2021-2025 is to reduce per-capita food waste disposed of in Wisconsin landfills by half by 2030 (from 2020 levels). Please note: food waste recovery or diversion programs are eligible for Recycling Excellence Awards!
Awards are offered in four categories: overall program, projects and initiatives, innovation, and special events. Programs may self-nominate or submit an application on behalf of another program. The table below provides more information on each of these categories and a list of the 2022 award winners.
Nominations should include a written description of the outstanding recycling achievements that deserve recognition, including dates, locations and data, if applicable and available. Applicants are also encouraged to submit supporting materials, including education and outreach examples, high resolution photos, tables, charts and website links.
2022 Award Categories and Winners
Category
Recognition
Winners
Projects and Initiatives
Recognizes a defined project or initiative that increases materials recycled or diverted, and/or improves the cost-effectiveness of a recycling/diversion program.

Milwaukee Area Technical of Culinary Arts*
Town of Vinland

Overall Program
Recognizes programs that are robust and constantly improving, demonstrating a commitment to advance the overall recycling/diversion program.

Bucket Ruckus*
Compost Crusader*
Green Bay Packaging
Greener Bay Compost*
LaPointe Materials Recovery Facility
Nestlé USA*
Village of Bayside Public Works Department

Honorable Mention: Pine Valley Farm

Innovation
Recognizes a program that demonstrates unique and innovative approaches to recycling.

Box-Me!
Lakeshore Recycling Systems

Special Events
Recognizes effective recycling at special events, offering participants an enhanced opportunity to recycle or reuse materials.
*One of the goals identified in the DNR's climate action plan for 2021-2025 is to reduce per-capita food waste disposed of in Wisconsin landfills by half by 2030. In recognition of this important goal, food waste recovery or diversion programs were an emphasis of this year's awards. These 2022 winners are contributing to the diversion of food waste or scraps from landfills.
2022 Award Winners
Learn more about the award winners and why waste reduction and diversion is important to their organization.
Box-Me!, LLC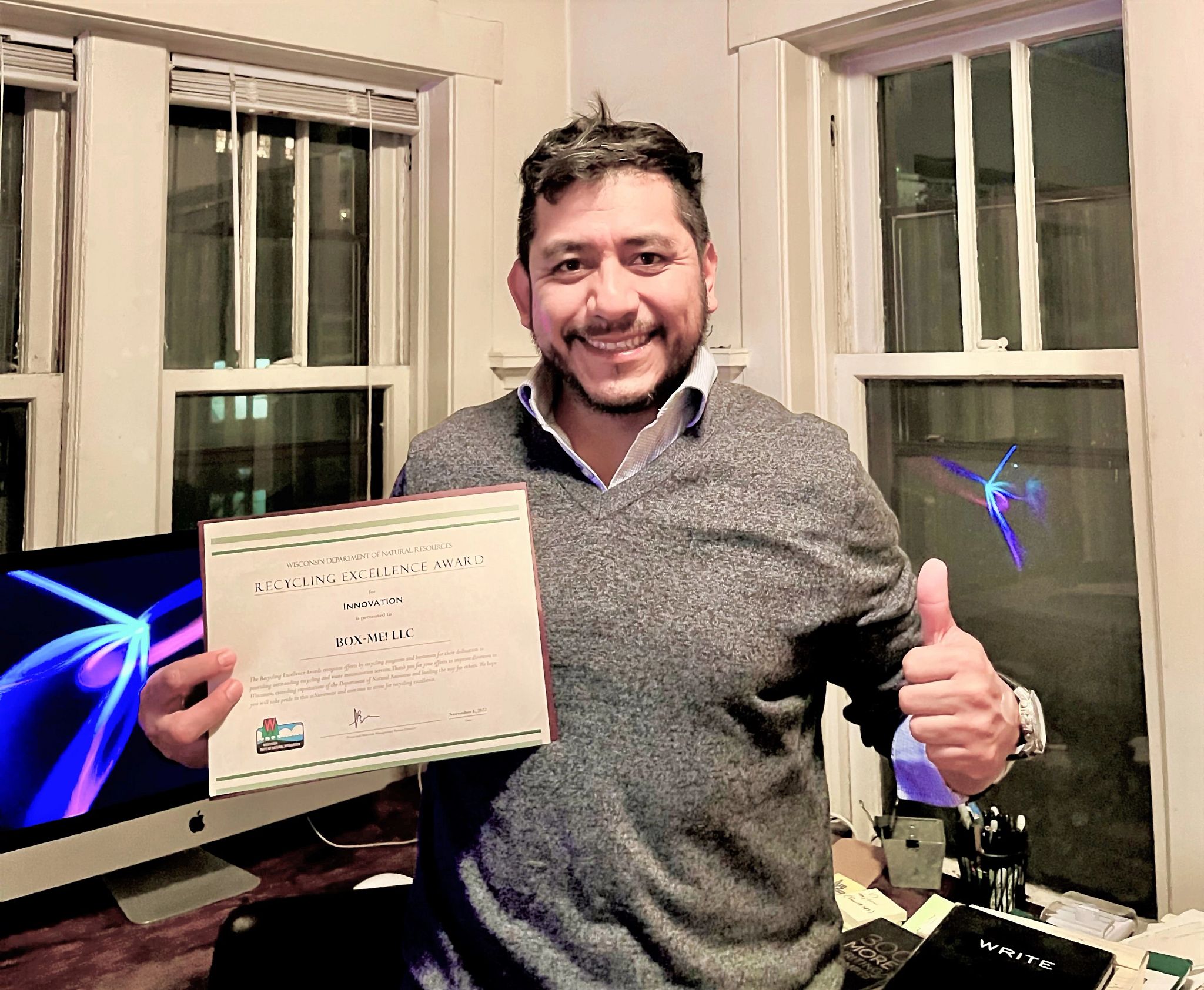 Box-Me! is a minority owned cardboard recycling business operating in the Milwaukee area. Started in 2021, Box-Me! specifically targets cardboard for collection and diverts 60 tons from landfills each month. The company brings a container to businesses, free of charge, for employees to dispose of broken-down, clean cardboard. Box-Me! estimates businesses could save 75% of their recycling and trash bills.
"Reduction and diversion are extremely important to my organization because we have not learned anything yet about coexisting with the blue marble. The amount of waste will continue to grow in devastating numbers, and this will have negative effects and consequences. If I can reduce this amount, a tiny bit, I am willing to do it by diverting cardboard and trying to recycle as much as possible. Diverting cardboard means that there is a higher possibility that it will not get contaminated, get burned or end up in landfills. That's why reduction and diversion is important to me, and maybe I can learn a bit more about coexisting with the blue marble and persuade others to do their part as well." - Alan F. Lozano, owner, Box-Me!
Bucket Ruckus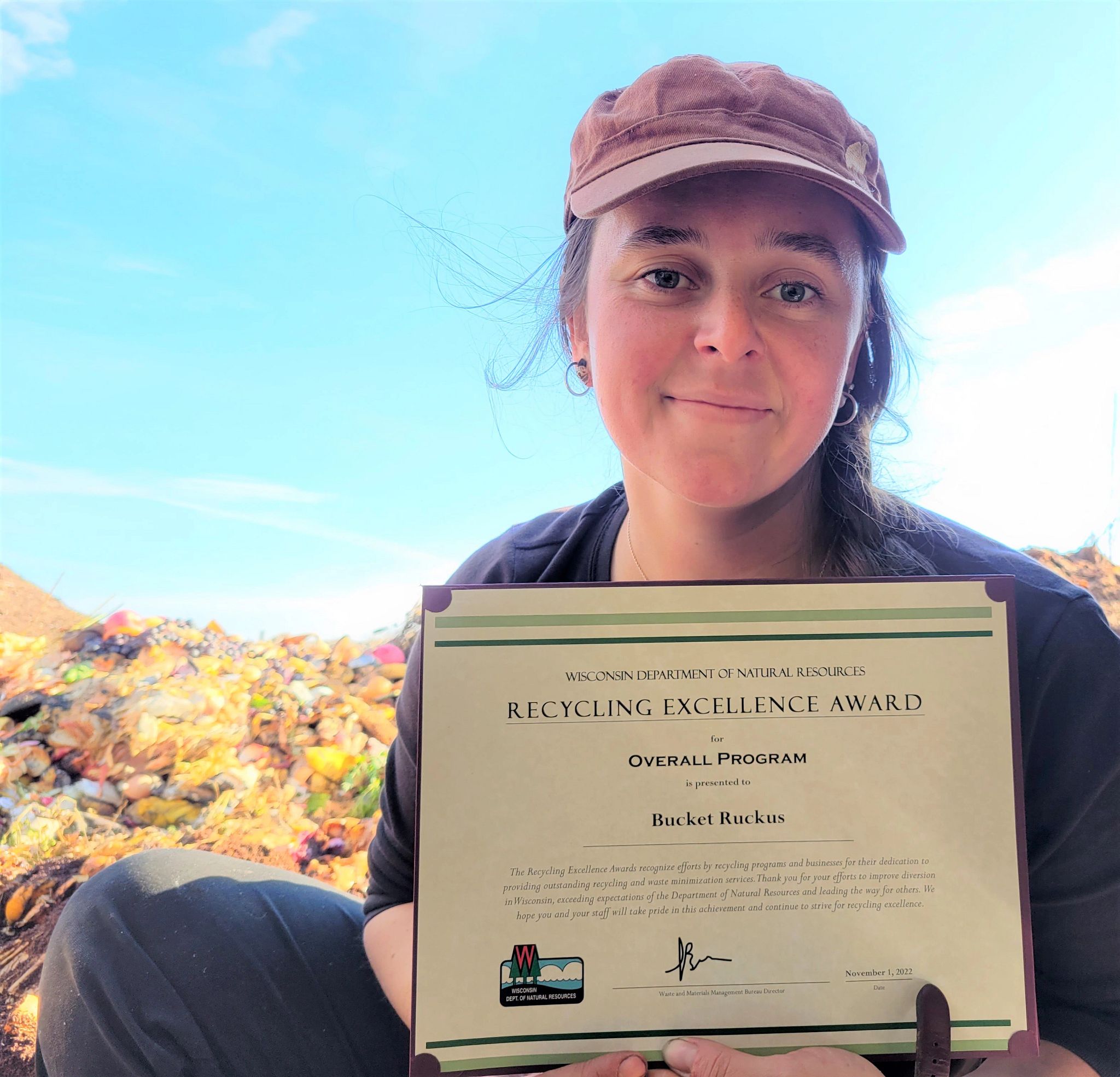 Bucket Ruckus started with an idea from a group of UW-Stevens Point students and an advisor. Bucket Ruckus diverts organic waste from landfills using a curbside compost collection system. It partners with several local businesses to reduce environmental impact, including working with Curbwise to collect the 5-gallon buckets from the curb and to deliver clean buckets to customers. Curbwise is bicycle-powered and operates year-round! Materials are aggregated and composted at a local farm.
"Waste reduction and diversion are elemental means in pivoting our society to one that is more adaptable and resilient. The need for this pivot has become more apparent after experiencing supply chain shortages of all types of consumer goods and unprecedented natural disasters. Diverting organic material from landfill disposal can be one of the simplest, yet impactful, lifestyle changes to make in alignment with overall reduction and diversion. Bucket Ruckus exists to raise awareness of the importance of organics diversion and composting and increase accessibility to those activities. We are so proud to be working in this field and championing an alternative to conventional waste management." - Kelly Adlington, Bucket Ruckus
City of Platteville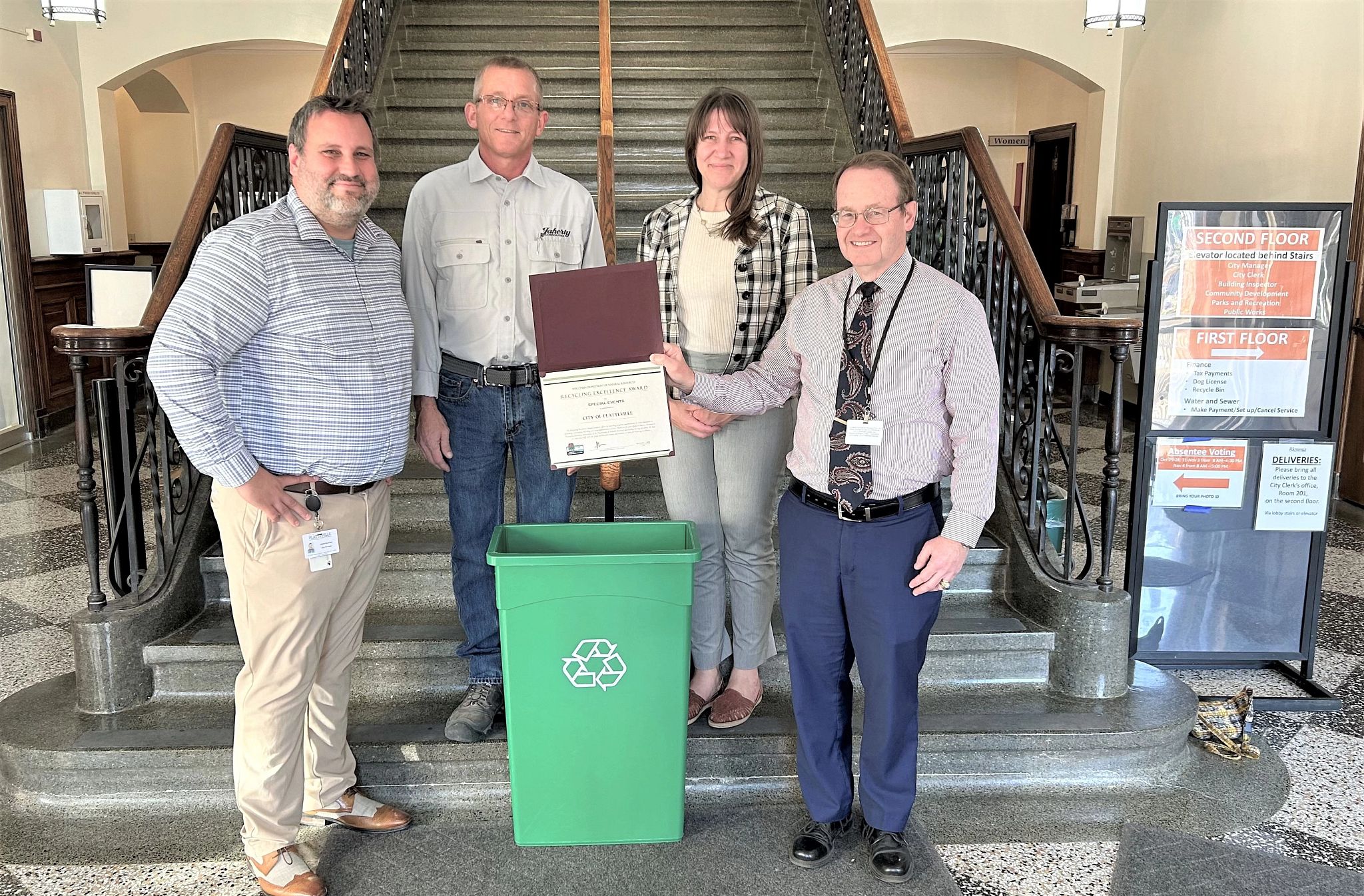 In 2021, the city of Platteville revamped its Spring Clean-up into a Spring Swap. Previously held in May around the end of the UW-Platteville school year, the event was moved to April and promoted as a free, city-wide yard sale. This allowed people to reuse items instead of discarding them. Volunteers were on site to inspect items and help unload donations, as well as load them into vehicles for new owners. Unclaimed clothing items were also donated to the local thrift shop.
"Waste reduction and diversion is important to the city of Platteville for two reasons: cost and it is the right thing to do. Every pound of waste reduced or diverted reduces disposal costs for city taxpayers. It also reduces the disposal burden on current and future generations." - Howard Crofoot, public works director, City of Platteville
Compost Crusader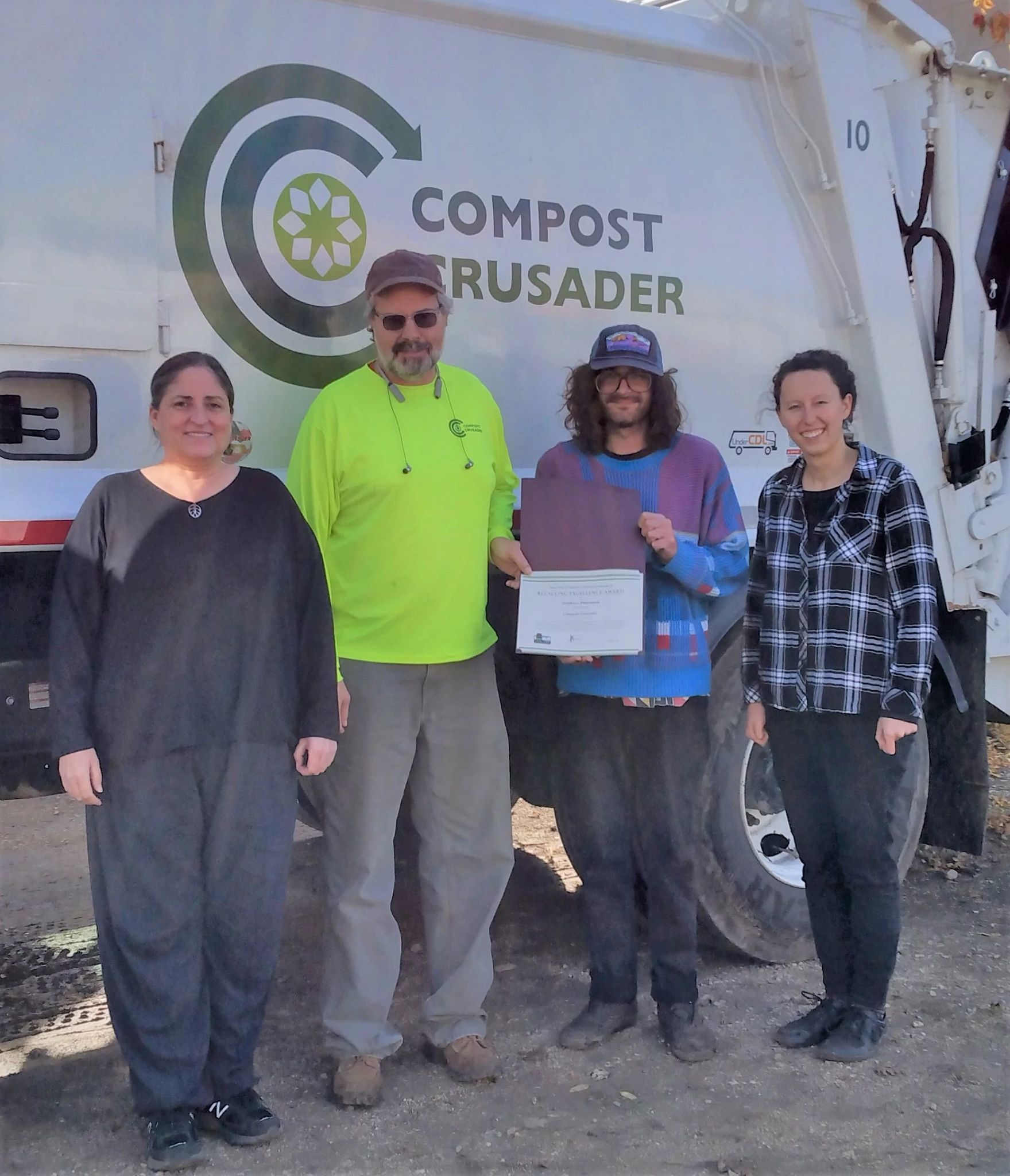 Compost Crusader has been active in southeastern Wisconsin since 2014 diverting food scraps from landfill disposal. It has focused on helping corporations, schools, special events, restaurants, and residents create healthy composting habits. By providing curbside compost service and utilizing three different compost sites, Compost Crusader diverts over 200,000 pounds per month of food scraps and yard materials.
"Diverting food scraps and yard waste from landfill through composting is a tangible low-tech solution for avoiding greenhouse gas emissions right away. It just makes sense! We aim to make it as easy as possible for individuals and businesses to adopt this new habit." - Savannah Kenny, operations manager, Compost Crusader
Green Bay Packaging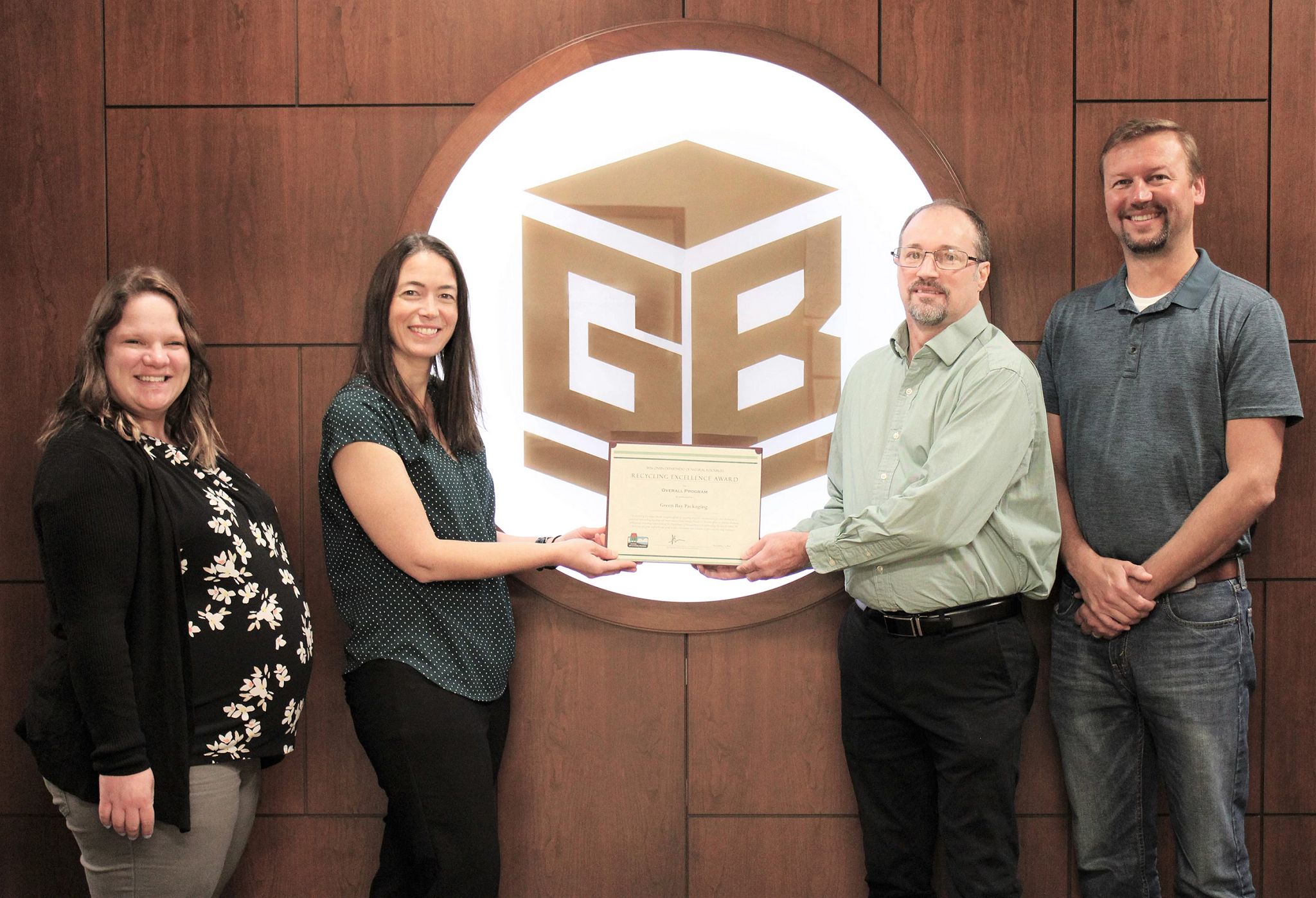 In 2021, Green Bay Packaging began operation of its new Green Bay Mill which is taking water, energy, greenhouse gas reduction and fiber recovery to the next level. Through investment and technology, the mill has reduced waste by more than 30% per ton of production. The new operation is capable of accepting more types of recyclable paper and expanding market opportunities. Additionally, Green Bay Packaging's eight Wisconsin-based converting operations have achieved 98% landfill diversion.
"Waste reduction and landfill diversion for Green Bay Packaging is a key measure of end-value performance, materiality efficiencies, and process optimization. Recycling and resource-saving actions benefit the environment and align with our company commitment to producing sustainable paper packaging." - Stacy Brault, corporate environmental engineer, Green Bay Packaging
Greener Bay Compost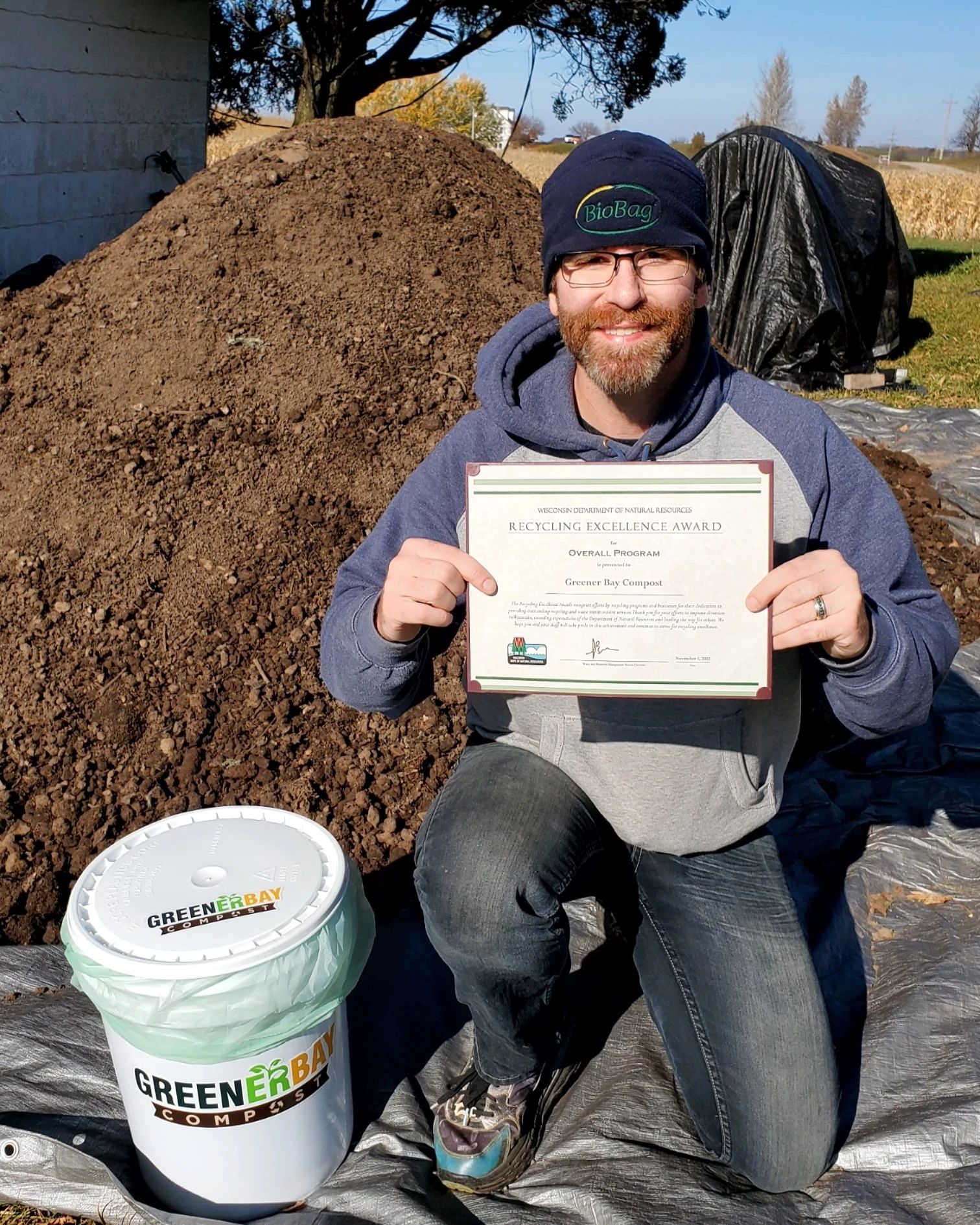 Greener Bay Compost is a two-person, family-run composting business with the goal to "make Green Bay a little greener every day." Debuting in August 2021, its residential compost pick-up service has grown from 16 to 120 residential subscribers. The service also works with small businesses. Waste such as fruit and vegetable scraps, coffee grounds and eggshells are collected in five-gallon buckets and paper bags. At their compost site, these materials are converted into a nutrient-rich soil amendment, which they then reward to their subscribers, donate to worthy organizations and sell to the general public.
"Waste reduction and diversion is important to us because we believe that food waste is not garbage. It is a valuable resource, full of nutrients, which should be put back into the earth, not into a landfill." - Cory Groshek, founder and CEO, Greener Bay Compost
Lakeshore Recycling Systems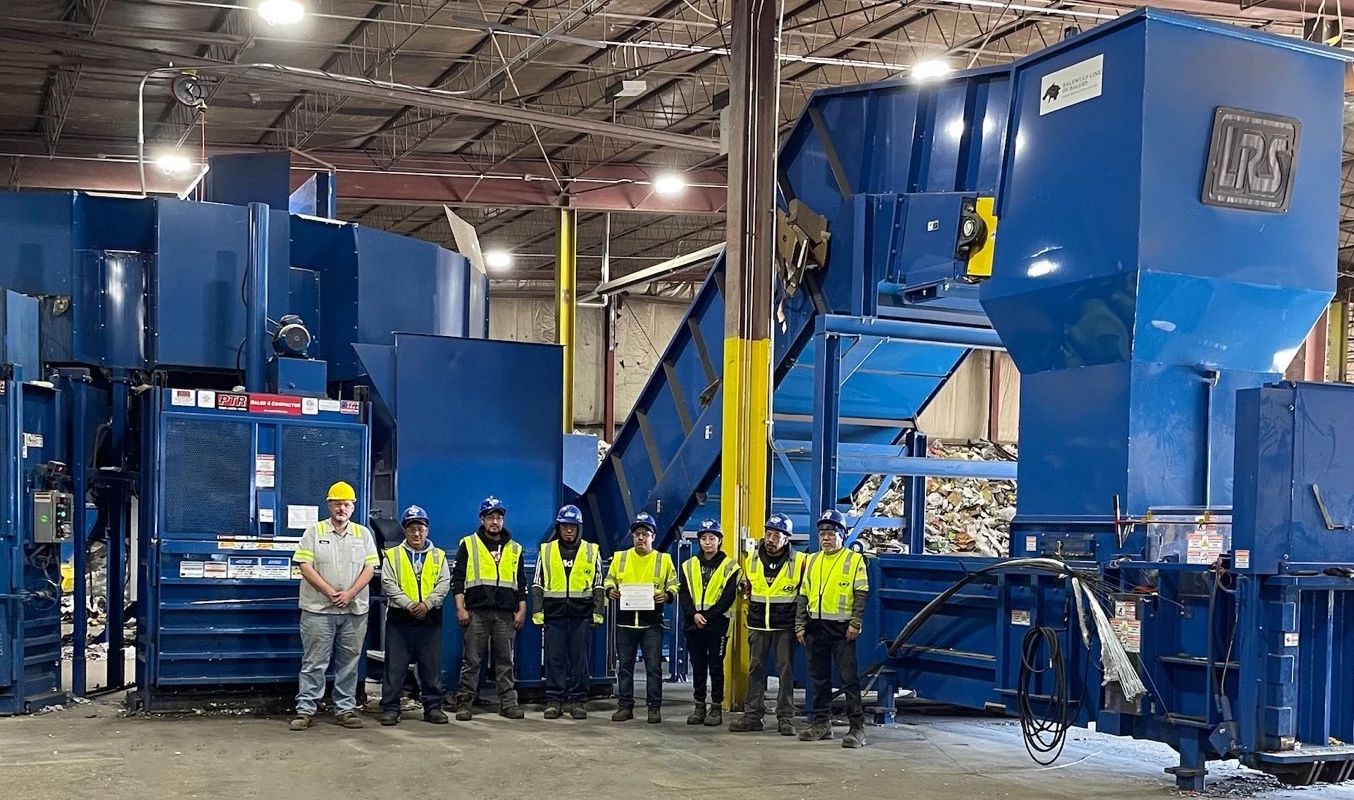 Lakeshore Recycling Systems' new materials recovery facility in DeForest began operation in 2021 and utilizes circular design processing equipment. The revolving table recirculates recyclables and enables multiple chances at sorting compared to a traditional linear conveyor belt. The design also results in a lower energy demand and increases teamwork, quality of baled materials and flexibility to adapt to changing recyclable material streams. The facility also offers DeForest and Windsor residents a new recycling drop-off site.
"Waste reduction and diversion is part of LRS' core values and how we do our part to preserve our environment. Through the use of innovative technology, such as the Revolution Systems equipment at our DeForest Single-Stream Recycling MRF, LRS strives to redefine the way the world views waste by diverting as much material from landfills as possible. The Revolution Systems' innovative circular design with a revolving table enables multiple chances for our team members to recover and sort material compared to a traditional linear sorting line." - John Sliwicki, senior vice president of MRF Operations, Lakeshore Recycling Systems
LaPointe Materials Recovery Facility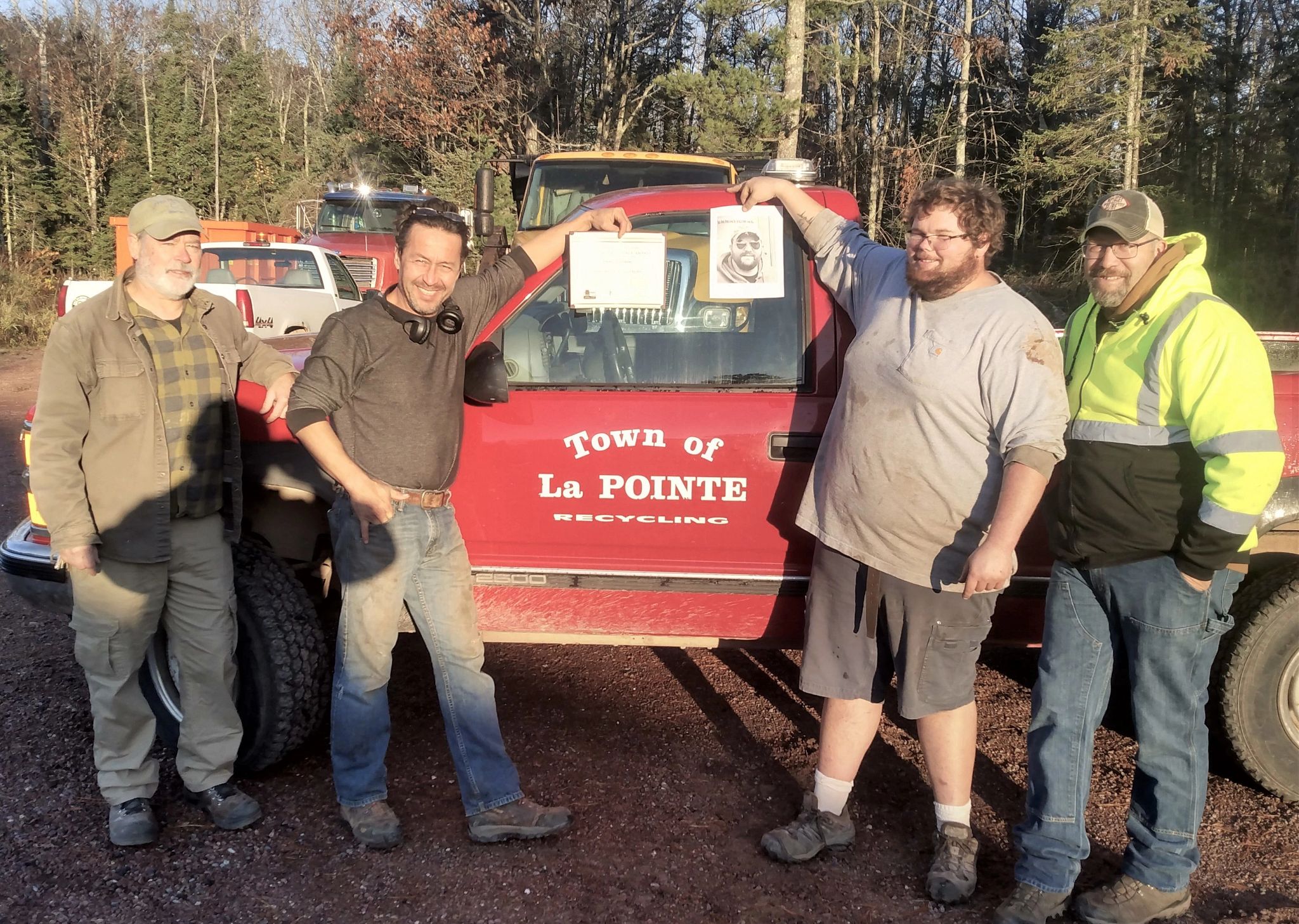 Located on Madeline Island, the town of LaPointe's materials recovery facility developed a new vision for operations and customer service. Improvements include new signage and barrel design to reduce cross contamination and make recycling easier, providing music onsite on Polka Saturdays and sorting assistance for residents who need it. Through a partnership with a local church, they opened a secondhand store to divert usable household items and generate revenue for a local food pantry. Summertime tours, afterschool programs utilizing recycled paint and customer appreciation days are all used to educate residents and visitors: "if it arrives on the island, it has to be taken off the island."
"Waste reduction and diversion is important to the LPMRF because recycling is a social function and can only be streamlined with interaction, outreach and education. After a massive cleanup and consolidation effort, we reprioritized space for people because people are what makes recycling a success. Our partnership with St. Johns UCC and the Island Closet has created a volunteer opportunity for community members to immerse themselves in the process of waste diversion and upcycling household materials. When customers ask, "Is this recyclable?" it opens the door to an exchange of ideas that strengthens our relationship with the community. We strive for courteous efficiency." - Martin A. Curry, recycling supervisor, Town of LaPointe
Milwaukee Area Technical College of Culinary Arts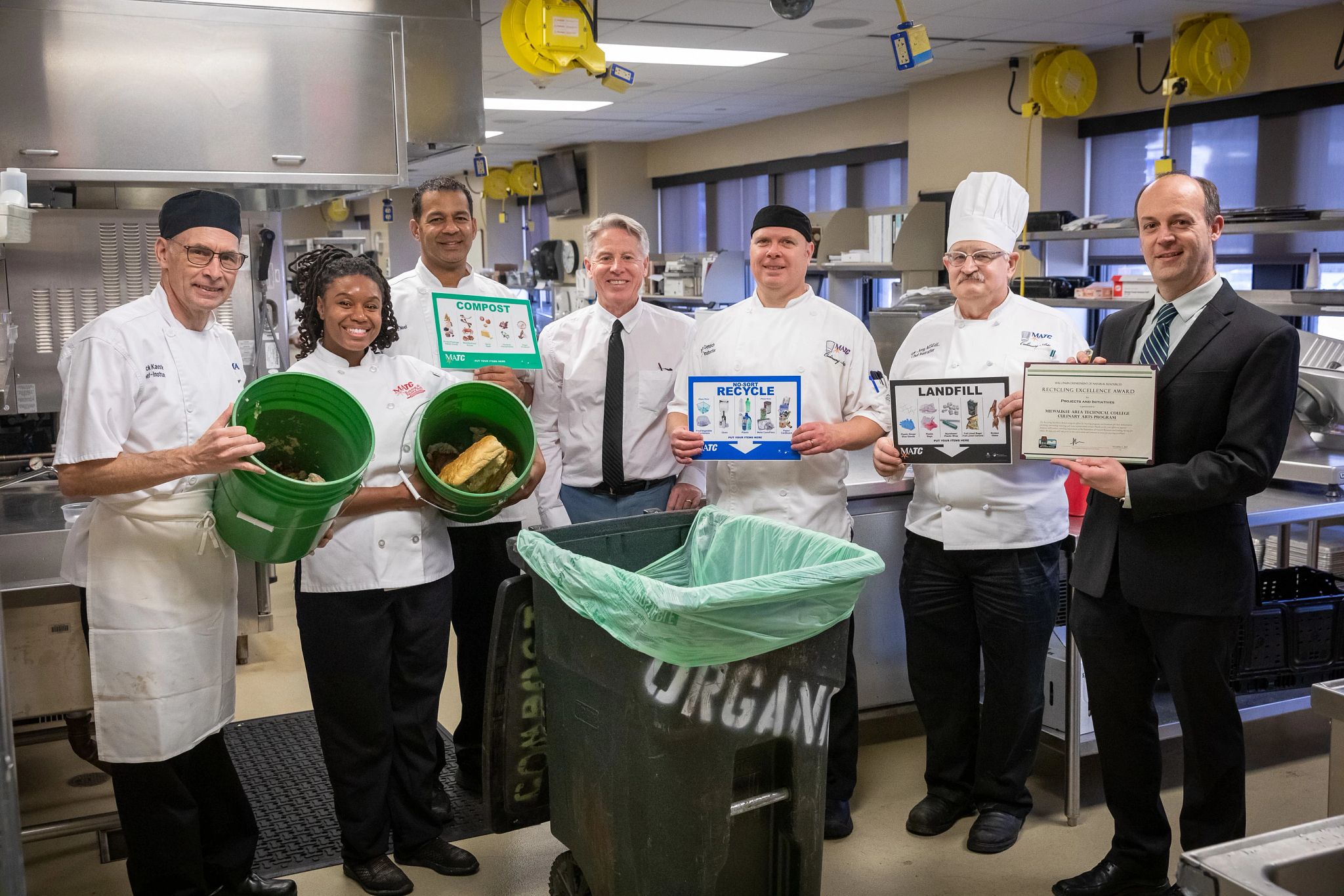 Utilizing an industrial composter, the Culinary Arts Program at Milwaukee Area Technical College has reduced their landfill output by 70%. Finished compost is used in raised bed gardens and at the Mequon campus in their Horticulture class. The compost also was used to grow heirloom garlic cooked by culinary students.
"Waste reduction and diversion are necessary for MATC as a local community member to reduce food waste and divert the rest from our local landfills. As a learning institution, we are preparing the current and next generation of community members and leaders to learn about this and become part of the solution." - Michael J. Sitte, Ph.D., dean of the Creative Arts, Design and Media Pathway, Milwaukee Area Technical College
Nestlé USA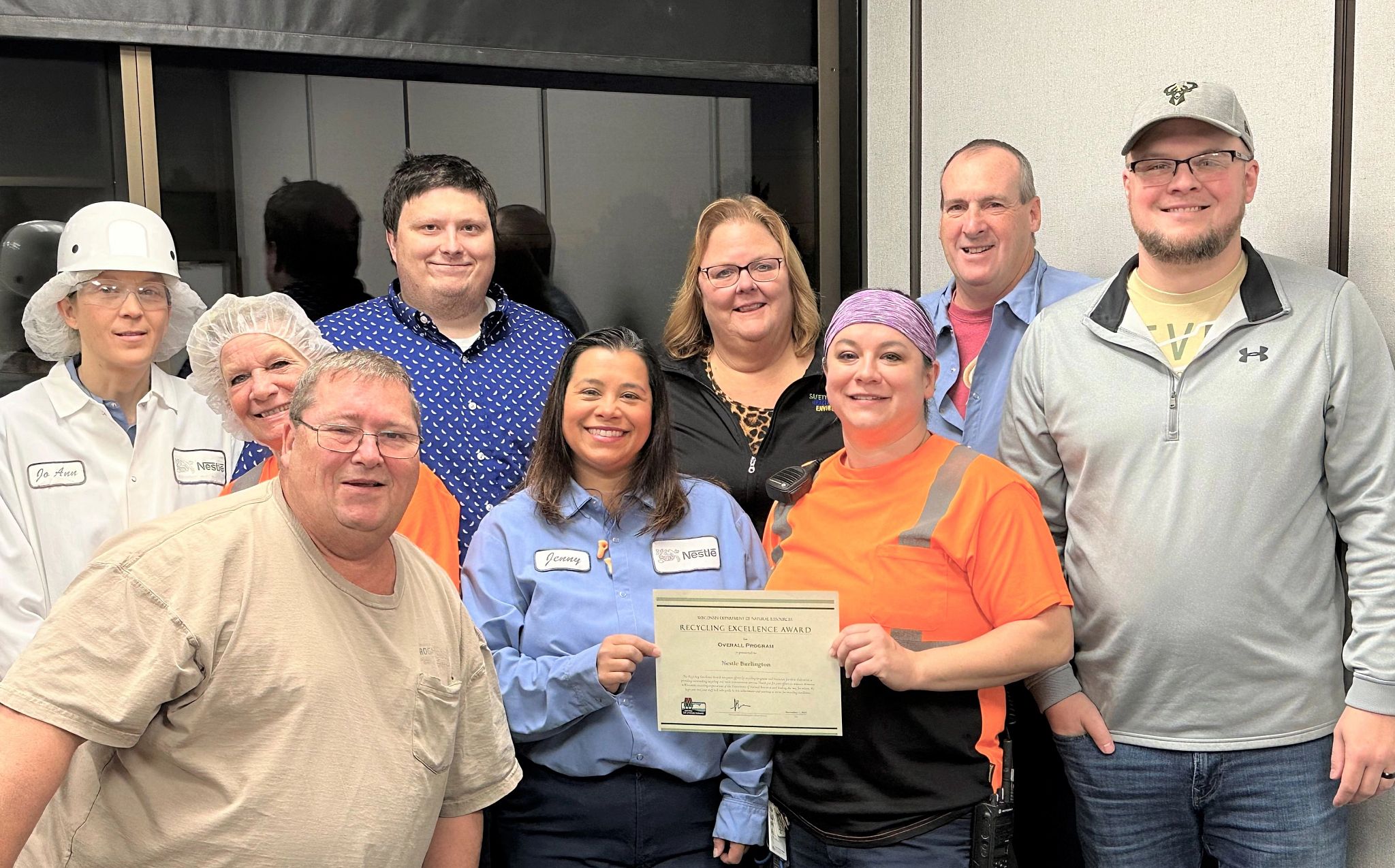 Nestlé's chocolate manufacturing facility in Burlington has a goal of sending zero waste to landfills, and they utilize circular economy concepts and partnerships to do so. Personal protective equipment from daily operations (including ear plugs, hair nets, and face masks) is sent to create fireplace pellets. Cocoa bean sacks are reused, cocoa bean waste is sent offsite for composting and bean shells are used for garden mulch. Additionally, the facility sends salvageable food waste to a local farm for animal feed and liquid waste for composting.
"As a food manufacturer, is important to our organization that we make sure all of the waste generated from manufacturing operations is recovered and diverted responsibly. This site utilizes this opportunity to create value for the environment, community and local businesses. The site's Conservation Team and every single employee have done an outstanding effort towards the goal of reaching a 'zero waste to landfill' status." - Anthony Rivera-De Jesus, regional environmental specialist, Nestlé USA
Town of Vinland
The town of Vinland took on a six-month challenge to collect 500 pounds of plastic bags and plastic film. Information was provided to residents via the town website and mailings to encourage involvement. In total, 545 pounds were collected and sent to TREX, a company that awarded the town with a resin bench made from the plastic. The program successfully made residents aware of the benefit of recycling, and another six-month challenge is underway.
"The town of Vinland is a small town with huge community involvement in recycling efforts from the lakeshore to the countryside." - Karen Brazee, clerk, Town of Vinland
Village of Bayside Public Works Department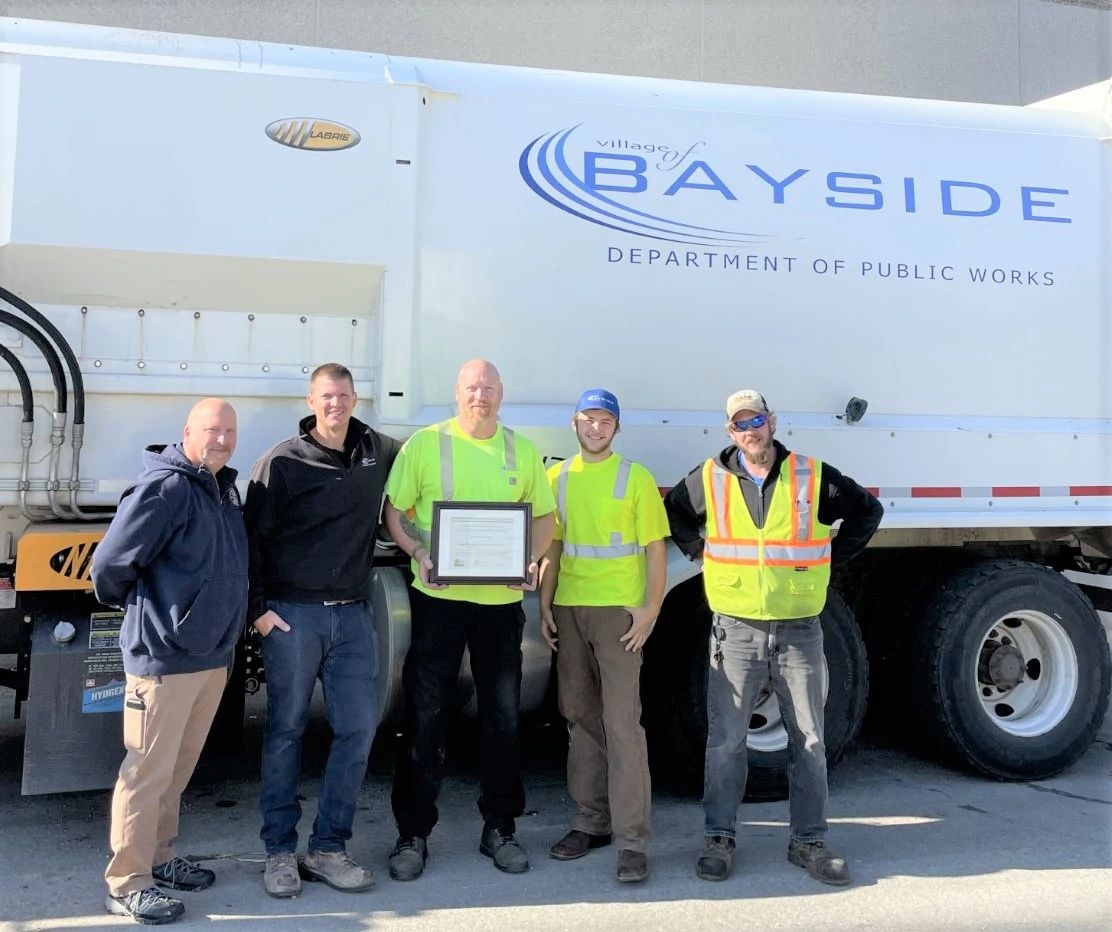 Bayside, a Green Tier Legacy Community, is consistently working to become more environmentally friendly. Residents can drop off items at the village hall to be recycled or reused, such as eyeglasses, ink cartridges, cell phones and plastic bags. Bayside partners with Dream Bikes and Habitat for Humanity to repurpose items, collects logs after tree removal to be repurposed into building lumber, paper pulp or firewood, and educates residents through a comprehensive collection guide, special events and online videos.
"Here at Bayside, we strongly believe that anything that can be recycled, should be. Keeping waste out of the landfill is important in keeping a sustainable and less polluted environment. That's why we believe in circular recycling and doing our best to reuse and repurpose items. This mindset is what pushes our department of public works to keep coming up with innovative ideas for better and proper recycling practices that are affordable or at no cost to our residents. Less waste going to a landfill means more reusing and less pollution, two important factors in sustainability and what we, as a department strive for." - Shane Albers, Department of Public Works operations superintendent, Village of Bayside
2022 Honorable Mention
Pine Valley Farm, Inc.
---
The 2021 Award Winners
Clement J Zablocki VA Medical Center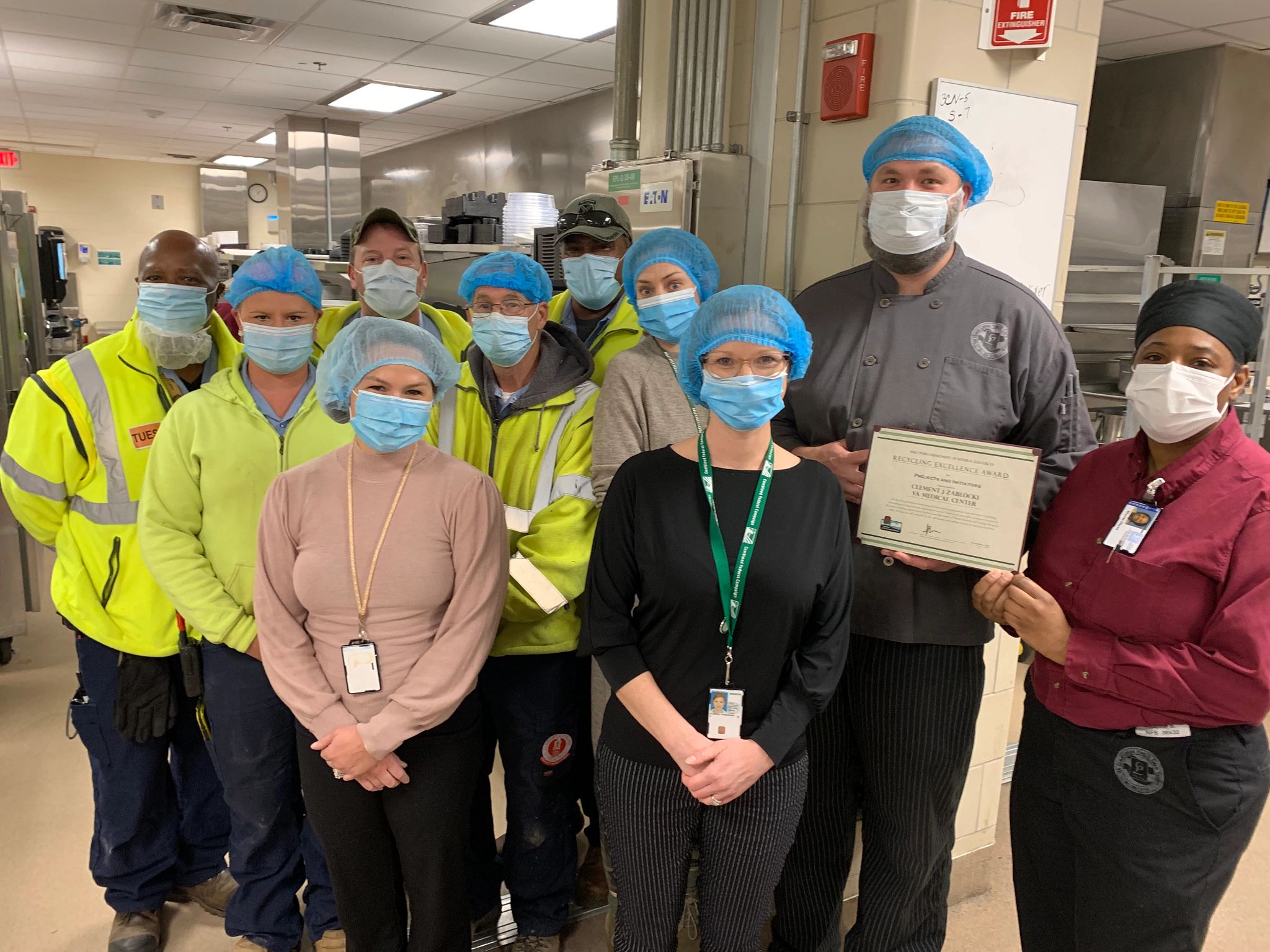 Staff at the Clement J. Zablocki VA Medical Center noted the volume of food waste being discarded daily in the kitchen and decided to take action. Unserved food from tray lines was identified as a diversion target. However, the food is government-owned property, which limits donation options. Staff overcame this obstacle by identifying two internal programs that could benefit from the excess food: 1) The Treatment Alternative Group, a part of the mental health department, which serves as a harm reduction program for veterans struggling with substance abuse, and; 2) Hoptel, where veterans and caregivers in need can stay overnight. This innovative approach reduces the need to purchase single-serving meals, saving $2,482 per year, and diverts over 8,000 pounds of food per year from the landfill. The Clement J. Zablocki VA Medical Center has shared the food program on larger platforms so other VA medical centers may implement similar processes.
D&D Products, Inc.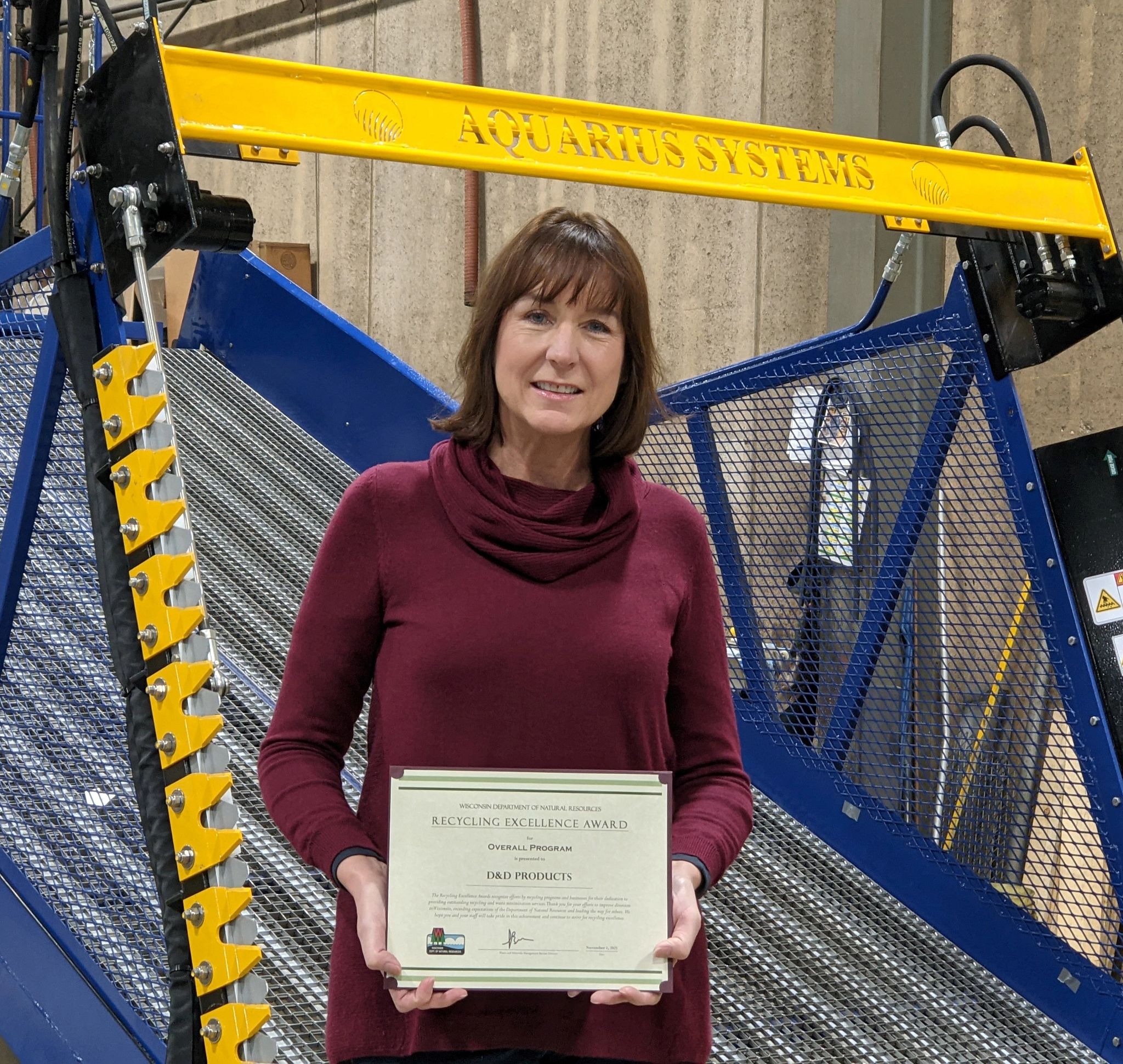 D&D Products, Inc. is a second-generation manufacturing company located in North Prairie. Waste reduction initiatives include using water coolers to reduce the use of plastic water bottles and disposable cups; providing employees and visitors with reusable travel mugs; saving scrap lumber and creating packing crates for trucking purposes; and reusing incoming boxes and packaging material to ship out parts to customers. In addition to traditional office recycling, company-wide practices include recycling ink cartridges, batteries, electronics, metal scrap, wire, oil and more. D&D even uses the water from its dehumidifier to water plants and outdoor flowers.
Inpro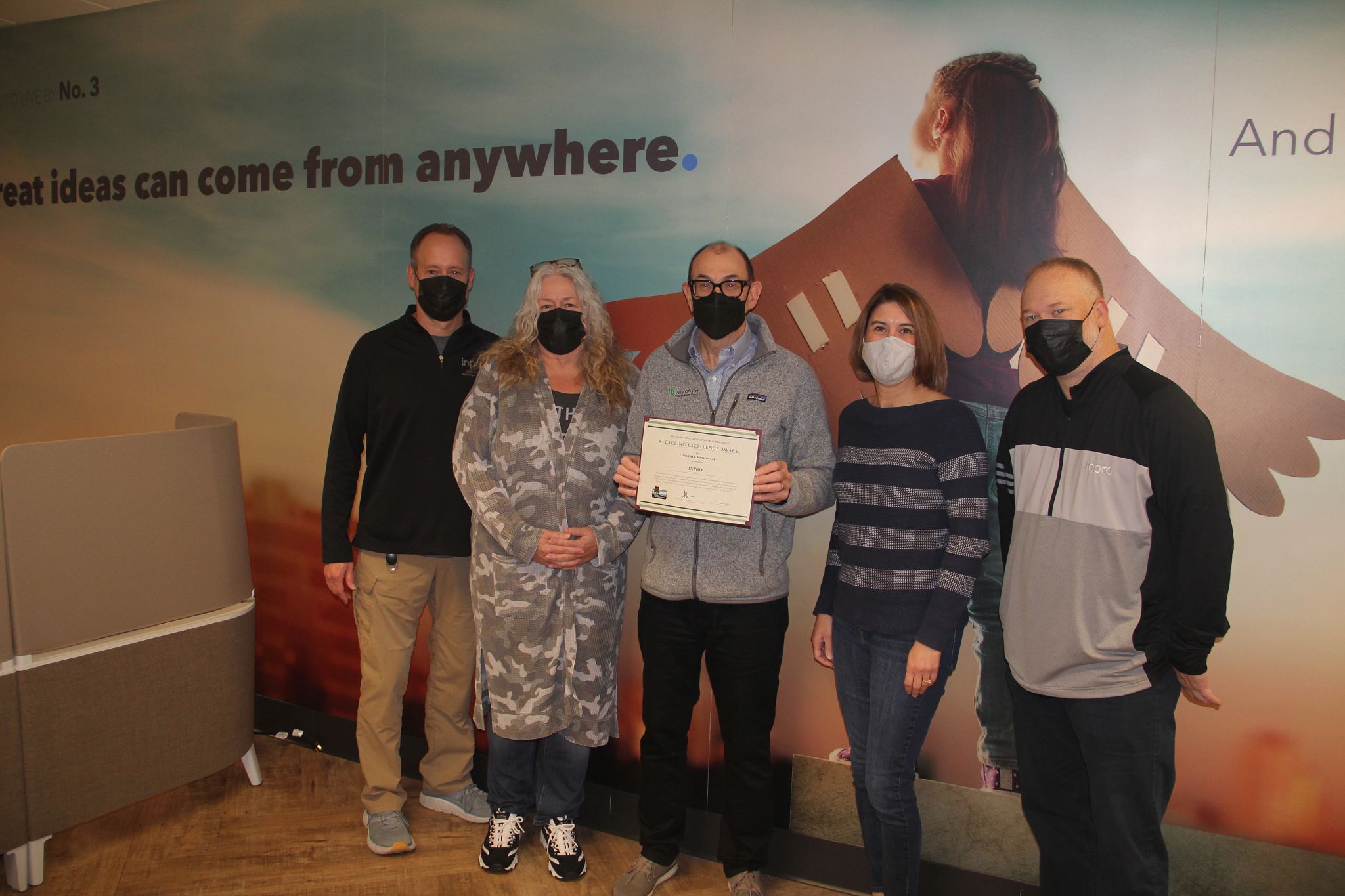 In 2019, Inpro, an architectural products manufacturer in Muskego, set a goal of becoming net zero to landfill by 2025. Starting in 2020, Inpro implemented initiatives including a more robust recycling program and increasing product yields to produce less scrap. This resulted in an overall 79.4% diversion rate. In 2020 Inpro conducted a waste audit, which Inpro dubbed the "Dumpster Divers' Daring Discovery." Demonstrating leadership commitment, members of the Dumpster Diver Team included Inpro CEO, VP of Global Supply Chain, VP of Product Development, SVP of Product Management and Development, Facility Manager and Estimator. Lessons learned from the waste audit included identifying paper towels as compostable, as well as various recyclable items incorrectly deposited in the trash. Inpro is improving employee education on its quest to divert waste from landfills.
Madison College Culinary Baking Program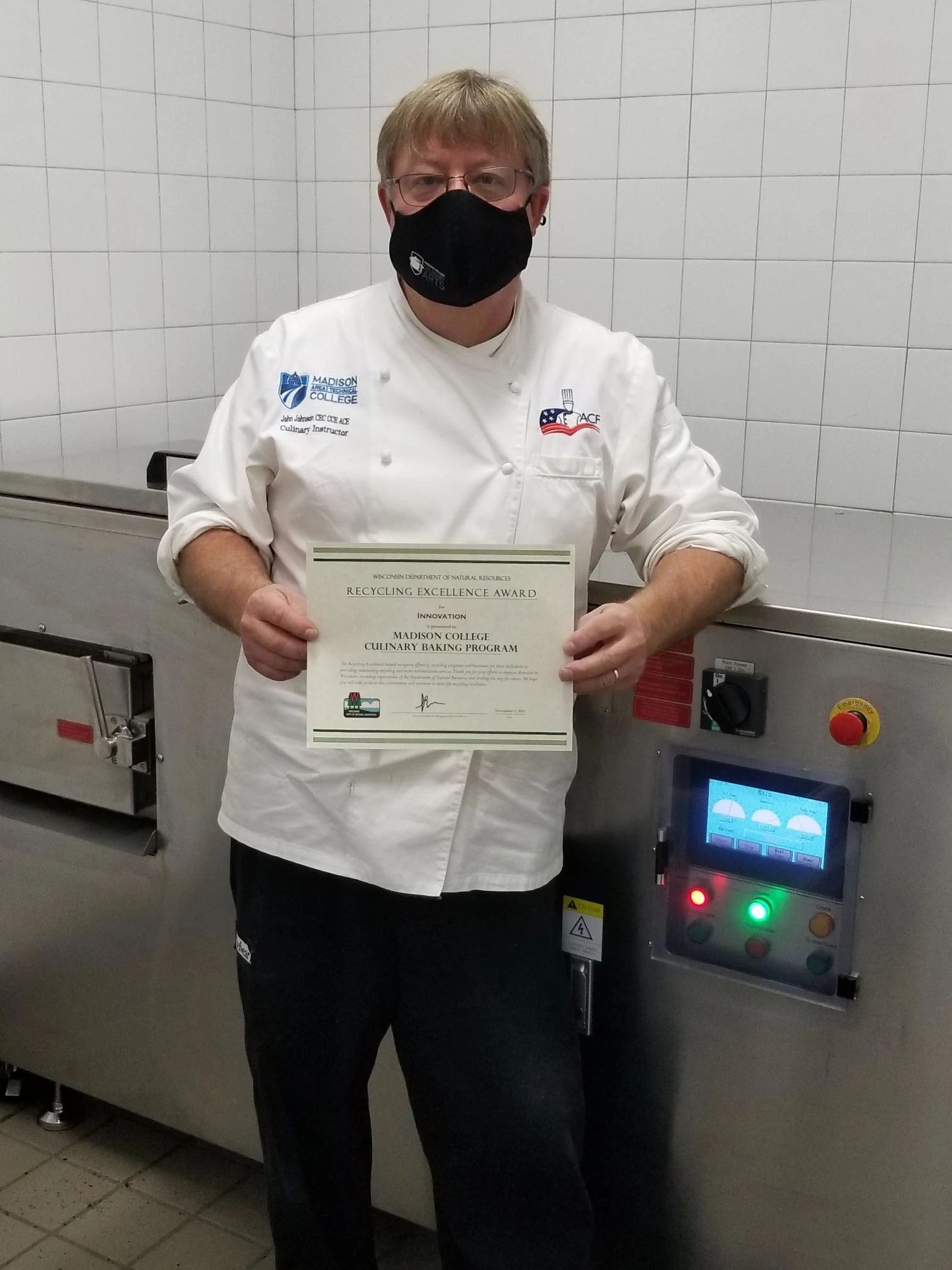 When the Madison College Culinary Baking Program learned that a biodigester could consume all compostable products from the culinary baking program and the cafeteria, they decided 'we have to do it.' Thus began discussions with facilities, engineering, the cafeteria and culinary arts to figure out how to put a biodigester in a small space, provide power and work on ventilation in the middle of the college to ensure no odors. Madison College credits the project success to the interdisciplinary ideas and solutions from each department. The biodigester was purchased from Oklin International and was the first such system in the United States. Kitchen scraps are loaded into the system and after two days, hot compost is removed, which cures for an additional 30 days before use. Weight reduction of food scraps is 90%. The Culinary Arts' trash receptacles have gotten very light with 25 tons of material composted per year. In addition, Madison College now has compost to use on campus landscapes and is also bagging it for sale, with all proceeds going to a food insecurity scholarship.
Milwaukee County Zoo
The Milwaukee County Zoo strives to divert waste from landfills whenever possible. The zoo has programs to compost organics from animal diets and herbivore waste, and to recycle various materials. From the public, the zoo collects handheld electronics such as cellphones and tablets and has placed over 200 recycling bins around the park for guests. Most recently, the zoo sought to address another waste stream: plastics bags and wrap from packaged animal food and habitat supplies. Staff began segregating this material and transporting it to retail stores that participate in the Trex recycling program. This effort kept 837.5 pounds out of the landfill in 2020, or the equivalent of 760,000 plastic grocery bags. Efforts continued in 2021 with over 1,700 pounds of plastic wrap and bags diverted to date.Outagamie County Resource Recovery Park
The Outagamie County Resource Recovery Park opened to the public on Oct. 15, 2020 after nine months of designing and constructing the expanded site. The intent of the design was to make it easier for customers to safely sort and unload their materials. Thirty color-coded dumpsters are arranged to encourage the continuous flow of customers. Outagamie's source separation goals focus on eight different material outlets: clean wood; construction and demolition materials; metal; single stream recycling; rigid plastics; mattresses and box springs; furniture; and trash. All new customers are provided with a guide to help them go through the facility. Additional outreach efforts have included virtual tours, TV appearances, promotional videos and social media. Customer visits have increased, as demonstrated by usage on Saturdays from March to August when the site had 5,176 transactions in 2020, compared to 5,555 transactions in 2021.
Pepin County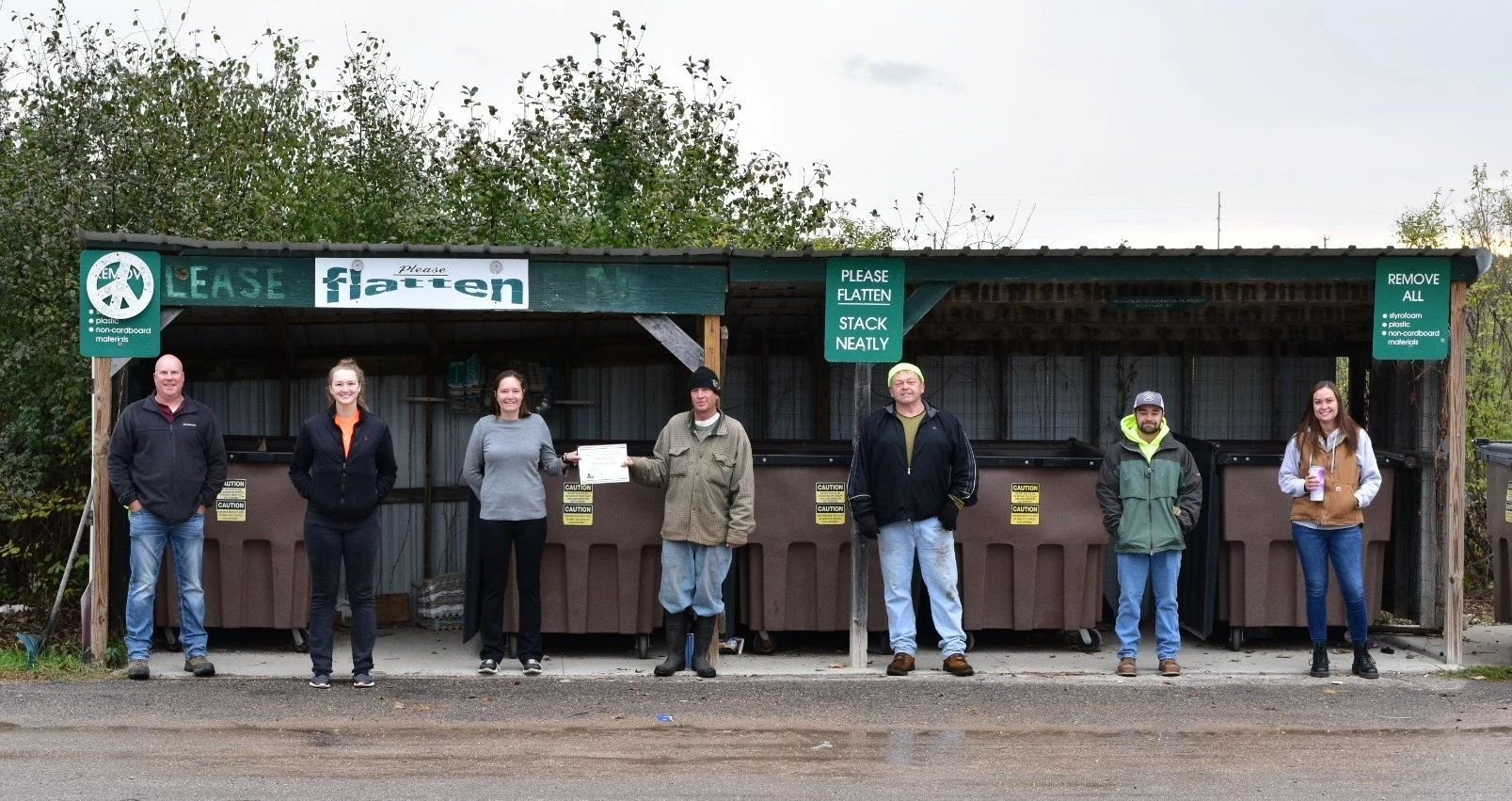 Pepin County credits their new Recycling Coordinator, Ryan Yarrington, for the reinvigoration of their recycling program. Mr. Yarrington worked within the county budget to address issues that had been neglected over years of operation and expanded outreach efforts on diversion opportunities for organic materials. While many counties paused events for the public during the pandemic, Pepin County was determined to continue to offer electronics collection. Working with RetroFit Companies, Inc., a socially distanced, minimal contact, drive-through event was designed and hosted. The May event was well-attended and yielded 14,588 pounds of electronics. Building on this success, a second event was held at a local high school parking lot with an additional 24,080 pounds being collected, despite temperatures exceeding 90 degrees for much of the event.
Stockbridge-Munsee Community Compost Program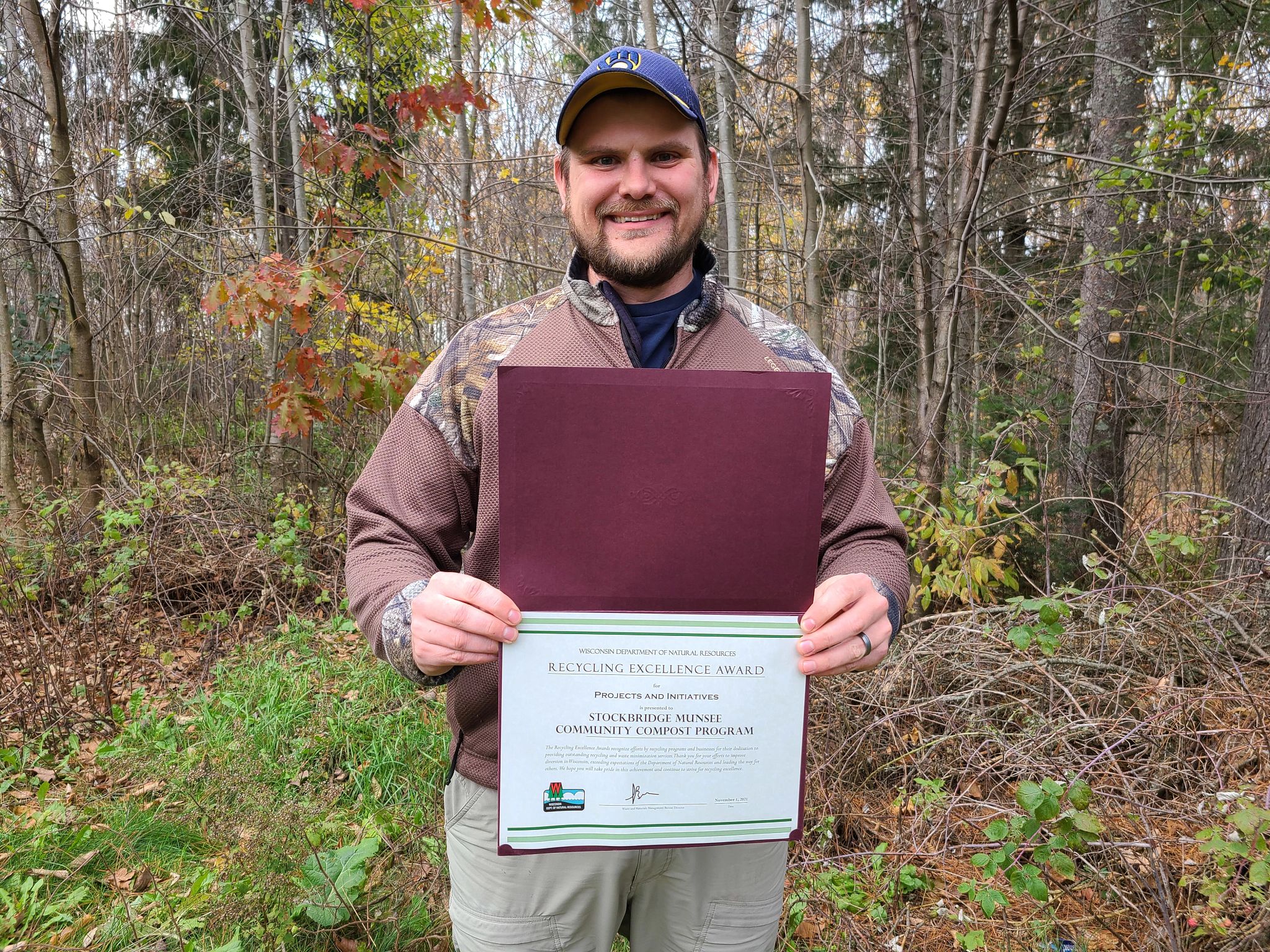 The Stockbridge-Munsee Community Compost Program has several goals: to reduce the amount of food waste generated at the North Star Mohican Casino; to bring about awareness of food waste throughout the Reservation; to continue the Tribe's drive be a "Green" community; to reduce ecological footprint; and to provide rich compost for the community garden. In 2020, the program diverted 4,191 pounds of food waste from landfills. Through composting, the volume was reduced to two cubic yards of finished compost, which was utilized in the community garden to grow 36 varieties of produce. Education is also an important component of the program. Overcoming obstacles during the pandemic, Stockbridge-Munsee did outreach to tribes nationwide and taught others how their program operates through a virtual course called Growing Compost to Grow Your Food System with the Institute for Tribal Environmental Professionals (ITEP).
Sustain Dane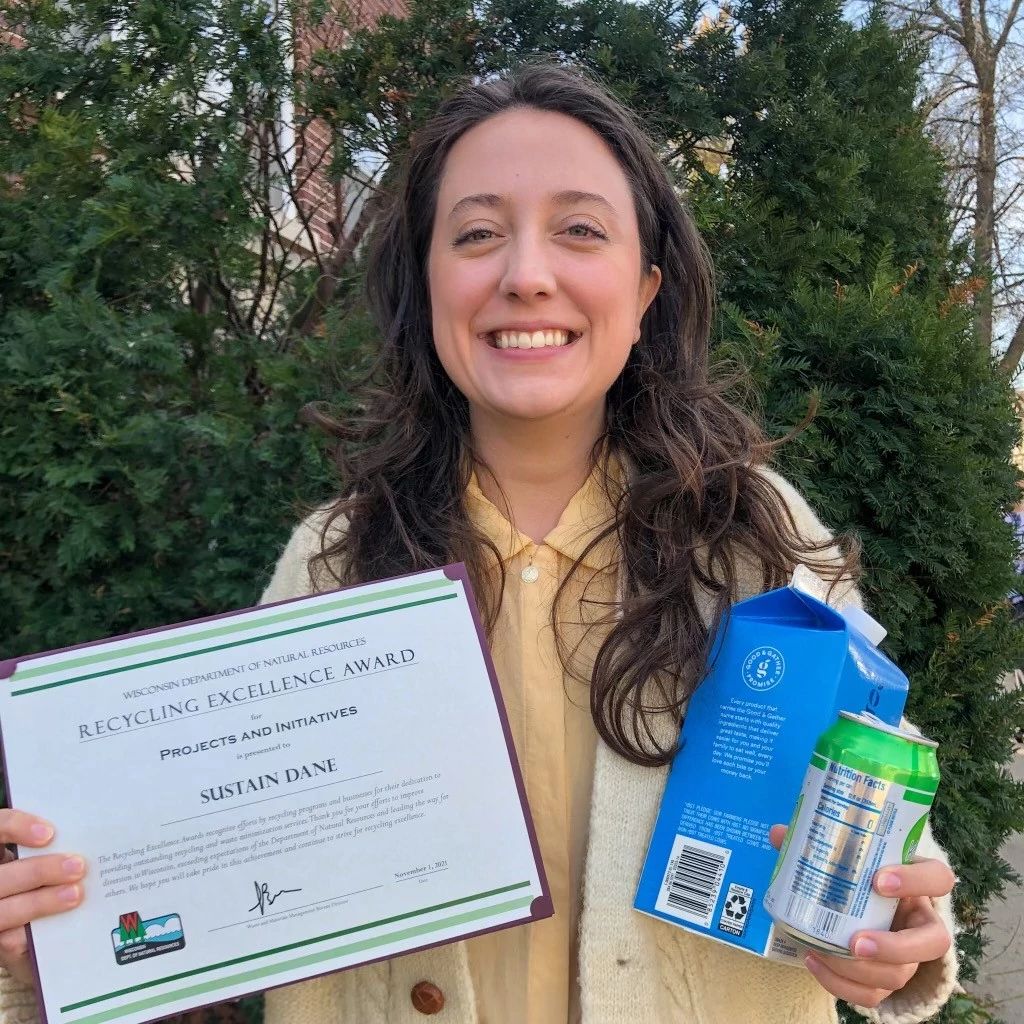 In 2021, Sustain Dane, in collaboration with the City of Madison and with support from the Carton Council, launched the first-in-Wisconsin Master Recycler program. The course comprised of two online 90-minute sessions where a group of interested residents learned the finer points of local recycling rules and waste diversion opportunities. The course followed a model similar to the UW-Extension classes to become a Master Gardener or Master Composter. To become a certified Master Recycler, participants had to complete an outreach project where they pass on their knowledge. After certification, Master Recyclers receive a large decal for their recycling cart and a digital picture frame that helps identify them as a recycling expert in their communities. Nearly 500 Dane County residents attended the Master Recycler offerings and have reached over 11,000 additional people and counting.
Tosa Green Summit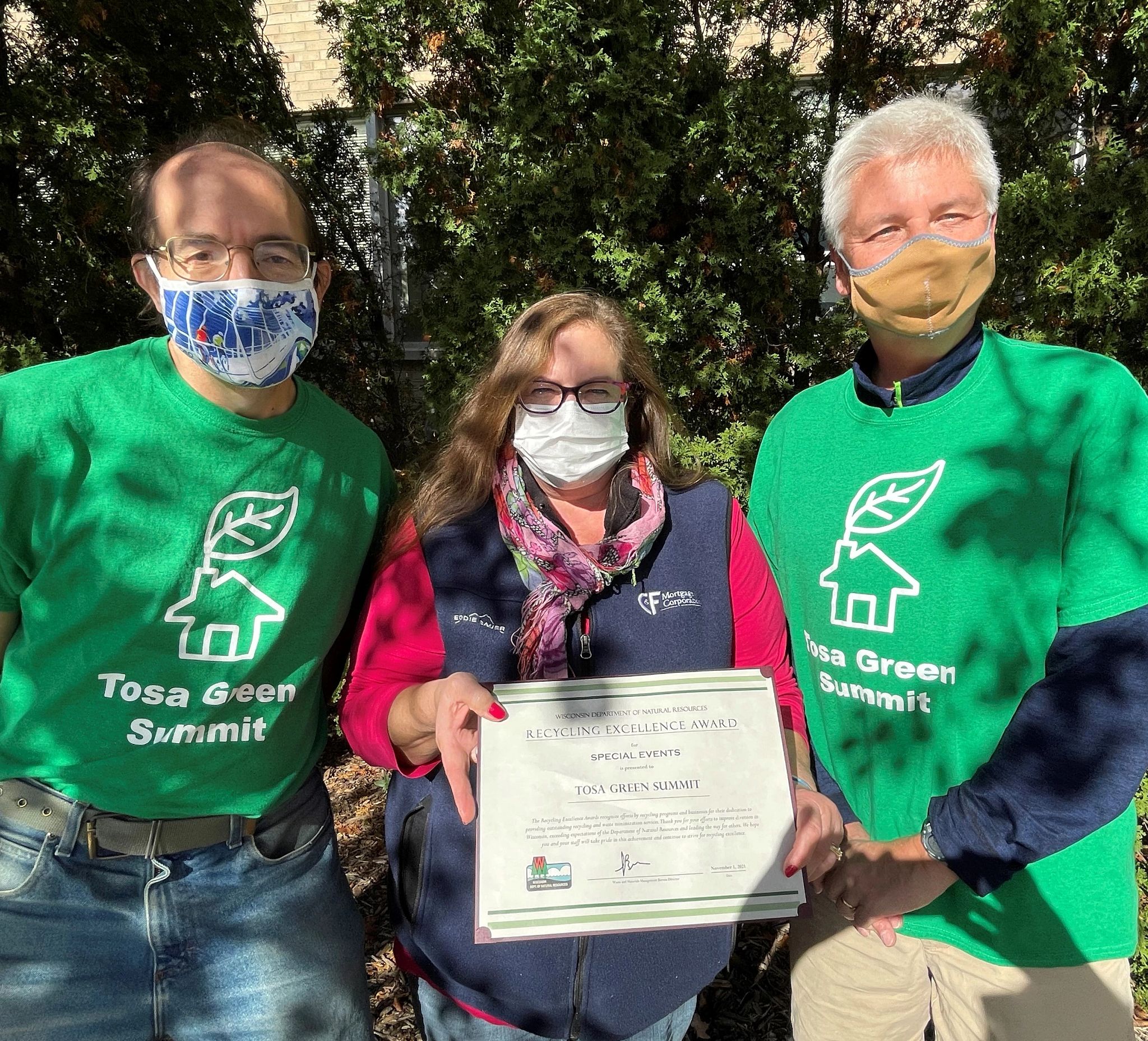 The mission of the Tosa Green Summit is to create awareness and take action on all things green and sustainable for Milwaukee-area residents. Guests of the summit can learn about organizations and initiatives that promote sustainability and have the ability to recycle a vast variety of items, all in a "one-stop-shop" format, creating a great day to celebrate being green. An interactive exhibit hall features 15-25 booths highlighting land, water, air, transit and energy. Local agencies and organizations have provided various recycling stations including paper shredding, electronics, bicycles, clothes and textiles, and household hazardous waste, as well as conducting a non-perishable food and personal care item drive. In 2020, the Tosa Green Summit event collected over 92,000 pounds for recycling or diversion.
Town of Excelsior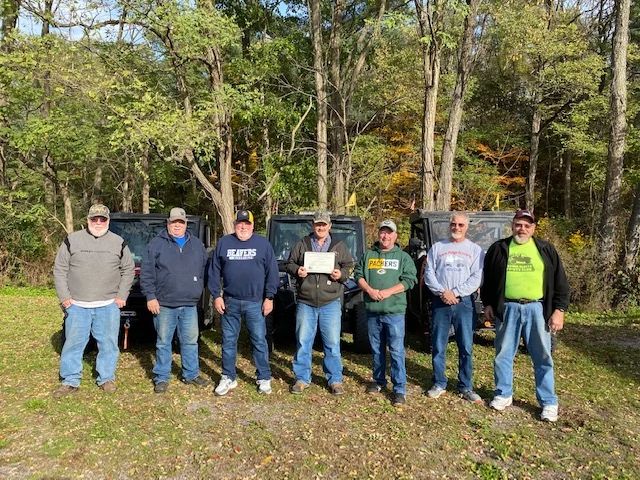 In partnership with local UTV/ATV clubs, the town of Excelsior held spring and fall clean-up days to help clear roadside litter including tires, appliances, furniture, cans and bottles. Abandoned tires were among the most common items, yet are also most expensive for the town to manage. Materials were taken to Sauk County for proper recycling and disposal. Town board members and residents teamed up to take on this dirty, but greatly needed event.
Town of Mentor
Due to the amount of debris found along roadsides, the town of Mentor held a special clean-up day at the town shop. Items accepted included bulky items or difficult-to-handle items like furniture, appliances and electronics. The event was heavily promoted on social media, in the local newspaper, on their website and via direct mail flyers. The day was an overwhelming success. Lines of vehicles and trailers started in the early morning and did not subside for over 2 hours.
Waupaca Foundry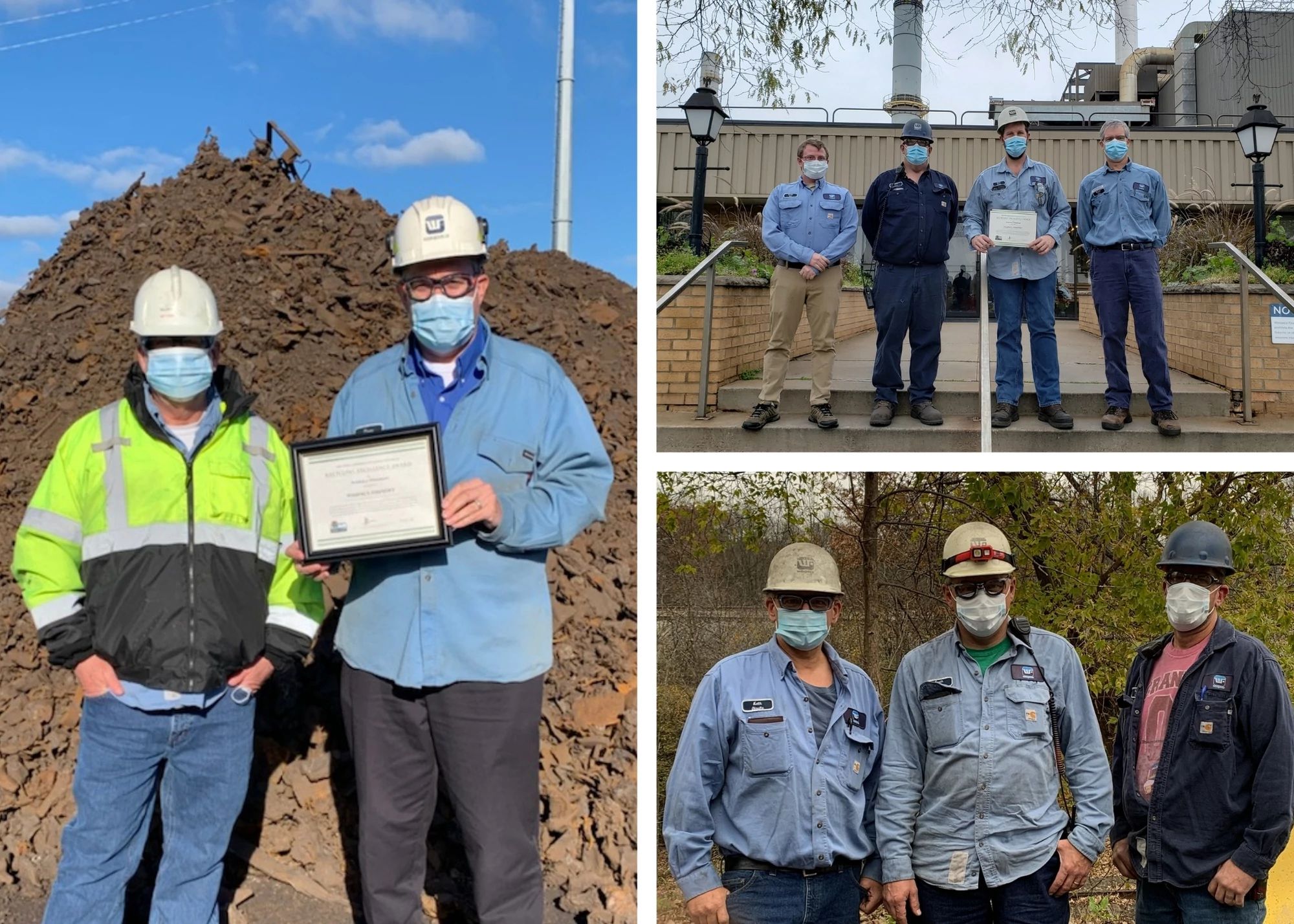 Waupaca Foundry, a participant in the DNR's Green Tier Program, operates three foundries in Wisconsin and is one of the largest producers of specialty iron products in the world. The casting process requires large volumes of sand, which are continually used, reconditioned and reused in the foundry. Sand that can no longer be used in the foundry process can be beneficially reused in lieu of landfill disposal. Waupaca Foundry uses specific systems to screen metal chunks and debris out of the sand so that it can be used in a variety of applications and industries. Over 75% of the byproducts generated from Waupaca Foundry processes are reused and incorporated into a multitude of beneficial reuse projects. Examples of such uses include geotechnical fill, road construction, mine reclamations, agricultural projects, cement manufacturing, concrete products, commercial blasting media and asphalt. In 2020 alone, 137,000 cubic yards of Waupaca's foundry byproducts were reused in Wisconsin.
2021 Honorable Mentions
Immucor
Recycling Connections
Sadoff & Rudoy Industries
Town of Russell
---
Past winners