Recreation
MacKenzie Center
The MacKenzie Center has a variety of habitat types that provide a wonderful place for family and group outings and learning about the environment.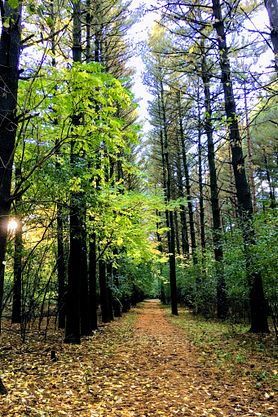 Hiking Trails
There are many self-guiding, interpretive trails to explore at MacKenzie. The Nature Trail begins at the entrance to the wildlife area, winds through the woods, and connects to the logging museum.
The trail system at the south end of the property is about 0.5 miles from the main parking area. The southern trail system has five interpretive trails that can be explored, one of which is wheelchair accessible.
Hunting and Learn to Hunt events
The MacKenzie Center is not open to hunting during public hunting seasons, but several Learn to Hunt events occur at the MacKenzie Center throughout the year. Check the Learn to Hunt webpage for dates and more information.
Picnic Area and Shelter
The MacKenzie Center has a grassy lawn picnic area with a reservable shelter to accommodate visitors. This 30-by-60-foot shelter is located on a grassy lawn adjacent to a forested area. The shelter includes ample parking, picnic tables and grills. A flush toilet building is nearby. The shelter can be reserved through the Wisconsin State Parks reservation system either online or by calling 1-888-947-2757.
Reserve the MacKenzie Picnic Shelter.