Volunteer Opportunities
Wisconsin State Park System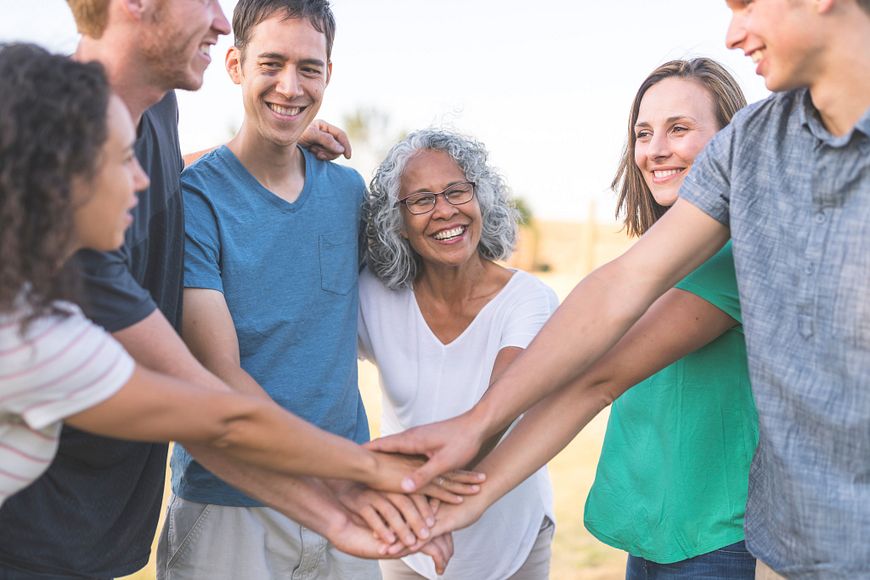 COVID-19 Update: Group sizes vary and may be limited to promote social distancing. Participants are encouraged to practice social distancing, frequent hand washing and to wear a face covering if not yet vaccinated or if social distancing cannot be maintained. If you are feeling ill or experiencing symptoms of COVID-19, we ask that you refrain from participating in any program.
If you like to spend time in the outdoors, interact with and help other outdoor enthusiasts, and you care about protecting our natural resources, then Wisconsin State Parks needs you! Check out the wide variety of volunteer positions that are available below!
Discover more volunteering opportunities with the DNR.
Position descriptions
To apply, complete a Volunteer Application Form, save and send it directly to the property(ies) where you wish to volunteer. Contact information can be found in each description below, or on the bottom right corner of each property's web page.
Be a campground host
Applications are being accepted for 2021
Stay in a campsite at the campground and volunteer a few hours a day.
Greet and assist campers with information about the park and facilities.
Assist in daily campground operations and set an example by being a model camper.
Clean campsites, bathrooms and facilities and assist with light maintenance.
Dispense park information and assist with campground programs.
Enjoy the company of other campers and make sure that they enjoy their stay.
Be a naturalist or nature center host
Present property interpretive and educational programs such as campfire talks, nature walks, multi-media shows, living history programs and evening programs.
Lead school group programs on-site.
Conduct public workshops or classes.
Conduct nature events in campgrounds, on park trails and at park facilities.
Support park staff in educational programming.
Greet visitors arriving at the Nature Center.
Answer questions about the environment, exhibits and the property.
Be a visitor center volunteer
Greet visitors and provide brochures, maps, program schedules and answer questions.
Assist park visitors with vehicle admission stickers, campsite registration and state trail passes.
Staff a visitor center information desk or gift shop.
Help coordinate special events.
Help design and prepare exhibits, displays and bulletin boards.
Help market and advertise park programs.
Provide newsletters, brochures, fact sheets and information about the local area.
Be a volunteer for special projects
Repair and construct fences and bridges.
Clean up park grounds, campgrounds and facilities.
Complete special or seasonal maintenance tasks as needed.
Do carpentry, remodeling or other construction projects.
Make park information signs.
Assist with minor vehicle/boat/equipment repairs and maintenance.
Build and maintain new and existing trails.
Build informational kiosks.
Plant trees, remove invasive species and do prairie restoration.
Assist staff in building picnic shelters, accessible cabins and other property facilities.
Form 2500-120, WSPS Power Equipment Safety Acknowledgment [PDF]
Adopt-A-Trail in the State Park System
Provide trail support and clean-up.
Perform as crew members on trail construction, renovation and maintenance.
Assist with the control of invasive species and the planting of native species.
Report any trail obstructions or hazards.
If you are interested in adopting a trail, complete the Adopt-A-Trail Application and Permit [PDF] or contact the park, forest or trail manager.
Join a Friends Group
A Friends Group is a group of people who have an interest in Wisconsin's natural resources and who volunteer their time, services and support in order to enhance Wisconsin's state park properties. These groups have a formal nonprofit partnership with the state park system.
Current campground host and volunteer openings
Click below for campground host and other volunteer openings in the Wisconsin State Park System.
Big Bay State Park - Beach Clean-up

Big Foot Beach State Park - Campground Hosts

Copper Falls State Park - Campground Hosts, Trail Maintenance

Devil's Lake State Park - Trail Maintenance

Governor Dodge State Park - Adopt-A-Trail

Governor Knowles State Forest - Campground Hosts

Hank Aaron State Trail - Trail Maintenance

Kettle Moraine State Forest - Southern Unit - Campground Hosts

New Glarus Woods State Park - Campground Host

Peninsula State Park - Volunteers, Nature Center Hosts

Richard Bong State Recreation Area - Campground Hosts

Turtle Flambeau Scenic Waters Area - Campsite Stewards, Volunteers

Willow River State Park - Nature Center Hosts, Campground Hosts, All Volunteering Opportunities