Wisconsin Wingshooting
The practice of shooting at birds in flight.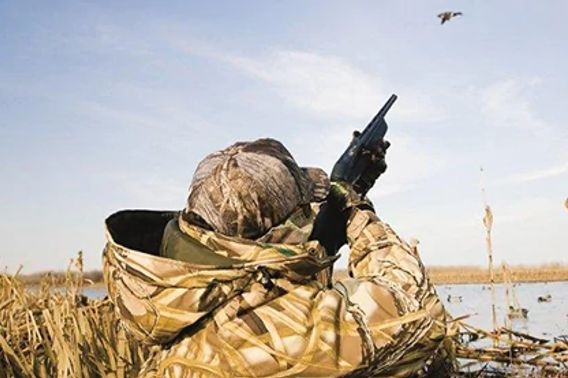 Hunting is a tradition that runs deep in Wisconsin. Promoting and training safe and responsible hunting is an integral part of the overall DNR mission. To help meet this mission, the DNR has developed a one-day workshop called Wisconsin Wingshooting.
The workshops are designed to help bird hunters improve their hunting skills by learning to:
improve their wingshooting technique using the proven "swing through" method;
estimate range to target "on the fly"; and
choose the best gun, choke and (cost-efficient) ammo combinations.
By learning these skills, participants will:
improve their hunting experience;
reduce the number of wounded or lost game;
enhance positive hunter ethics; and
foster a better appreciation of wildlife resources.
Workshop details
Participants
Participants must have a basic understanding of shotgun shooting, loading and unloading. Game bird hunting and shotgun wingshooting experience are not required, but would be beneficial.
To enroll in a clinic, search for certification type: "Advanced Shotgun (Wingshooting)" at the Go Wild - find a class to enroll in site.
$25 clinic cost
What to bring to the clinic:

the shotgun you use for hunting;
padded shooting shirt or vest;
choke tubes;
eye and ear protection;
folding camp chair;
snacks, lunch and beverages (if not provided at the clinic); and
three rounds of your preferred non-toxic ammo for pattern testing.
12 and 20 gauge steel shot and clay targets will be provided at no additional charge for all the wingshooting exercises. By learning to shoot steel shot effectively, you can be more effective with lead or any other nontoxic shot.
"How to" information
Become An Instructor
The DNR is seeking partners who have similar missions in strengthening Wisconsin's hunting tradition and who are willing to promote and teach the Wisconsin Wingshooting program now and into the future.
As part of this partnership, the DNR will provide:
complete and submit the apprentice application. Form 8500-161

[PDF];

training for 2-3 partner members on how the Wisconsin Wingshooting program is structured and conducted;
classroom training materials (PowerPoint materials and handouts); and
practical exercise training equipment (trailer equipped with required materials).
Requirements of the partners are:
at least two organization members who have the skills, motivation and desire to conduct one Wisconsin Wingshooting program annually;
instructor attendance and completion of a 2-day Wisconsin Wingshooting "train the trainer" program;
provide a safe location to conduct Wisconsin Wingshooting clinics;
complete reports on each clinic using Go Wild, Instructor Dashboard and participate in elements of DNR program evaluation;
understand and follow the policies of the Wisconsin Wingshooting program Wisconsin Wingshooting Policy Manual; and
manage your clinics online using Go Wild Instructor Dashboard User Guide.
If your organization is interested in partnering with the DNR on this initiative, please contact Ashley Van Egtern via email or phone at 608-267-7509. We look forward to working with you on this program to enhance the wingshooting skills of Wisconsin's upland and migratory bird hunters.
4 Rules Of Firearm Safety
Participants must know and follow TAB-K, the four basic rules of firearm safety.
Read more about firearm safety tips and understand each rule before handling any firearm.
TAB-K:
Treat every firearm as if it were loaded
Always point the muzzle in a safe direction
Be certain of your target and what is beyond
Keep your finger outside the trigger guard until ready to shoot
Partners