State properties feel nature's wrath
SPECIAL REPORT: 2018 FLOODING EVENTS BRING SWIFT, EFFECTIVE RESPONSE
Kevin Feind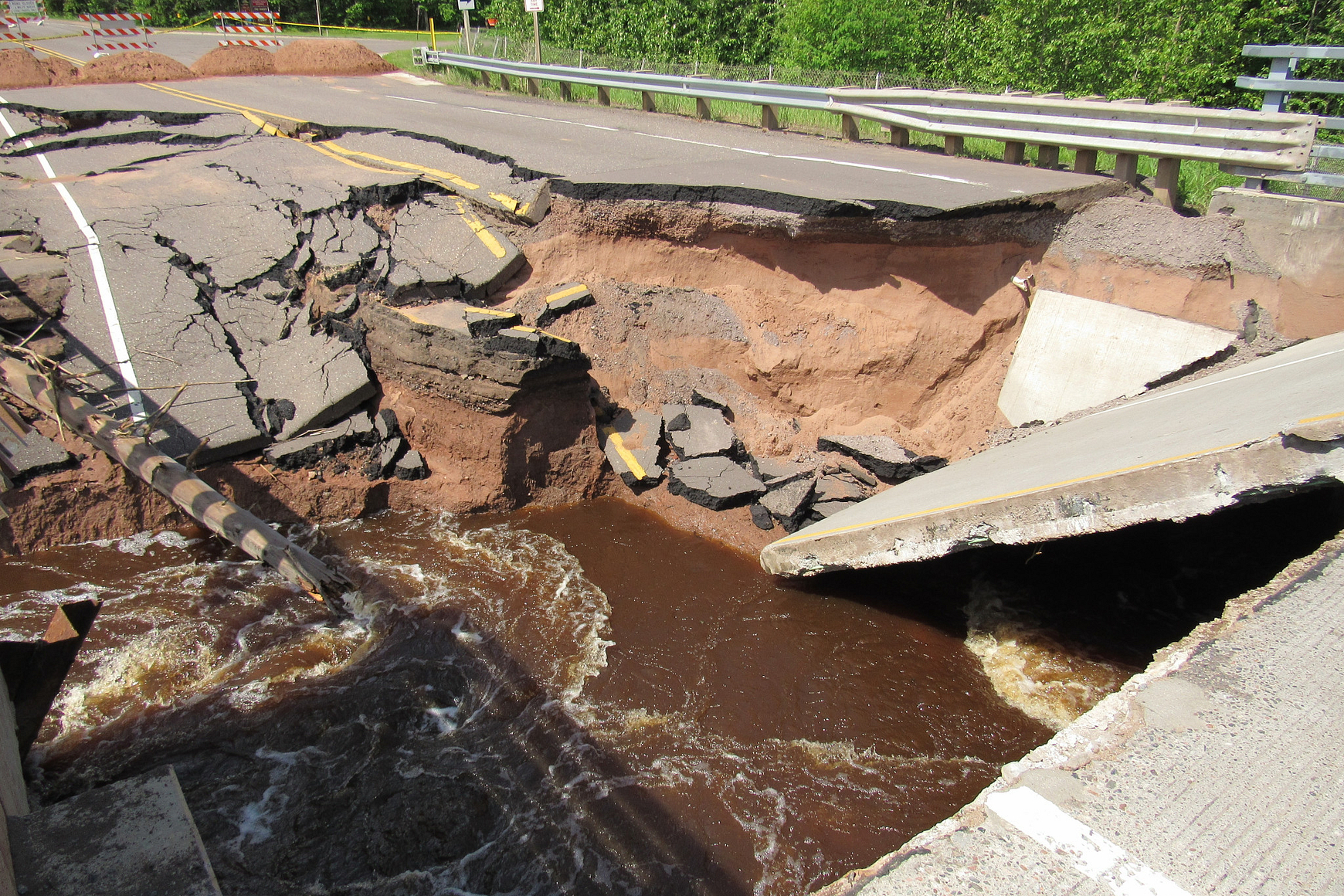 © KEVIN FEIND
The summer of 2018 will go down as one of the wettest in Wisconsin's history — and a destructive one for both private and public lands throughout the state. Between June and September last year, 32 DNR properties in 21 counties sustained nearly $8 million in damage due to rain, flooding and tornado events. More than 70 percent of staff in the parks and recreation management program responded to and assisted in recovery efforts.
It all began in June with record-setting rains in the northwest counties of the state. In a four-day stretch June 15-18, northwest Wisconsin received anywhere from 7 to 12 inches of rain, according to the National Weather Service.
The heavy precipitation caused flooding of area rivers and streams, washed out roads and damaged state parks, forests and trails. Several Wisconsin State Park System properties experienced damage and closures due to the rain and flooding in Douglas, Ashland, Bayfield, Iron, Burnett and Price counties.
In Douglas County, two area state parks were particularly hard-hit by flooding. Waterways running through the properties were raging from all the rain. Pattison State Park has the Black River flowing through it and Amnicon Falls State Park has the Amnicon River.
Both parks suffered damage but Pattison, about 13 miles south of Superior, had far more destruction because so many facilities there are located near the river. As natural resource property supervisor at Pattison State Park, I found myself in the middle of a difficult situation on June 17. A dam on the Black River just east of State Highway 35 was in trouble.
Early that morning, a Sunday, I met with one of our park workers at the dam. Though the gate had been lowered significantly two days earlier in anticipation of the rain, more relief was needed. The two of us worked together to open all gates completely to allow more water to flow through.
At about 10 a.m., however, the water level had risen by about 5 feet and was nearing the catwalk over the dam. The water was now flowing through the tunnel overflow and was starting to breach the dam's south berm.
Late that Sunday, Wisconsin Department of Transportation staff made the decision to close the bridge. The closure of Highway 35 and many other surrounding town roads resulted in area residents being trapped at or away from their homes.
As the dam overflowed its south berm, it caused excessive erosion to the highway's base and damage to the north and south bridge approaches. As the south berm washed away, the flowing water caused even more erosion to the bridge's south approach. Eventually, the south concrete approach to the bridge dropped completely into the void below.
Safety first
Our staff at Pattison State Park worked with WisDOT, the Wisconsin State Patrol, Douglas County Sheriff's Department, Douglas County Highway Department and the Town of Superior Fire Department to keep traffic, both vehicle and pedestrian, from unsafe areas of the park. Many areas were barricaded or signed as closed.
One of the biggest challenges was checking on the park's Little Manitou Falls. With Highway 35 closed, it created a drive of 15 miles just to get there.
Public safety was the No. 1 concern. Many people were entering closed areas, so staff spent a lot of time directing them away from those parts of the park. And we frantically tried to keep traffic from the damaged bridge.
Douglas County Highway Department personnel helped by dumping piles of sand in the highway to prevent vehicles from going around blockades. Law enforcement from the DNR, State Patrol and Sheriff's Department took over traffic control and worked around the clock to staff detours.
I was briefed regularly as days progressed. A plan was discussed with officials including DNR transportation liaisons, engineering and dam safety staff on how to temporarily fix the dam and permanently fix the highway.
In the wake of the dam failure, Interfalls Lake was drawn down and the Pattison Beach was closed. Park trails and day-use areas also were closed because of damage.
Meanwhile at Amnicon Falls State Park, southeast of Superior, the Amnicon River rose to more than 6 feet over flood stage during the mid-June rains, threatening the integrity of the Amnicon River bridge to the office and campground. Fortunately, the bridge avoided damage.
The park's Civilian Conservation Corps Bridge wasn't so fortunate. There was damage to the mortar and stone bridge abutment. A local mason was hired and fixed the abutment later in the summer.
Park staff worked hard to keep campers and visitors safe, monitor property damage and keep pedestrians out of damaged and dangerous areas.
Documenting the damage
In the wake of the damaging storms and rain, numerous DNR staff stepped up to help at Pattison and Amnicon Falls and across the state, including staff from different work units, the program management team, central office and other programs throughout the agency.
DNR also worked with other state agencies. On June 18, WisDOT inspected the bridges at Amnicon Falls and deemed them safe, so the park reopened that day. Some areas remained closed until they also were considered safe for visitors.
Back at Pattison State Park, evaluation and repair work on the Highway 35 bridge were expedited by DNR transportation liaisons and WisDOT. On June 25, Janke General Contractors from Athens put the repair plan into motion and by June 29 the highway had reopened.
As water levels receded at both parks, DNR staff worked to document the extent of the devastation to prepare for what would become one of the program's largest claims in a decade to the Federal Emergency Management Agency (FEMA). Work began at both parks to fix damaged trails and roads so as many facilities as possible could be reopened quickly.
At Amnicon Falls, almost all trails are now open. At Pattison, access roads were constructed during summer and fall so heavy equipment could be brought in to rebuild both the East Beaver and West Beaver trails. As of this writing, those trails are still closed for repairs, as are Little Manitou Trail and Pattison Beach. All other areas at Pattison are open.
We have been working with DNR experts, consultants, contractors and others on repair plans for the dam and park trails and hope that most areas at Pattison will be open and accessible for visitors at some point in 2019. Some elements that are more complex, such as the Pattison dam, may take slightly longer to repair.
All projects are expected to be completed well before the 100th anniversary celebration at Pattison State Park in 2020.
Kevin Feind is the DNR's natural resources property supervisor at Pattison and Amnicon Falls state parks.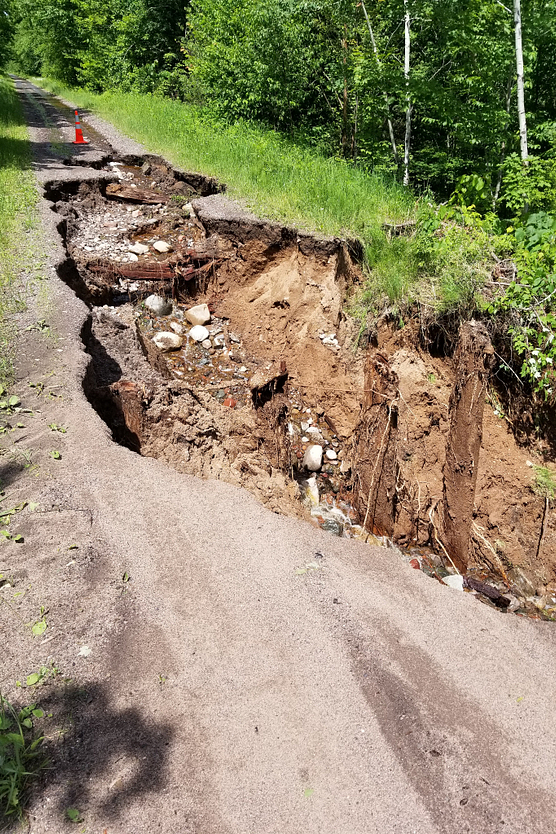 © DAN YANKOWIAK
Other state properties take a hit
Pattison and Amnicon Falls state parks in the northwest part of the state were among the state properties significantly damaged by storms and flooding in 2018, but they were not the only areas affected.
Other damage and weather-related temporary closures from storms or floodwaters occurred at Interstate, Merrick, Big Bay and Copper Falls state parks and Governor Knowles and Brule River state forests. Most of those areas recovered quickly.
In late August, heavy rains and storms caused the temporary closure of Wildcat Mountain State Park in Vernon County and approximately half of the Long Lake campground in the Northern Unit of the Kettle Moraine State Forest in Fond du Lac County, where the National Weather Service confirmed a tornado had touched down (see wardens story). There were no reported injuries from any of those storms.
Two of DNR's prized state fishery areas also sustained significant damage last summer including Coon Creek and White River, with estimates totaling more than $2 million. Other smaller fishery properties and natural areas in west central and southwest Wisconsin also sustained damage.
In addition, a number of state trails were affected by flooding in 2018 — closed either in full or in part for varying stretches of time. That included the 400, Badger, Elroy-Sparta, Saunders, Wild Rivers, Gandy Dancer, Tuscobia, Sugar River and Military Ridge state trails.
As of this writing, closures continued at state trails including the 400 (from La Valle to Elroy), the Elroy-Sparta (from Norwalk to Elroy), the Saunders (entire trail) and the Gandy Dancer (northern segment in Douglas County).
For the most up-to-date conditions including closure information at state parks, trails or other state properties, check Current condition reports.
— DNR staff