When lakes are at their limits
SPECIAL REPORT: 2018 FLOODING EVENTS BRING SWIFT, EFFECTIVE RESPONSE
Andrea Zani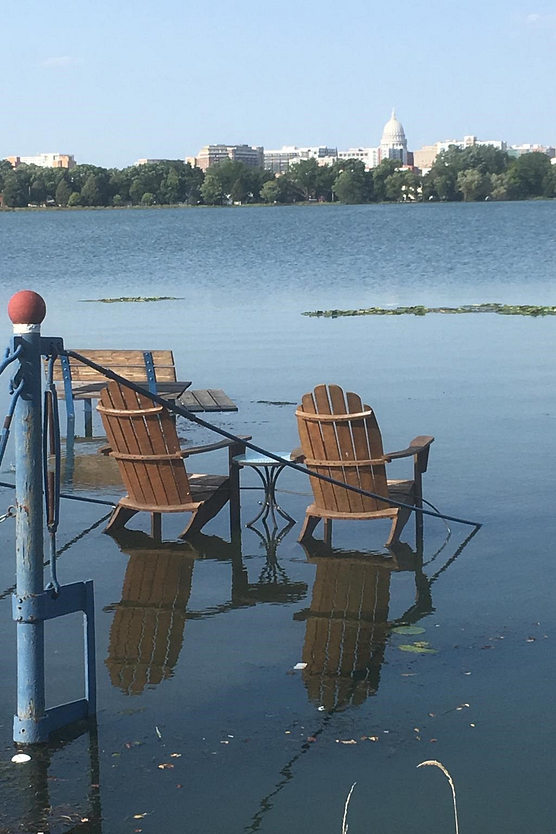 © ANDREA ZANI
DNR water management engineer Rob Davis was in the throes of some very long days — and nights — during late summer last year.
Torrential rainfalls on Aug. 20 in Dane County on top of an already wet June had filled the Yahara Chain of Lakes to overflowing and pushed the all-important Tenney Dam to its limits. Flooding affected not only the population center of Madison's isthmus between the larger lakes Mendota and Monona, but communities all the way down the chain.
Davis, whose expertise is in dam safety and floodplain management, was the logical choice to join an ever-expanding group working to deal with the growing crisis situation. With the Dane County Land & Water Resources Department in the lead, the group navigated the precarious process of managing water in the Yahara Lakes.
It was a delicate "balancing act," Davis said, as experts grappled with the ramifications of every move they might make involving water flowing through the lake chain. Not only that, but the threat of more rain always loomed.
Davis played an important support role, especially in working with John Reimer, the assistant director for Dane County Land & Water and the "real genius" in dealing with the crisis, Davis said. He credited Reimer for being quick to reach out for counsel on Tenney Dam in particular.
"He didn't want to operate in a vacuum," Davis said of dam operations during the flooding period. "I was working closely with (Dane County) for technical support. We would talk through things. We talked a lot."
Davis even recalled getting some "2 a.m. texts" from Reimer during the ongoing flood management, which stretched into October. Reimer didn't expect an immediate reply at that hour, Davis said with a smile, "he waited until 7:01 a.m. to call."
Davis was impressed with Reimer's leadership and knowledge. "Given the conditions and circumstances that were in place, I don't know how Dane County could have handled things better," Davis said.
All eyes on Tenney Dam
Computer analysis and modeling were used to help determine best flow amounts through Tenney Dam between lakes Mendota and Monona at the "top" of the Yahara chain. Tenney is one of three dams — along with Babcock, at the outlet of Lake Waubesa, and La Follette at Lake Kegonsa — controlled by Dane County using motorized mechanisms for quick adjustments. The chain also includes the Stoughton Dam downstream, operated by city officials there.
Tenney was the most critical of the three county-managed dams and where much of the attention was focused during last year's flooding events, when avoiding overtopping was the highest priority. Although there were no indications that dam failure was imminent, everyone had to be ready.
"We (DNR) were involved for our role with dam safety. The huge thing we were weighing was protecting the Tenney Dam," Davis said.
Officials had to weigh the difficult matters of Tenney's "flow," carefully considering the consequences of letting water through to protect the dam, including when and how much, while knowing any additional flow would raise water levels and create flooding issues on the other side.
Downstream municipalities "were in a tough spot," Davis said. The strategy was to have water pass through Tenney in a measured way, letting people in affected areas know ahead of time their water levels would be rising because of it. That bought time for sandbagging and other protective measures in advance, unlike what occurs in flash flooding.
In addition, other activity was undertaken to increase the flow of water out of the lakes — where flow is naturally slow anyway because the area is so flat. That included more work in the Yahara River to harvest aquatic plants, which inhibit flow. As a reference, Dane County notes that about 400 dump truck loads of aquatic plants are removed in an average year; in 2018, it was 700 loads.
In praise of professionalism
Overall, the management strategies worked to stave off what could have been a truly tragic situation. That and the fact the area dodged subsequent rainfall events in early September. "As bad as it was, we got lucky," Davis said.
Davis credited the professionalism of the numerous stakeholders involved, each bringing different needs and considerations to the table. Conference calls that eventually included nearly 40 participants became a regular occurrence as officials worked through the situation.
All the cities, towns and villages affected by the flooding were represented, as were the DNR and other state agencies. Also involved were local emergency management and health officials, the Red Cross, National Weather Service, UW-Madison, MG&E and others.
"People were professional, people were understanding — despite the fact their municipalities were facing these difficulties," Davis said. "The smaller communities aren't going to get the press that the city of Madison will get, but they were also taking a beating."
Addressing the challenges ahead
Going forward, there is sure to be much talk of the Yahara Chain of Lakes and strategies to help mitigate future flooding. In early February, a technical work group convened by the Dane County Board released a 50-page report that presents several adaptation and mitigation options. Davis and DNR Policy Advisor Shelly Allness are members of that group, which has continued to meet regularly for review and policy analysis.
Nearly a dozen other DNR staff provided input for the report, weighing in on fisheries, aquatic plants, wetlands, water resources and more. Long-established water level orders from DNR — guided by state statutes and per the request of Dane County and the city of Madison — set minimum and maximum seasonal levels for the Yahara Lakes that seek to balance a wide variety of competing interests.
As challenging discussions about lake levels, rainfall, development, runoff, flow rates, impediments and other buzzwords continue, everything will be on the table, Davis predicted, and there will be no quick fix. "It will likely be a number of strategies pieced together."
A main goal in his view is to keep the public informed.
"It's tough because flooding is very emotional," Davis said. "What we want to try to do is educate people — really educate people — in a manner that helps manage expectations for the system."
Andrea Zani is managing editor of Wisconsin Natural Resources magazine.
Flooding's many-faceted effects
When extreme weather brings torrential rains and flooding, as happened plenty throughout the state last year, the response from the Department of Natural Resources includes high-profile activity such as the warden work, park cleanup and dam and floodplain monitoring detailed here. But the agency also toils in numerous ways that may hover under the radar, though they're no less significant.
THE WATER WE DRINK: Assuring the safety of drinking water is vital anytime but possibly even more so in the wake of flooding. Both private wells and public water supplies can be affected, and the DNR plays a role in monitoring, testing, permitting and more. The agency also offers recommendations for assuring safe drinking water specifically when wells are inundated.
IN THE LAKE AND ON THE BEACH: Recreational areas can become polluted, contaminated or full of dangerous debris after heavy rains and flooding. DNR works to ensure Wisconsin's lakes, rivers and beaches are safe for use.
RUNOFF: The DNR's response to flooding events may involve monitoring and assessing agricultural areas, where flooding can increase the risk of manure runoff polluting waterways and killing fish.
SANDBAG DISPOSAL: While piling up sandbags can keep water out during flooding, it might not be obvious what to do with them once water recedes. Proper handling is required to avoid potential spreading of harmful bacteria, for example, or to avoid misuse of non-degradable sandbags. DNR offers recommendations and guidance.
PLANTS AND WILDLIFE: When areas are flooded, it can be tough on ecosystems. Animals, aquatic life, habitats, plant growth and more can be affected. DNR staff in any number of disciplines may be called upon to lend their expertise.
TO LEARN MORE: The DNR's web pages include detailed information on a number of flooding-related topics.