Picnic Areas and Shelters
Peninsula State Park
Peninsula State Park has picnic areas at Fish Creek (near the park headquarters), Nelson Point, Nicolet Beach and Pines Area, Eagle Terrace, Weborg Point and Welcker's Point. All areas have picnic tables, charcoal grills and vault toilets. Weborg Point, Welcker's Point and Nicolet Beach each have a large group grill. Water and flush toilets are available at Nicolet Beach and Weborg Point in season (typically mid-May to mid-October). Garbage and recycling containers are not provided, so please remember to practice carry-in/carry-out.  
Pets are not allowed at any picnic areas or in the shelters. A designated pet picnic area is at the Pines Area near Nicolet Beach.
Playgrounds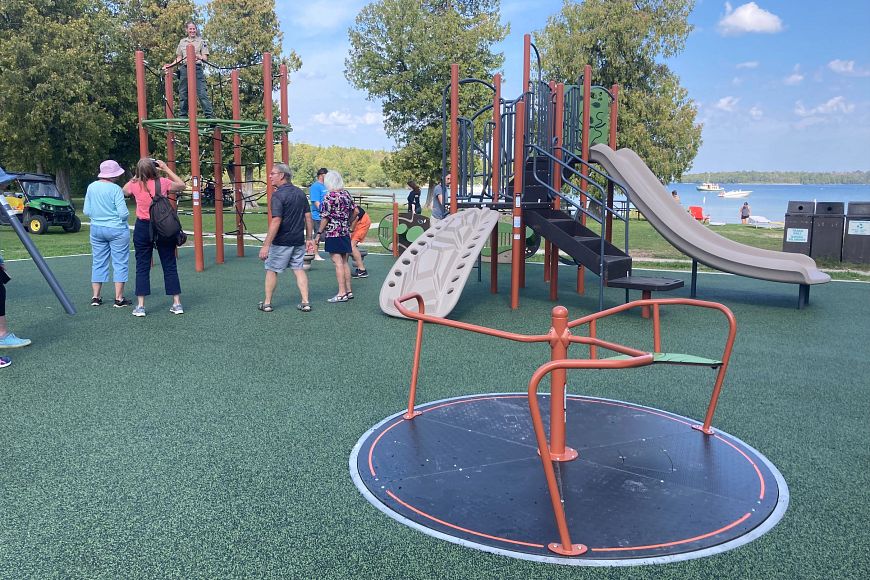 An accessible playground at Nicolet Beach opened in 2022 thanks to fundraising efforts by the Friends of Peninsula State Park. The playground offers an accessible surface and accessible playground equipment, including a flush-mounted merry-go-round for users of all abilities and a universal swing. The playground also features universal interactive ground elements like a rain wheel and music activities.
There is also an activity center at Tennison Bay campground. Swings are available at the Fish Creek picnic area.
Volleyball
Two regulation-size sand volleyball courts are at Nicolet Beach. Nets are provided in the summer season, but visitors must bring their volleyball.
Tennis
Peninsula State Park offers a single paved tennis court across from the Skyline parking lot.
Reservable Shelters
Welcker's Point and Weborg Point picnic areas each have a reservable indoor shelter with a fireplace (wood not provided). Each shelter accommodates 50 people. They may be reserved for a fee and, if not reserved, are open to the public. Pets are not allowed at the picnic areas or in the shelters. Large group grills for cooking are available at both shelters. 
Reserve a shelter online or by calling 1-888-947-2757.
Weborg Shelter
Weborg Shelter is an enclosed building on a scenic point overlooking the shores of Green Bay and the village of Fish Creek. The shelter is 34 by 21 feet.
Welcker's Shelter
Welcker's Shelter is an enclosed building on a scenic overlook along the open water of Green Bay. The shelter is 30 by 24 feet.