Camping
Copper Falls State Park
Copper Falls State Park has two campgrounds with shaded and forested sites, well-separated from the popular public use areas to provide campers a sense of seclusion.  
Reservations
Reserve a campsite online.
Winter camping
During winter Copper Falls State Park has six plowed campsites (sites 1-6) available by reservation only. All six sites have electric hook-ups. A vault toilet is available at the ballfield parking lot and is shared with skiers. The campsites are accessible via the North Campground entrance. The rest of the campground is closed and serves as a groomed ski trail, so vehicles and pedestrian traffic is prohibited beyond Site #6, except for hikers on the North Country National Scenic Trail. All hikers, snowshoers and pets must stay off the groomed ski trails.
Seasonal Water Systems: At Copper Falls State Park, showers and drinking water are available from Memorial Day weekend to Oct. 1 depending on the weather. Potable water can be obtained from the stone maintenance garage between Oct. 1 and Memorial Day weekend via the hose hung on the outside of the building.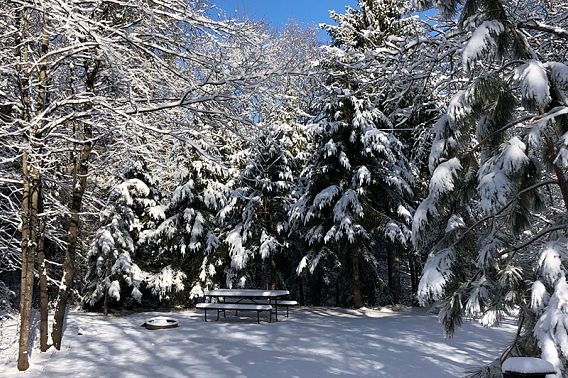 Photo by Chris Bender.
Campgrounds
The 32-site North Campground is located closer to the main picnic area. There are 28 sites with electrical hookups and 4 non-electric sites. Site #7 is accessible for people with disabilities; it includes an accessible picnic table and fire ring and is located directly across from the restrooms. The campground has two vault toilets and several water fountains.
The South Campground has 23 non-electric sites and is nestled in a valley between two ridges. Four of the sites are walk-in sites, requiring about a 100-yard walk from the parking area. Carts are provided at these sites to help shuttle gear. The campground has two vault toilets and several water fountains.
All campsite details, including site lengths, are available on the reservation website.
Group camp
There is one group tent camping area for groups of up to 40 people. The group camp has its own parking area, vault toilet building and water fountain, several picnic tables, a fire ring and a charcoal grill.
Rustic accessible cabin for people with disabilities
The rustic accessible cabin has a paved driveway, electrical outlets and lighting and an accessible picnic table and fire ring. An accessible flush toilet and shower building are 200 feet from the campsite.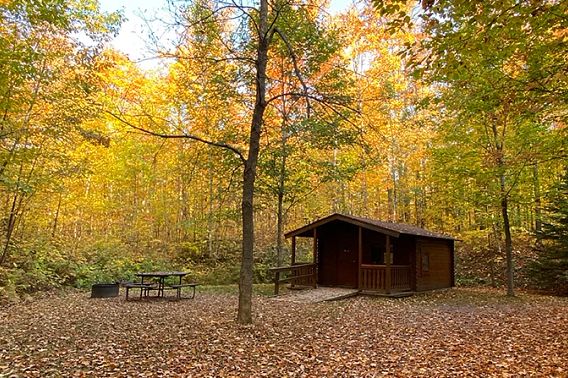 Photo by Chris Bender.
The cabin is designed to be wheelchair accessible and to accommodate up to four people. The cabin has one adult-size double bed with a foam pad and one average size bunk bed with thin foam pads. A maximum of six people may occupy the rustic accessible cabin site, with a tent at the campsite.
Only one tent is allowed on the rustic accessible cabin campsite. Space heaters and cooking are not allowed in the cabin. Under state law, smoking is not allowed in the cabin. No pets are allowed except certified service animals.
Backpack campsite
There is one backpack campsite at Copper Falls. The backpack campsite is available by reservation only. The site is located on the banks of the Bad River overlooking the sandstone ledges, about a 2-mile hike from the parking lot. This site is very primitive and contains only a stone-lined fire ring. There is a primitive latrine nearby and campers should plan to bring their own toiletries and sanitizer. There is no water available, and campers should plan accordingly.
Parking for the backpack site is off the maintenance/disabled access road. Before the road turns to gravel, there is a small lot with a post identifying where to park for the site. Backpack campers must park here, not in the main picnic area. 
To get to the site, backpackers will hike down the gravel road and follow the brown signs to the site. Please note: pets are not permitted on the Doughboys Trail and there will be no way to view the falls with your pet. If you bring a pet, you must follow the route indicated by the campsite directional signage.
This is a remote site and cell service may be limited or non-existent. Please follow backcountry best practices and inform a friend or family member where you will be, how long you will be gone and when you plan on returning.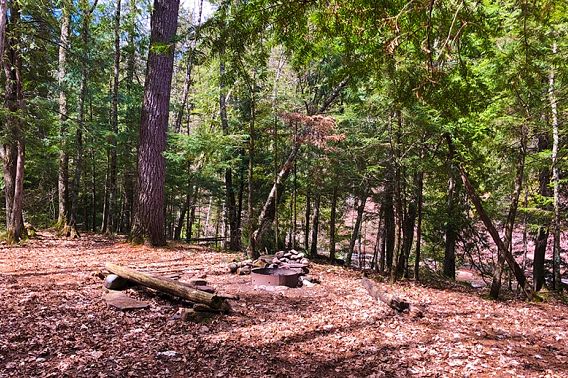 Photo by Chris Bender.
Concessions
A concession stand in the main picnic area is open seasonally and sells firewood, food and camping supplies. 
Firewood
Don't move firewood! Due to the potential of carrying harmful tree pests and diseases, Wisconsin has restrictions for moving firewood.