How to recycle electronics in Wisconsin
Many electronics can no longer be put in the trash in Wisconsin and must be reused, recycled or managed as hazardous waste. The information below will help you prepare your electronics for reuse or recycling, find an electronics collection site or contact a recycler for larger volumes of e-waste.
For businesses, schools, institutions, nonprofits and governments, especially if you have a large number of items to recycle, see the DNR publication Managing Used Electronics [PDF] for more information on your options.
Prepare to recycle
Preparing electronics for reuse or recycling
Recycling electronics can take some strategizing, especially for large items like projection-style TVs. Make a list of the electronics you would like to get rid of and note their age and condition. Think about whether there is sensitive data stored on your devices and determine the best method of protecting that data. Think about when you would like to get rid of the electronics and whether you will be able to transport them yourself or need to have them picked up.
If computers or other electronics are in good working condition, you may be able to donate them to a school, nonprofit or other organization. Call any organization first to make sure the equipment would be useful to them. You can also check trade-in programs to see what prices they offer for both working and non-working devices.
If your electronics are broken or obsolete and cannot be reused, recycle them.
Choosing the right recycler for you
Before taking your electronics to a collection site or recycler, find out what they recycle, who they accept electronics from, what they charge to recycle various items, if they offer pick-up service and whether or how they destroy data.
When you are recycling a large volume of electronics, it's a good idea to talk with at least two or three recyclers or collection sites to get a sense of your options. Recycling fees vary between sites and calling ahead can help determine the total cost of recycling your electronics.
Many electronics contain harmful materials, such as lead, and it's important to make sure recyclers are handling electronics properly to ensure worker safety. It's also important to make sure a recycler is sending electronic components on to responsible "downstream" processors to minimize any chance of environmental pollution.
For more information, see:
Recyclers registered with E-Cycle Wisconsin meet a set of environmental standards set by the DNR. Some recyclers have gone through an independently audited process to become certified under R2 or e-Stewards, nationally recognized standards for responsible recycling.
Protect data
Protecting personal or sensitive data
More and more electronics now store at least limited amounts of personal and potentially sensitive data, including computers, tablets, cell phones, printers, scanners, TVs, external storage devices (e.g., USB drives), and many types of internet- or "cloud"-connected devices.
DNR surveys of Wisconsin households have shown data security concerns are one of the primary barriers to recycling electronics. The tips and links below are provided as a starting point for protecting data before recycling electronics.
Please note that the Department of Natural Resources does not endorse any of these data security solutions. There may be other data security services or options in addition to those listed below.
Tips for protecting and erasing data from electronics
Before recycling, giving away, trading in or selling electronics, find out how a recycler or refurbisher will protect your data security. Take steps to disconnect devices from online services and websites and erase personal, financial or other sensitive data. Just deleting files will not clear them off of your devices.
General industry-recommended guidelines and suggestions include the following:
Check with device manufacturers, operating system providers and electronics retailers for specific instructions or software. For example, IOS, Android and Windows operating systems for mobile devices may have features like factory resets built in that can help with data wiping and protection.
Back up files you want to keep before beginning to wipe data.
Disconnect from web- or "cloud"-based services, websites, etc., especially those tied to a credit card or bank account, or that automatically sync or upload files.
For some types of data storage, physical destruction (e.g., driving a nail through a hard drive) may work, but be aware that this may not work for newer data storage (e.g., "solid state" hard drives), because data can be recovered even from very small pieces of the storage device.
There are also electronics repair shops that provide data backup and wiping services. Ask questions about their processes to ensure your data is secure. Even if part of your device is not functioning (i.e., the battery) and you can't start the device, there are still ways to back up or access the device data.
Be sure to ask your recycler or collection site questions about how they will keep your data-containing devices secure (e.g., prevent theft from their facility) and what, if anything, they do to erase or wipe personal data. Electronics may be moved to multiple facilities before being dismantled or shredded.
Special considerations for electronics from businesses, schools and institutions
Make sure you are aware of any federal or state data security laws (e.g., for healthcare or educational records).
Make sure you have a clear chain of custody and secure storage for data-containing devices that are waiting to be recycled or refurbished.
Look for recyclers with National Association for Information Destruction (NAID) certification or other complete, robust procedures for protecting and erasing data.
Make sure contracts with recyclers clearly spell out how data will be handled (e.g., hard drives must be shredded, hard drive wiping and refurbishing is OK). Many companies offer on-site data wiping or destruction.
Find a recycler
Find an electronics collection site
Electronics from Wisconsin households and K-12 schools may be recycled through E-Cycle Wisconsin. Some of the collectors and recyclers registered under E-Cycle Wisconsin also accept electronics from businesses, colleges and universities, and others not part of E-Cycle Wisconsin. You can use filters to limit the list to sites that accept from businesses, schools or others. Many electronics manufacturers also offer free mail-back programs, primarily for consumers.
List of registered E-Cycle Wisconsin collection sites and mail-back programs
Additional recycling options
If there is no E-Cycle Wisconsin collection site near you, or you have a large quantity of devices and need to work directly with a recycler, the following resources can help. In addition, some electronics, such as cell phones, are often recycled at retail stores, and some electronics manufacturers offer mail-back programs for their brands of electronics.
Call2Recycle

[exit DNR]

allows you to enter your city or ZIP code and find drop-off sites for cell phones and rechargeable batteries
Reuse and resale options
If your unwanted electronics are relatively new and in good working condition, you may be able to donate them for reuse or sell them. Many electronics retailers and websites offer trade-in or buy-back programs for items such as smartphones, MP3 players and digital cameras.
Before donating items, make sure the organization is willing to accept the items. Often, schools, churches and non-profits cannot use older computers, TVs or other electronics.
What to recycle
Electronics to recycle in Wisconsin
The following electronics can no longer be put in the trash in Wisconsin, or sent to Wisconsin landfills and incinerators. These items should be reused, donated or recycled.
TVs;
Computers (desktop, laptop, netbook and tablet computers);
Printers (including those that scan, fax and/or copy and 3-D printers);
Monitors;
Other computer accessories (including keyboards, mice, speakers, external hard drives and flash drives);
E-readers;
DVD players, VCRs and other video players (i.e., DVRs);
Fax machines;
Cell phones; and
Major appliances, including air conditioners, clothes washers and dryers, dishwashers, refrigerators, freezers, stoves, ovens, dehumidifiers, furnaces, boilers, water heaters and microwave ovens.
Many other types of electronics can also be recycled, especially items like stereo equipment, mp3 players, digital cameras and other hand-held devices. Check with your electronics recycler or collection site for a full list of what they accept. Some websites or stores may also offer small amounts of money if you trade in newer gadgets, like digital cameras smartphones and iPods.
State law prohibits businesses or institutions from disposing of any electronics that contain hazardous materials in municipal solid waste landfills or incinerators. If businesses and institutions do not recycle electronic equipment, they are subject to state solid and hazardous waste management rules and may require licenses from the DNR for transportation and treatment, storage or disposal of the equipment.
Why recycle
Why recycle electronics: valuable and toxic materials
The demand for new tablet computers, cell phones, laptops and flat screen TVs is driving a significant electronic waste, or e-waste, problem. E-waste is one of the fastest growing parts of municipal solid waste worldwide.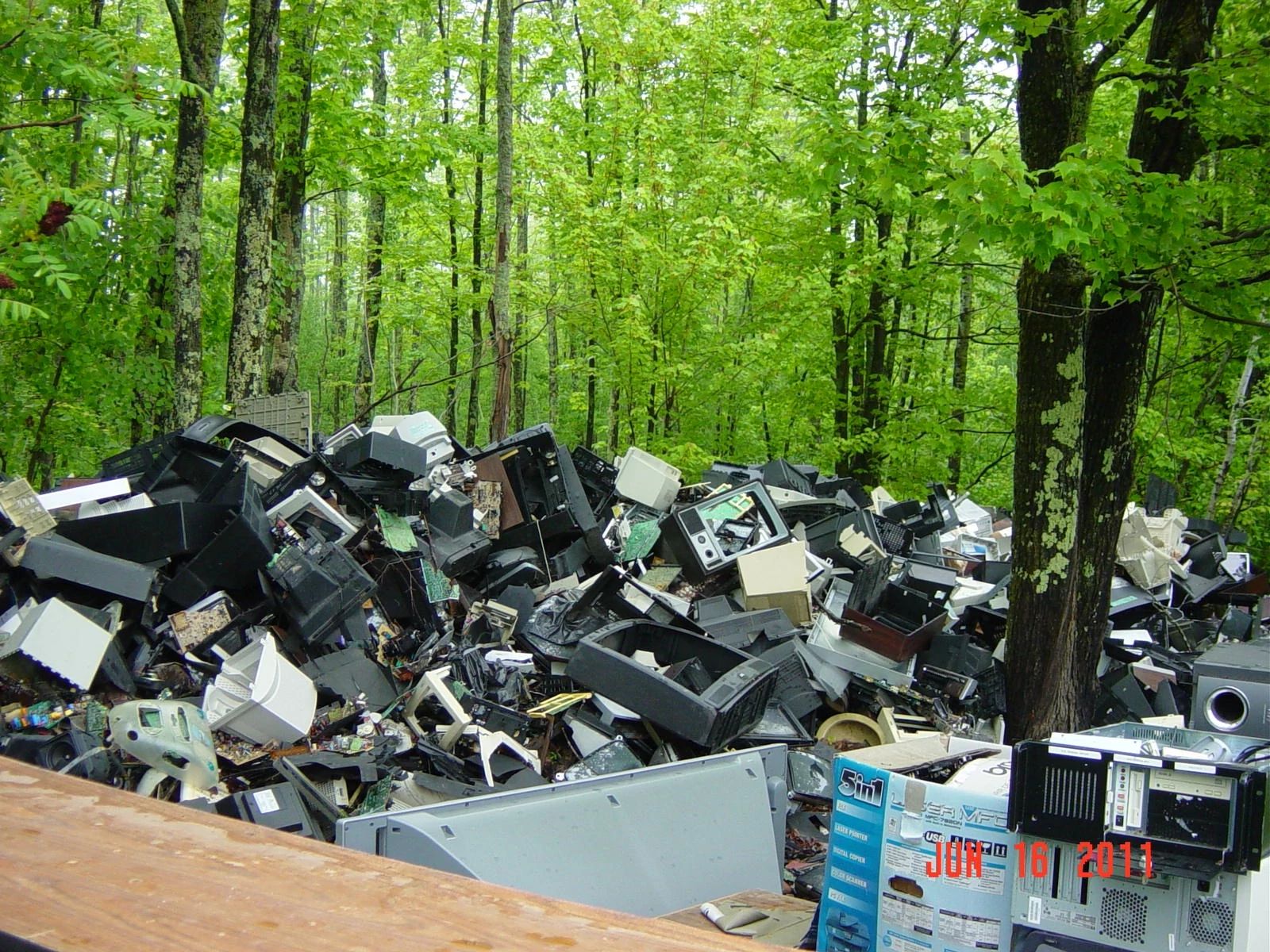 A U.S. Environmental Protection Agency study estimated that about 3.09 million tons of TVs, video equipment, cell phones and computer equipment were ready for recycling, reuse or disposal in 2015. Of these electronics, only about 40 percent (by weight) were collected for recycling.
Electronics contain valuable reusable materials including plastics, metals and glass. Recycling or reusing these materials lessens environmental impacts and economic costs by reducing the need for virgin materials in new products.
Many electronics also contain harmful materials, including lead, mercury, cadmium, chromium, other heavy metals and chemical flame retardants. When improperly disposed of, these chemicals can pollute our soil and water and harm human health. Improperly handled e-waste may also pose health risks to workers in the United States and in developing countries.
Data security is also an important reason to properly recycle electronics. More and more devices store personal data, including smartphones, tablets, computers, TVs, printers, fitness trackers and home automation devices. Responsible recyclers invest in security systems and technology for wiping data or shredding hard drives and other data storage components.
Responsible recycling in action
When electronics are recycled instead of landfilled, their components get reused in new products. Watch the video below to see how it's done.
Electronics recycling educational posters
Anyone is welcome to order free, printed copies of these posters or other electronics recycling publications using the E-Cycle Wisconsin publication request form.