FOR IMMEDIATE RELEASE: 2023-08-31
Help The DNR Monitor Wisconsin's Elk This Fall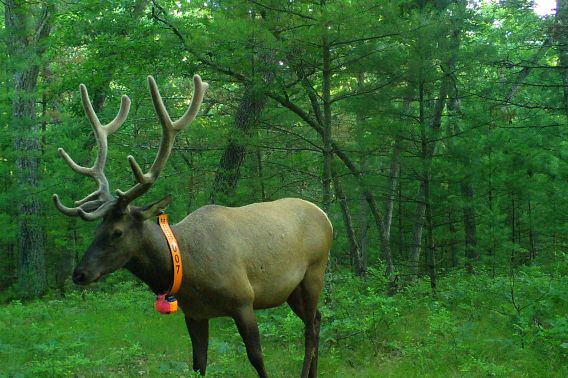 Photo credit: Wisconsin DNR
MADISON, Wis. – The Wisconsin Department of Natural Resources (DNR) invites the public to help the DNR better monitor the movements of the state's elk herds throughout the fall breeding season by reporting sightings of elk outside of their normal ranges.
September marks the beginning of the breeding season for elk, with the season running through October. While most breeding activity occurs within their established territory, the Clam Lake and Black River Elk Ranges, younger bull elk have been known to wander great distances this time of year in search of unoccupied territory and lower competition for female elk.
It is not uncommon to see elk in Ashland, Bayfield, Price, Rusk and Sawyer counties in northern Wisconsin or in Jackson County in west-central Wisconsin.
Anyone who sees an elk outside of those ranges is encouraged to report their sighting online using the DNR's large mammal observation form. Reports with photos are helpful, if possible, but all reports are welcome. Additionally, elk may sport unique identifiers such as ear tags or orange GPS tracking collars. If tag or collar numbers are easily visible, please include that information in the report, as that information is helpful for DNR staff.
"Many elk are on the move this time of year," said Christina Kizewski, DNR Wildlife Biologist. "Tracking the movements of these animals is an important, yet difficult part of our work. The reports we get from the public are a huge help towards these efforts."
---
Once widespread across North America, elk were eliminated from Wisconsin in the 1880s due to unregulated hunting. With the support of the Rocky Mountain Elk Foundation, the Ho-Chunk Nation, the Ojibwe Tribes and several other partners, the DNR successfully reintroduced elk into the Northern Elk Range near Clam Lake in 1995 and the Central Elk Range near Black River Falls in 2015 and 2016, and subsequently supplemented the northern herd with elk from Kentucky in 2017 and 2019.  
The Wisconsin elk population is estimated to reach 515 elk at the conclusion of the 2023 calving season, with 160 elk in the central herd and 355 in the northern herd. 
More information on elk reintroduction and management is available on the DNR's Elk In Wisconsin webpage.