FOR IMMEDIATE RELEASE: 2022-12-28
Contact: DNR Office of Communications
DNRPress@wisconsin.gov
Celebrate Outdoors This Winter With Candlelight Events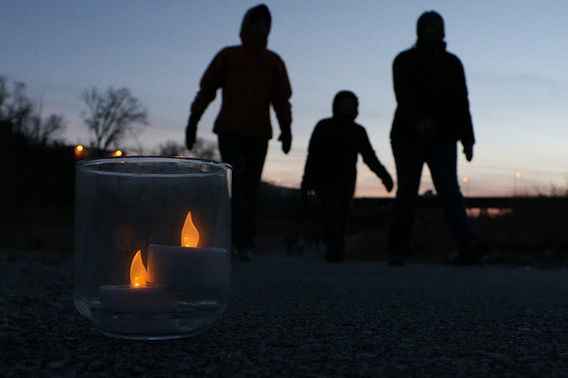 Photo credit: Wisconsin DNR
MADISON, Wis. – The Wisconsin Department of Natural Resources (DNR) invites the public to celebrate the outdoors this winter at any of the several candlelight events happening across Wisconsin. These events kick off on Jan. 7, 2023 and are scheduled at different locations through Feb. 25, 2023.
"Winter candlelight events are some of the most popular activities at Wisconsin state parks, forests and trails," said Steve Schmelzer, Parks and Recreation Management director. "Many events have become a long-standing tradition at some of our properties, with hundreds or even thousands of attendees."
These free-to-low cost events typically begin around sunset and offer a variety of ways to enjoy the winter scenery after dark, including hiking, snowshoeing and cross-country skiing. Many will include activities such as bonfires, hot chocolate, cider and other refreshments available for sale or by donation, and some will have open warming shelters.
Share your candlelight adventures using the hashtag #OutWiGo on social media.
Those who would like to participate by hiking and snowshoeing do not need to have any experience. These events offer no-commitment opportunities for first-timers and can help build connections with other outdoor enthusiasts, those you can learn from, during the time of year when many people stay indoors.
Although the amount of gear needed varies, warm clothing with layers is recommended for all events. Trekking poles are optional. A headlamp or flashlight are recommended. Some properties may have other equipment, such as snowshoes or an outdoor track chair, available to rent – check with the property to see what is available and to make reservations.
"Candlelight activities are a great way to see the parks in a different light. This year, we encourage you to invite someone to come out to a candlelight event in 2023 if they've never been before or if neither of you has been before," said Schmelzer.
Most properties will require a 2023 Wisconsin state park admission fee and/or a state trail pass unless otherwise noted. A state park daily admission pass may be available to check out at participating libraries.
Thanks to the friends' groups of the parks organize many of the events and provide many of the volunteers to make these events possible.
2023 Candlelight Events
Additional events may be added.
Jan. 7
Rib Mountain State Park Candlelight Snowshoe Hike
Jan. 14
Devil's Lake State Park Candlelight Snowshoe
Jan. 15
Havenwoods State Forest Candlelight Hike
Jan. 21
Point Beach State Forest Candlelight Ski

Horicon Marsh Candlelight Hike
Jan. 27
Red Cedar State Trail Candlelight Ski, Hike and Snowshoe
Feb. 4
Candlelight Night On The Stower-7 Lakes State Trail: XC Ski, Hike, Snowshoe, Fat Bike

Rib Mountain State Park Candlelight Snowshoe Hike

Brule River State Forest Candlelight Ski And Hike

Black River State Forest Candlelight Ski/Hike/Snowshoe  
Feb. 11
Interstate Park Candlelight Night

Pike Lake Candlelight Ski & Hike
Feb. 18
Potawatomi State Park Winter Trails Day
Feb. 25
Hank Aaron State Trail Candlelight Hike
Find the full and additional details on the DNR Events Calendar.
Some events are weather dependent; visitors are encouraged to check the DNR Events Calendar or call properties directly to confirm if an event will be held.