FOR IMMEDIATE RELEASE: 2022-11-15
DNR Celebrates Wisconsin Recycling Excellence Award Winners On America Recycles Day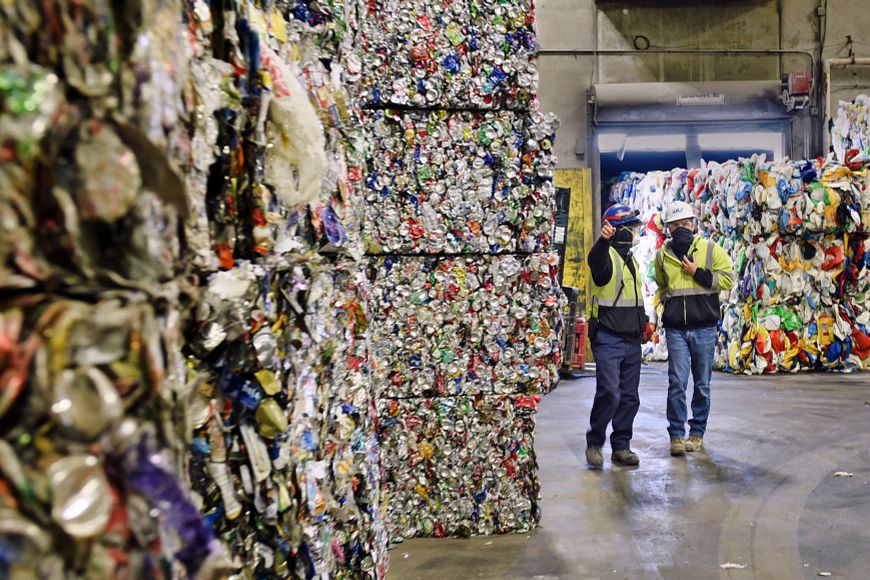 Photo credit: Lakeshore Recycling Systems
MADISON, Wis. – In honor of America Recycles Day, the Wisconsin Department of Natural Resources (DNR) announces the winners of the 2022 Wisconsin Recycling Excellence Awards.
The winning businesses, non-profits, schools and local governments demonstrate Wisconsin's strong commitment to waste reduction and recycling through their projects and initiatives, overall program, innovation or special events.
The award recipients shared several reasons why waste reduction and diversion are important to them, including saving landfill space and resources, reducing pollution and promoting sustainability. But the resounding motivation was strengthening their community. Many of the winners conduct outreach, work closely with partners and provide valuable services for residents and local businesses.
Box-Me! (Innovation) – Box-Me! LLC is a minority-owned cardboard recycling business operating in the Milwaukee area. Started in 2021, Box-Me! specifically targets cardboard for collection and diverts 60 tons from landfills each month. The company brings a container to businesses, free of charge, for employees to dispose of broken-down, clean cardboard. Box-Me! estimates businesses could save 75% of their recycling and trash bills.
Bucket Ruckus (Overall Program) – Started with an idea from a group of UW-Stevens Point students and an advisor, Bucket Ruckus diverts organic waste from landfills using a curbside collection system. It partners with several local businesses to reduce environmental impact, including working with Curbwise to collect the five-gallon buckets from the curb and to deliver clean buckets to customers. Curbwise is bicycle-powered and operates year-round. Materials are aggregated and shipped in bulk to composters, including an urban mushroom farm.
City of Platteville (Special Events) – In 2021, the city of Platteville revamped its Spring Cleanup into a Spring Swap. Previously held in May around the end of the UW-Platteville school year, the event was moved to April and promoted as a free, city-wide yard sale. This allowed people to reuse items instead of discarding them. Volunteers were on-site to inspect items, help unload donations and load them into vehicles for new owners. Unclaimed clothing items were also donated to the local thrift shop.
Compost Crusader (Overall Program) – Compost Crusader has been active in southeastern Wisconsin since 2014 diverting food scraps from landfill disposal. It has focused on helping corporations, schools, special events, restaurants and residents create healthy composting habits. By providing curbside compost service and utilizing three different compost sites, Compost Crusader diverts over 200,000 pounds of food scraps and yard material from landfills per month.
Green Bay Packaging (Overall Program) – In 2021, Green Bay Packaging began the operation of a new Green Bay Mill, which is taking water, energy, greenhouse gas reduction and fiber recovery to the next level. The new operation is capable of accepting more types of recyclable paper and expanding market opportunities. The facility has achieved 98% landfill diversion through technology and investment and has reduced production waste by 30%.
Greener Bay Compost (Overall Program) – Greener Bay Compost is a two-person, family-run composting business with the goal to "make Green Bay a little greener every day." Debuting in August 2021, its residential compost pick-up service has grown from 16 to 120 residential subscribers. The service also works with small businesses. Waste such as fruit and vegetable scraps, coffee grounds and eggshells are collected in five-gallon buckets and paper bags. At their compost site, these materials are converted into a nutrient-rich soil amendment, which they then reward to their subscribers, donate to worthy organizations and sell to the general public.
Lakeshore Recycling Systems (LRS) (Innovation) – Lakeshore Recycling Systems' new materials recovery facility in DeForest began operation in 2021 and utilizes circular design processing equipment. The revolving table recirculates recyclables and enables multiple chances at sorting compared to a traditional linear conveyor belt. The design also results in lower energy demand and increases teamwork, quality of baled materials and flexibility to adapt to changing recyclable material streams. The facility also offers DeForest and Windsor residents a new recycling drop-off site.
LaPointe Materials Recovery Facility (Overall Program) – Located on Madeline Island, the LaPointe Recycling Materials Recovery Facility developed a new vision for operations and customer service. Improvements include new signage and barrel design to reduce cross-contamination and make recycling easier, providing music onsite (such as Polka Saturdays) and sorting assistance for residents who need it. Through a partnership with a local church, the facility opened a secondhand store to divert usable household items and generate revenue for a local food pantry. Summertime tours, afterschool programs utilizing recycled paint and customer appreciation days are all used to educate residents and visitors that "if it arrives on the island, it has to be taken off the island."
Milwaukee Area Technical College of Culinary Arts (Projects or Initiatives) – Utilizing an industrial composter, the Culinary Arts Program at Milwaukee Area Technical College (MATC) has reduced the program's landfill output by 70%. Finished compost is used in raised bed gardens and at the Mequon campus in the horticulture class. The compost also was used to grow heirloom garlic cooked by culinary students.
Nestlé USA (Overall Program) – Nestlé's chocolate manufacturing facility in Burlington aims to send zero waste to landfills, and it utilizes circular economy concepts and partnerships to do so. Personal protective equipment from daily operations (including ear plugs, hair nets and face masks) is sent to create fireplace pellets. Cocoa bean sacks are reused, cocoa bean waste is sent offsite for composting and bean shells are used for garden mulch. Additionally, the facility sends salvageable food waste to a local farm for animal feed and liquid waste for composting.
Town of Vinland (Projects or Initiatives) – Vinland took on a six-month challenge to collect 500 pounds of plastic bags and plastic film from its residents. Information was provided to residents via the town website and mailings to encourage involvement. In total, 545 pounds were collected and sent to Trex, a company that awarded the town with a resin bench made from the plastic. The program successfully made residents aware of the benefit of recycling, and another six-month challenge is underway.
Village of Bayside Public Works Department (Overall Program) –Bayside, a Green Tier Legacy Community, is consistently working to become more environmentally friendly. Residents can drop off items at the village hall to be recycled or reused, such as eyeglasses, ink cartridges, cell phones and plastic bags. Bayside partners with Dream Bikes and Habitat for Humanity to repurpose items and collect logs after tree removal to be repurposed into building lumber, paper pulp or firewood. The village educates residents through a comprehensive collection guide, special events and online videos.
Congratulations to the 2022 Recycling Excellence Awards winners. View their full profiles and learn more about why waste reduction and diversion are important to them on the Wisconsin Recycling Excellence Awards webpage.
For more information on recycling in Wisconsin, visit the DNR's What to Recycle in Wisconsin webpage.