Public Safety and Resource Protection Division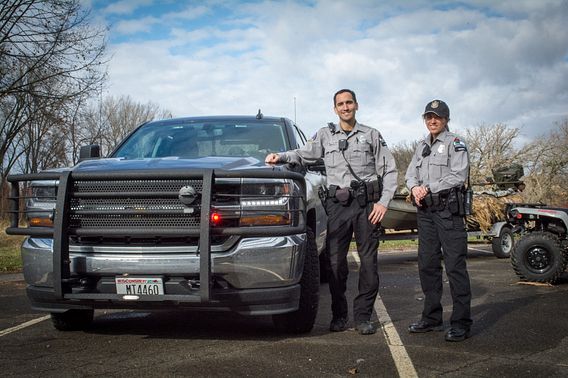 The Division of Public Safety and Resource Protection is home to multiple public services and law enforcement programs – all dedicated to the protection of our natural resources and the safety of those who enjoy them. The Conservation Warden Service is part of the division, where anyone interested in this remarkable and fulfilling career can learn how to apply, the varied duties, training and opportunities to advance. Wardens perform the DNR's law enforcement function and work cooperatively with other law enforcement agencies at the local, state and federal level.
Some division sections and programs include:
Investigative Team
Environmental Enforcement Unit
Off-Highway Vehicles: Snowmobiles and all-terrain and utility-terrain vehicles
Boating: Motorized and silent vessels such as kayaks, canoes and stand-up paddleboards
R3 program – Recruit, Retain and Reactivation: Hunter safety, learn to hunt programs and fishing
Homeland Security and Emergency Management
2019 Act 108
Pursuant to 2019 Act 108, Wisconsin law enforcement agencies are required to administer a written policy on the use on the use of body cameras and make the policy available to the public on the agency's internet site. The Dept. of Natural Resources, Division of Public Safety and Resource Protection addresses body camera use as part of a larger policy regarding field recording devices used by its law enforcement officers, including dash cameras and audio recorders. Review document.
2021 Executive Order #111
Section 5 of 2021 Executive Order #111 requires Wisconsin law enforcement agencies to implement policy revisions and training updates for their use of force policy and make the policy available to the public on the agency's internet site. The Dept. of Natural Resources, Division of Public Safety and Resource Protection's use of force policy follows. Review document