If you head out to one of Wisconsin's many lakes or rivers to ice fish, snowmobile, ATV, cross-country ski, or just to enjoy a winter day, we want you to have fun and be safe. A bit of advance planning and practicing basic ice precautions can help you return home safely.
When Is Ice Safe?
There really is no sure answer, and no such thing as 100 percent safe ice. You cannot judge the strength of ice by one factor like its appearance, age, thickness, temperature or whether the ice is covered with snow. Ice strength is based on a combination of several factors, and they can vary from water body to water body. Ice strength can also vary in different areas of the same body of water.
Know Before You Go
Because ice conditions vary, it is important to know before you go. The DNR does not monitor local ice conditions or the thickness of the ice. Local bait shops, fishing clubs and resorts serve winter anglers every day and often have the most up-to-date information on how thick the ice is on local lakes and rivers, as well as areas that are especially dangerous.
Safety Tips
Dress warmly in layers.
Don't go alone. Head out with friends or family. Take a cell phone if available, and make sure someone knows where you are and when you are expected to return.
Know before you go. Don't travel in areas you are not familiar and don't travel at night or during reduced visibility.
Avoid inlets, outlets or narrow that may have current that can thin the ice.
Look for clear ice, which is generally stronger than ice with snow on it or bubbles in it.
Carry some basic safety gear: ice claws or picks, a cellphone in a waterproof bag or case, a life jacket and length of rope.
What To Do If You Fall Through Ice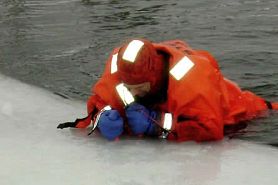 A DNR employee demonstrates the ice self-rescue maneuver.
If you fall through the ice, remain calm and act quickly.
Do not remove your winter clothing. Heavy clothes can trap air, which can help provide warmth and flotation. This is especially true in a snowmobile suit.
Go back toward the direction you came. That is probably where you will find the strongest ice – and what lies ahead is unknown.
Place your hands and arms on the unbroken surface. This is where a pair of nails, sharpened screwdrivers or ice picks are handy in providing the extra traction you need to pull yourself up onto the ice.
Kick your feet and dig in your ice picks to work your way back onto the solid ice. If your clothes have trapped a lot of water, you may have to lift yourself partially out of the water on your elbows to let the water drain before starting forward.
Once back on the ice, don't try to stand up. Lie flat until you are completely out of the water, then roll away from the hole to keep your weight spread out. This may help prevent you from breaking through again.
Get to a warm, dry, sheltered area and warm yourself up immediately. In moderate to severe cases of cold-water hypothermia, you must seek medical attention. Cold blood trapped in your extremities can come rushing back to your heart after you begin to warm up. The shock of the chilled blood may cause ventricular fibrillation leading to a heart attack and death!
Instructions For Making Ice Claws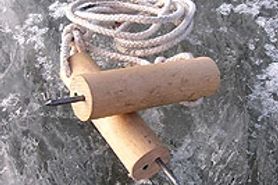 Get two 4" pieces of wooden doweling the size of a broom handle or a little larger. Whatever material you select, it should float in case you drop the claws while struggling.
Drive a stout nail into one end of each dowel. This should be a hardened 16 penny or larger concrete nail.
Use a file to sharpen the nail heads to a point.
Drill a hole into the dowels (in the end opposite the nail) and tie a length of strong cord through the hole so a pick is on each end "jump-rope" fashion. You may also drill a hole in the ends alongside the nails so the nail on the other pick can nest in the hole, keeping both points covered. Keep the picks in your pocket for quick emergency access if you or a companion do break through.