Feting feats of endurance
For those who undertake adventures in perseverance, it often is as much about the journey as it is the end result.
Three athletes recently pursuing outdoor challenges of different sorts and in different seasons would likely find themselves in agreement on that.
Despite the demands of their exploits, these determined individuals discovered that the beauty of the outdoors can make any journey memorable.
Read on for more about these three outdoors lovers and their exceptional adventures.
No pool, no problem for swimmer seeking a new challenge
Carry on swimmingly

Marathon runners are familiar to most, but how about marathon swimmers? That's exactly what Melodee Liegl of Milwaukee considers herself — and last summer, she logged the water miles to prove it.

Liegl lives in Delafield, part of Waukesha County's "Lake Country," where she completed numerous long solo swims in area lakes as she sought outdoor challenges for herself during COVID-19.

Swimming up to 11 miles at once, Liegl totaled more than 100 miles and 50 hours in the water over a three-month period for what she called her "20 Lakes in 2020" challenge. She added even more miles on other swims in embracing her own version of lake life.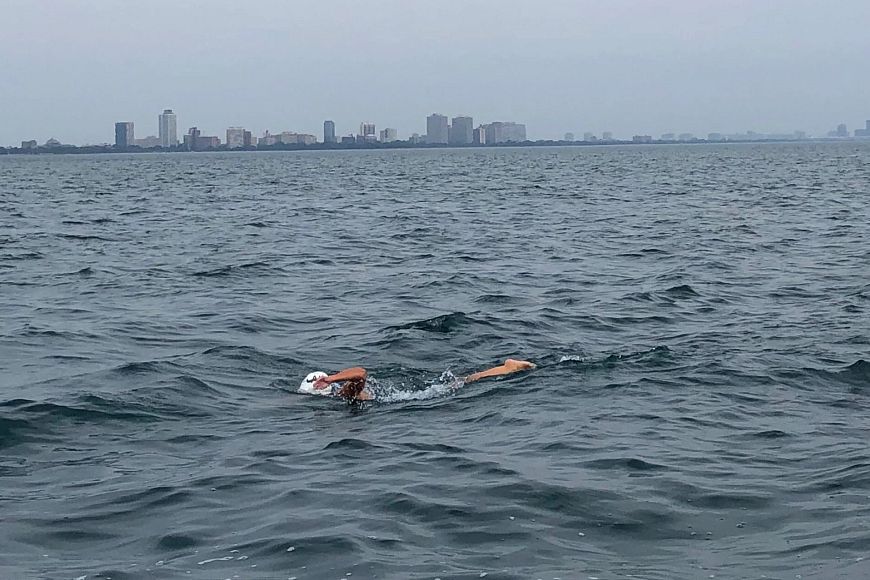 COURTESY OF MELODEE LIEGL
Melodee Liegl
Swimming has always been my sport.
It's the perfect activity for someone like me because I was born with hip dysplasia. I had surgeries as a child, and in 2017 and 2018 had to have complicated replacements on the same hip.
I was back in the water at exactly one month and spent many hours swimming and water walking for my recovery. I wouldn't be where I am physically without swimming.
My first open water swim was in Lake Amy Belle in Hubertus in 1996, a 1-mile swim. That's when I fell in love with open water swimming.
I kept trying to find longer distances to challenge myself in the open water, from a 3-mile swim in the Racine Quarry in 1997 all the way to a 36-mile swim in the Red River in North Dakota and Minnesota in 2016.
There were many more swims of different distances during that time. The Three Rivers Marathon Swim in Pittsburgh was fun because you swim up and down the rivers — Allegheny, Ohio and Monongahela — for a total of 18 miles. 
I have done two relays: Chicago to Michiana, Michigan (42 miles) and North Chicago to South Chicago, (26 miles). Lake Michigan is always challenging, and conditions can change on a dime.
The Swim Around Key West (12 miles) is one of my favorites because I like the tropical swims and warmer waters. 
LAKE WATERS TRIED AND TRUE
With the COVID-19 shutdown preventing access to my pool, I was unable to swim. I would walk instead, but that could not replace how I felt after swimming.
On May 3, it was a beautiful sunny day in the 70s, and I thought I would try a swim in Silver Lake. I recently moved to Delafield, one of the cities that make up Waukesha County's "Lake Country," and there are many area lakes.
Even though I don't like to use a wetsuit, I did that day because the water was 53 degrees and my body was not acclimated to the cold. I started out with a 52-minute swim, and it felt wonderful!
Over the next couple of weeks, I was swimming up to two hours at a time in Silver Lake. I then tried Nagawicka Lake and soon after did Upper and Lower Nemahbin lakes. Then it was time to say goodbye to the wetsuit.
On June 28, I swam the perimeter of Upper and Lower Nashotah lakes and Upper and Lower Nemahbin lakes. My friends crewed next to me for the 8.5-mile swim, which took nearly five hours.
In July, I swam in five new lakes. Beaver Lake is one of my favorites. Public parking is available, and I became very familiar with the perimeter of the lake. If I wanted more distance, I'd do a double or triple loop.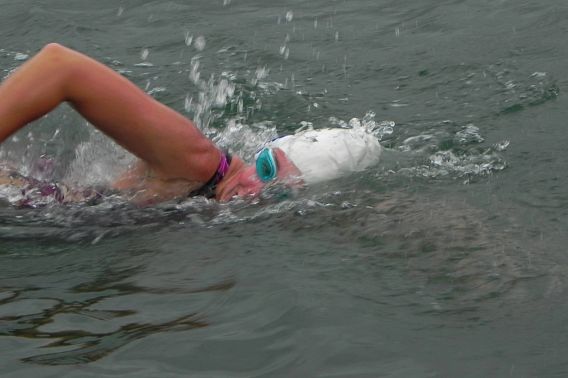 COURTESY OF MELODEE LIEGL
GOING THE DISTANCE
It wasn't until August that I thought I could possibly swim in a total of 20 lakes in the area and make that my challenge! With organized swims still canceled by the coronavirus, I made up my own "20 Lakes in 2020" event.
There really was no training involved because I am used to swimming long distances. The biggest issue was knowing where to park and access each lake. In August, I swam 10 lakes and then finished my "20 Lakes" challenge on Sept. 1.
My favorite lakes to swim are Beaver, Silver and Oconomowoc. I enjoyed exploring new places, inspiring others and making new friends — I often will chat with someone when I'm on shore if I see they are watching me.
I usually swim by myself, mostly because it is hard to find someone who wants to swim as long as I do. Unlike distance running, you can't talk to someone while you are doing it.
I have always been a morning swimmer and for lake swimming, I usually swim as soon as the sun is up. If I start even earlier, I use a blinking light in my tow buoy. The bright orange tow buoy belt wraps around my waist and drags behind me for safety. It allows people to see me and also holds a few small items, such as car keys or extra goggles.
By swimming early, I don't have to be worried about boat traffic. I always swim with an ID bracelet. I stay close to the piers when I swim and figure if I need to get out, land is only a few feet away. I carry nutrition (energy gel packs) in my swimsuit for when I need to replenish.
WHAT'S NEXT
This summer, I am hoping to do a documented swim — a point-to-point swim or double crossing of a lake for greater distance.
That kind of swim is more complicated than what I've been doing. I'll need to find people who know the chosen lake and can help organize kayak and boat support.
To document a swim, kayak or boat escorts are required. Such a swim also requires observers who track details of the swim such as water temperature, wind direction, navigation points, nutrition breaks and timing of the swim.
We are so lucky to have many beautiful lakes in our state, and I'm eager for my next challenge.
From pools to rivers to lakes and oceans, Melodee Liegl of Delafield swims them all.
MELODEE LIEGL'S LAKE SWIM LIST
They call it Lake Country for a reason — the area in the northwestern corner of Waukesha County features beautiful waterbodies everywhere. Here's a look at the area lakes conquered by endurance swimmer Melodee Liegl during her self-created "20 Lakes in 2020" swim challenge last summer, with times in parentheses. She did even more long swims last year, but these are the outings she counts as her "20 Lakes" challenge.
♦ June 6: Upper and Lower Nemahbin, two lakes, 5.8 miles (2:40)
♦ June 18: Silver Lake, three laps, 7.3 miles (3:40)
♦ July 3: Upper and Lower Nashotah, two lakes, 4.1 miles (1:55)
♦ July 4: Nagawicka Lake, 5.1 miles (2:46)
♦ July 5: Pine Lake, 6.1 miles (3:10)
♦ July 25: Beaver Lake, two laps, 7 miles (3:39)
♦ July 26: Moose Lake, two laps, 3.8 miles (2:00)
♦ Aug. 9: Lac La Belle, 8.5 miles (4:10)
♦ Aug. 12: Golden Lake, 3.3 miles (1:38)
♦ Aug. 15: North Lake, 4.7 miles (2:32)
♦ Aug. 16: Oconomowoc Lake, 6.7 miles (3:32)
♦ Aug. 19: Lake Keesus, 4.7 miles (2:21)
♦ Aug. 20: Little Muskego Lake, 6 miles (2:40)
♦ Aug. 21: Rock Lake, 6.2 miles (3:02)
♦ Aug. 22: Lake Ripley, 3.3 miles (1:36)
♦ Aug. 23: Okauchee Lake, 11 miles (5:13)
♦ Aug. 26: Pike Lake, 3.7 miles (1:45)
♦ Sept. 1: Little Cedar Lake, 3.8 miles (1:50)