Feting feats of endurance
For those who undertake adventures in perseverance, it often is as much about the journey as it is the end result.
Three athletes recently pursuing outdoor challenges of different sorts and in different seasons would likely find themselves in agreement on that.
Despite the demands of their exploits, these determined individuals discovered that the beauty of the outdoors can make any journey memorable.
Read on for more about these three outdoors lovers and their exceptional adventures.
'Way of the trail' helps through-hiker find strength she needs for success
EMILY FORD INSTAGRAM

Winter warrior

Through-hikes of Wisconsin's Ice Age National Scenic Trail have been completed before, yet not a single woman had done it in the off-season. Until Emily Ford.

Ford, of Duluth, Minnesota, became the first woman to accomplish the 1,200-mile feat in winter when she arrived at the western terminus of the Ice Age Trail on March 6 at Interstate State Park in St. Croix Falls. That was 68 days after her trek had begun on Dec. 28 at the trail's easternmost point in Potawatomi State Park.

In between, Ford used Instagram to share tales of her trek with Diggins, an Alaskan husky borrowed from a friend's sled dog kennel for the occasion. Her social media following grew exponentially as she offered updates and encouraged everyone to embrace the outdoors.

"Hey, once we are done with this trail, keep getting out there," she said in one post. "There's heaps of world left for you to see."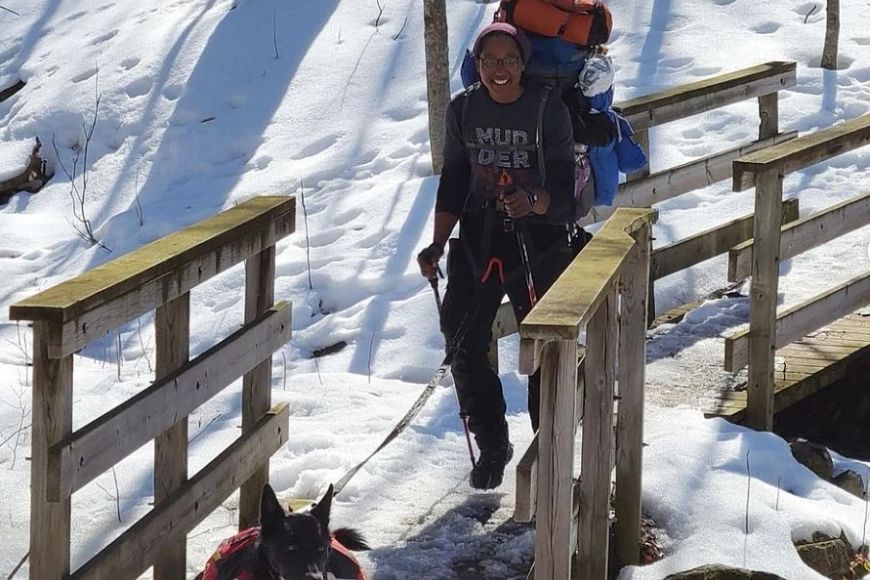 PATTY DREIER
Andrea Zani
It took just about all Emily Ford had to finish her 1,200-mile winter through-hike of the Ice Age National Scenic Trail — and she couldn't have done it alone.
Her own fortitude and an abundance of support from friends and strangers kept her going as she and her canine companion, Diggins, conquered everything from frigid temperatures and raging winds to fatigue and pain to knee-deep snow and ice to complete the "thousand-miler" trek.
"The temps are finally up!" she noted at one point on her Instagram social media account. "The cold weather was a rough go for a bit. My lungs protested every single day, but I couldn't not hike!
"I still have all of my fingers and toes, but some are turning fun colors."
With updates like that plus regional and national news coverage along the way, the 28-year-old Ford saw her Instagram account grow from a couple hundred followers at the start of her hike to more than 10,000 by the time she reached the end.
About 100 people cheered her final steps — watching her become the first woman to complete a through-hike of the Ice Age Trail in winter — and her Instagram following continues to grow.
By sharing her adventure, Ford hopes to get others excited to enjoy the upper Midwest's "fourth season," as she calls it, the way she does.
"I know it's cold in the Midwest, but keep getting out there," said Ford, whose work as a gardener allows her time for winter pursuits. "Layer up, bundle up and embrace our fourth season."
As a Black and gay woman, Ford also is hopeful to use the attention to encourage all people to feel comfortable experiencing the outdoors.
"I want people to know that literally ANYONE can play outdoors, no matter which boxes you do or do not check," she posted on Instagram. "Through my time backpacking, I've never really met another brown person backpacking, skiing or mountain biking.
"I know that brown people are outdoors — I see it on Instagram now! — but I want to add to the story."
LOST AND FOUND
For Ford, the story of her Ice Age Trail hike included ups and downs — like the day she took a fall and broke a hiking pole. Luckily, she wasn't seriously hurt.
"I ate it while going down a hill and must've wedged it in between some rocks on my graceful tumble down," she said of the pole. Her partner and a friend were able to reach her within a couple of days with a new pole.
On another day, Ford lost her glasses and extra mittens along the route in Portage County. She used her cell phone to text Patty Dreier, president-elect of the Ice Age Trail Alliance board of directors and a county resident.
Dreier was eager to help. Because that particular stretch of the trail follows County Highway A, Dreier was able to drive out in her car and slowly covered a 4-mile stretch of road.
At first, she found nothing, so she decided to walk a bit. When a man in a pickup truck stopped to ask Dreier if she needed help, she explained she was trying to find something lost by a friend.
He nodded and rolled away slowly, then stopped again and called out: "Hey! Are you looking for glasses?"
Dreier was able to return the glasses to Ford, no worse for the wear. The Ice Age Trail Alliance, which works to build, maintain and promote the trail, related the story on its own Instagram account.
"It was divine intervention, I am positive," Dreier said in the post. "I have never felt so much warmth and joy on a bitter cold, windswept roadside."
'TRAIL ANGELS' EVERYWHERE
So many people offered support to Ford during her trek.
"The trail angels keep coming out of the woodwork!" she posted at one point, noting that even small gestures made a big difference. "It's amazing how a pack of Skittles will turn the mood around."
In Milton, she was able to find rest and food with new friends. "I happened to say yes to sleeping on the deck of two wonderful folks, one of which makes a bangin' chicken wild rice soup and homemade rolls and the other who is a PT and took care of my weary 28-year-old body," said Ford, who nursed aches and pains including a sore ankle on the trek.
"That's the way of the trail: You meet those you find favor with and then you must leave the next morning, only to keep them in your heart."
In Cross Plains, staff at the Ice Age Trail Alliance headquarters treated her to lunch. In Lodi, she fueled up on local baked goods and encouragement from middle school students.
"Lodi is quite awesome," she noted. "The middle school has this Trail Trekkers program for the kids. They left me a bunch of signs at the trailheads.
"The best line from one of the students was, 'Push through this hike because no one else will do it for you!' Tough love from a middle schooler."
Another group of "cool 4th graders and Girl Scouts" spent time chatting with Ford in Cornell.
"I love little kids' questions," she said. "Best one of that day was, 'Do you ever get bored?' I promptly responded, 'Yes, all of the time while hiking!'"
In Shell Lake, Brickyard Pottery & Gallery welcomed Ford inside for a warmup. "We were having a rough morning and happened to stumble upon Brickyard Pottery at a magical moment," she posted. "A little bit of tea, food and good conversation goes a long way."
On several occasions since many campgrounds were closed, generous farm owners let her pitch her tent on their property not far from the trail.
After staying at Back2Basics Family Farm in Westfield, she posted, "I was able to help with night chores before heading off to bed. … Tonight, I am on an Amish farm just outside Coloma. Super thankful for my little square on their land."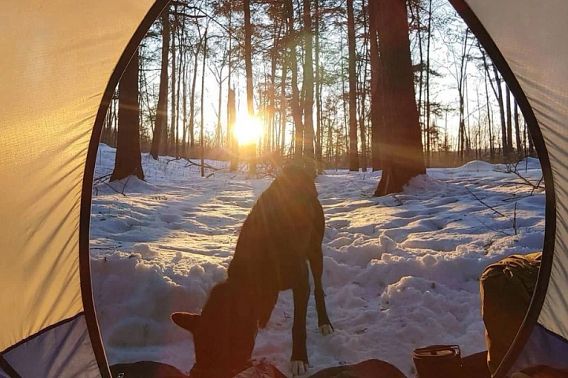 EMILY FORD INSTAGRAM
INSPIRED BY STATE'S BEAUTY
All these stories are indicative of the support Ford said she felt throughout her hike, from the very beginning.
"So many folks have stepped up to support me on this trip," she posted a day before her departure, and the support only increased as more people followed her journey.
"So much trail support," she noted later, posting many times about supporters, new friends, Ice Age Trail Alliance volunteers and others who aided her efforts, including leaving treats and water along the route and paying for meals at stops along the way.
"I wish I could name you all here, but you know who you are. Thank you to everyone."
It was Diggins, though, who offered her steady and constant companionship. "So thankful for this little trash monster," Ford said. Diggins even had her own hashtag for social media — #digginsthedog.
Ford started her hike with a sled for her gear, but soon ditched it and went with just her 60-pound backpack. Sometimes she camped and sometimes she stayed in nearby lodgings or with friends and kind acquaintances.
She received supply drops when needed, including a new pair of boots after wearing through the soles on her first pair. And she took several "zero days," for rest.
Along the way, Ford found the beauty of the Ice Age Trail inspiring.
"We stayed out at some amazing spots!" she noted. "One last time: Wisconsin, you have some beautiful forests. … So much trail magic!"
Andrea Zani is managing editor of Wisconsin Natural Resources magazine.
ABOUT THE ICE AGE TRAIL
The Ice Age National Scenic Trail covers about 1,200 miles of marked trail and unmarked connecting routes, all in Wisconsin. It is managed as a partnership with the Wisconsin Department of Natural Resources, the National Park Service and the Ice Age Trail Alliance. For details, check Ice Age National Scenic Trail, National Park Service and Ice Age Trail Alliance. To see all of Emily Ford's posts with numerous photos from her through-hike, check out her Instagram account @emilyontrail.