Hunting together strengthens father-daughter bond
Q&A with John and Anne Motoviloff
IN THIS ISSUE: HUNTING COVERAGE
Hunting together strengthens father-daughter bond
WNR magazine staff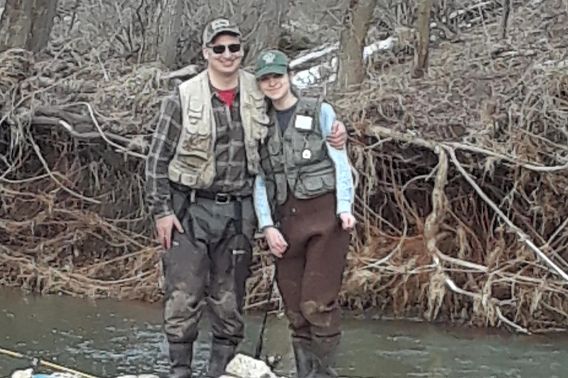 ©KERRY MOTOVILOFF
John Motoviloff has long hunted, fished and enjoyed other outdoor pursuits with his daughter, Anne. As the hunting R3 coordinator for Wisconsin's National Wild Turkey Federation chapter, he also has a unique perspective on hunter recruitment and what keeps people coming back to the sport.
Motoviloff, who previously worked in R3 with the DNR, has been a regular contributor to this magazine, mostly sharing hunting, fishing and foraging tales and favorite recipes for preparing the bounty. He was eager to weigh in on hunting and why it's special to him.
Even better, he recruited Anne to share her thoughts as well — a father-daughter tag team from the hunting community.
Why do you hunt?
Anne: From a really young age, I was exposed to wild game, how to cook with it and how different it is from any other meat you can buy. Once I had the chance to go hunting with my dad, I think I realized that in partaking in the hunting itself, you are connected to that same food in a unique and extremely important way.
So there's something of an obligation in my mind, and not in a bad way, but one that pushes me to understand the impacts of what I eat and kill, directly or indirectly, to create a relationship with what I am responsible for. I think hunting gives you an opportunity to be in nature in a way that hiking does not, and having those experiences has helped me to appreciate the beauty of the environments I've been exposed to.
John: I have always had a strong bond with the natural world, and I've fished since I was about 5. Hunting came to me later in life, in my 20s, when I met two older duck hunters I worked with.
Now, for me it's equally about food, family and connection to nature. As an R3 coordinator, I'm also lucky enough to teach others about the outdoors for a living. It comes full circle.
What inspired you to hunt?
Anne: Mainly my dad. I think he made a really conscious effort to create thoughtful and healthy spaces for me when I was learning how to hunt, and he still does.
What I was exposed to was centered around my interests and comfort level, and the experiences that came out of this were intentionally positive. I appreciate how much effort he put into that, and I think it allowed me to develop my own relationship with hunting and what I found value in.
John: What inspires me now is hunting with those who are learning, like my daughter and like the folks enrolled in Hunt for Food and Fishing for Dinner classes. Many of them have become close friends, and it's so cool to watch them develop into full-fledged outdoorspeople. I say people because half the classes are male and half female.
What are some of your favorite memories of hunting?
Anne: The memories I associate with hunting are pretty much all positive, but there are a few standouts. The first one that comes to mind was one of my first times hunting, during the youth hunt in 2016.
We got to this small creek before the sun rose, and it was early fall, so the air was cold and damp without the sun to warm it up. About an hour into sitting on the side of this creek, all I could see was mist as the sun started to rise. The tree silhouettes slowly became visible, and I started to hear wood ducks fly overhead nearby.
It was calm, quiet and peaceful in a way few other natural experiences have been for me, and I know I'm extremely lucky to have been in that environment that morning.
John: Experiencing the Youth Hunt with Anne — and my hunting pal Jason Stein and his son, Zane — is right up there. It was a magical day with all the elements coming together. To top it all off, we had a massive breakfast at the Unique Cafe in Boscobel after the hunt. Food, family, friends and fowl. What more can you
ask for?