Pottawatomie Lighthouse
Rock Island State Park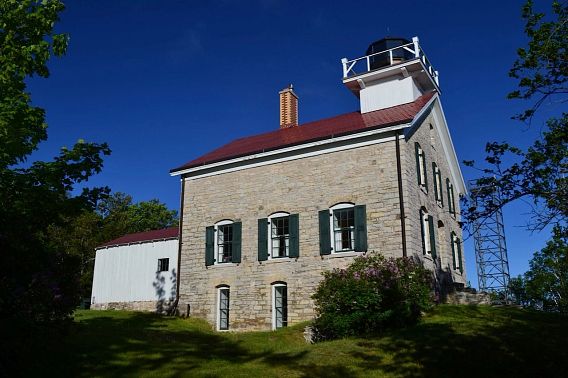 The Pottawatomie Lighthouse, on a high bluff at the northern tip of Rock Island, dates from 1836, before Wisconsin became a state. Many of Wisconsin's settlers from Europe came by Great Lakes steamships in those days before railroads and highways were built in the territory. Without the radar or global positioning satellites (GPS) available today, the ships risked crashing into rocky points or running aground.
Shipowners petitioned the U.S. Congress and the government set aside land for a light on Rock Island. The Pottawatomie light was the first of many lighthouses erected at key points along Wisconsin's Great Lakes shorelines.
The 1836 structure was demolished in the late 1850s and the existing lighthouse was first lit in 1858. The lamp produced a steady white light visible for 14 nautical miles. The lighthouse was placed on the National Register of Historic Places in 1979.
The Pottawatomie Lighthouse was restored to the 1910 period through the efforts of the Friends of Rock Island, DNR staff and grants through the Wisconsin Department of Natural Resources.  Since 2004 the Friends of Rock Island has staffed the lighthouse for tours. Live-in volunteer docents provide the free guided tours, and small gift shop sells items, so renovation and upkeep can continue.
Tours are given of the historic Pottawatomie Lighthouse daily from 10 a.m. to 4 p.m. seven days a week from Memorial Day through Columbus Day. During tours, visitors are permitted to climb to the lantern room. Donations are accepted but not required as this service is provided by the Friends of Rock Island State Park.