Observation Tower
Potawatomi State Park
Potawatomi Observation Tower Closed Until Further Notice:
The observation tower at Potawatomi State Park is closed due to significant wood decay. The DNR continues to consider the future of the tower and is committed to finding a path forward.
Potawatomi Tower Concept Report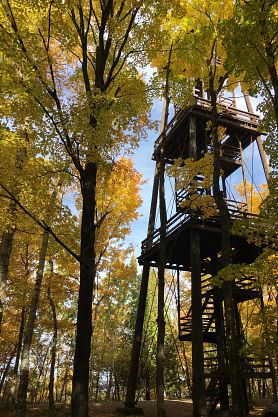 In early January 2023, the engineering firm GRAEF completed a concept report and cost analysis for the Observation Tower at Potawatomi State Park. The report identifies concept plan options for (1) the restoration of the existing tower at the park and (2) the replacement of the existing tower with a new tower. The DNR will use the report and public feedback to formulate a recommendation for moving forward.
Public Comments
The Department of Natural Resources is seeking public feedback on the Potawatomi Tower Concept Report. Comments may be submitted via the online survey through Monday, Feb. 13, 2023.
Resources