Eagle Tower
Peninsula State Park
Eagle Tower is open seasonally from May 1 to Oct. 31. Weather permitting, the tower may be open for certain days from Nov. 1 to April 30, if ice and snow conditions allow.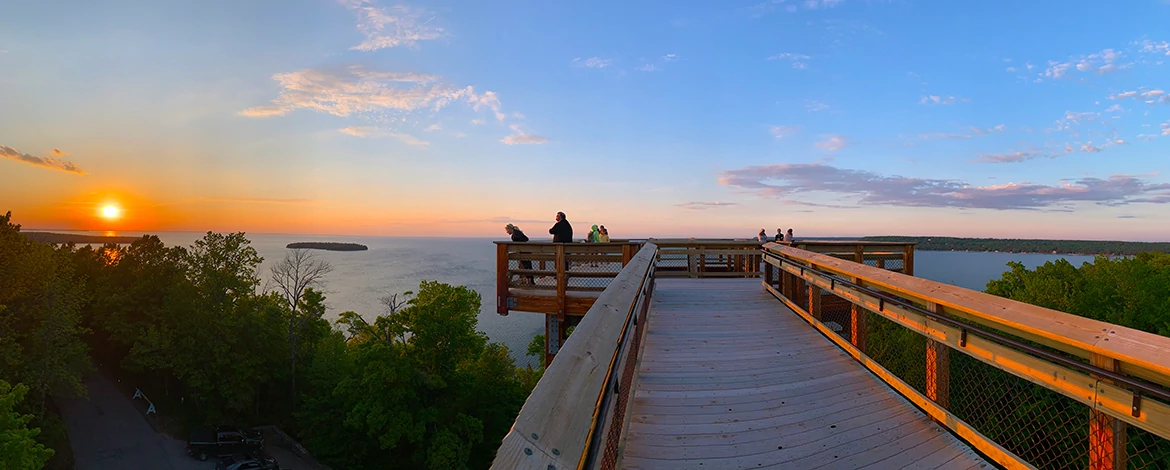 Eagle Tower has an 850-foot, fully-accessible canopy walk to the top of the tower. Wisconsin DNR Photo.
High above the Niagara Escarpment on Peninsula's northeast shore stands one of the most popular attractions in Door County. Eagle Tower, located on top of Eagle Bluff, offers panoramic views of the park, surrounding islands, the Upper Michigan shoreline and the village of Ephraim.
The tower is 60 feet high with the top observation deck sitting 253 feet above Green Bay. There are 100 steps to climb to get to the top of the tower, or visitors can enjoy an 850-foot, fully-accessible canopy walk that will wind above the tree line to the top of the tower. The angle of the accessible ramp never exceeds a five percent slope and visitors can take advantage of level spots and benches to rest along the way.  
Tower History
Obtaining a bird's eye view in Peninsula State Park has been a tradition for over 100 years, beginning in the early 1900s with the first Eagle Tower and its twin, Sven's Tower on Sven's Bluff. Both towers were originally constructed by hand for use as fire lookout towers. These two towers eventually turned into tourist attractions for the ever-increasing number of park visitors.
The original 1914 Eagle Tower was dismantled and completely rebuilt in 1932 using modern machinery, horses and tractors, and wrapping cable around nearby trees to raise the support poles. In 1947, Sven's Tower was dismantled, and as the second Eagle Tower found itself unable to weather time and use, it too was eventually dismantled in 2016. The newest Eagle Tower (the third) opened in 2021.
A Partnership Project
Funding for the $3.5 million Eagle Tower was made possible by partnerships with local state legislators, the DNR and the Friends of Peninsula State Park, which donated $750,000 to the project.