Water Recreation
PeninsulaState Park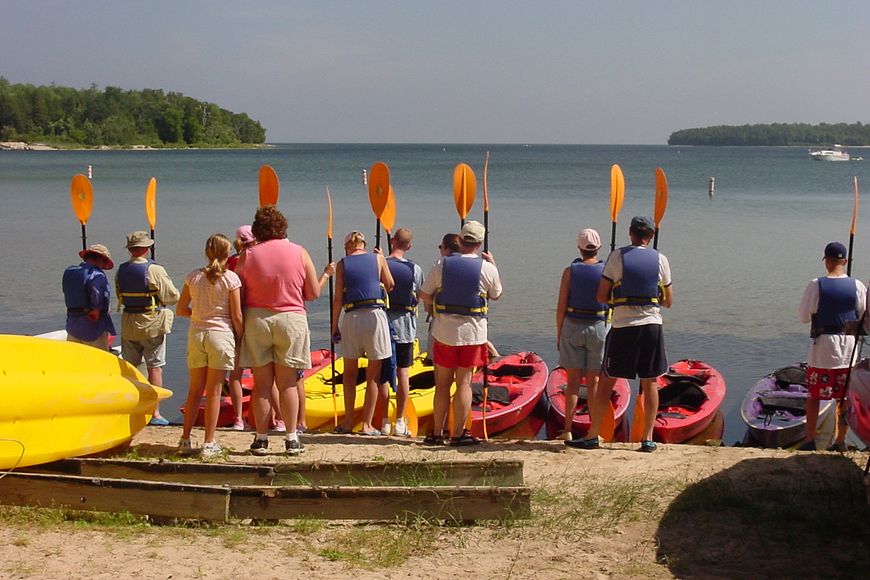 Photo by Wisconsin DNR.
Swimming
Nicolet Beach offers a swimming area (no lifeguard provided), rental of kayaks and other watercraft, a snack bar and plenty of sand for sunbathing. For rental information, call 920-854-9220. Pets are not allowed on the mowed area or the beach but are permitted at The Pines picnic area, next to the Nicolet Beach parking lot. A beach access mat stretches into the sand. A beach wheelchair is also available for use free of charge. 
Boating, canoeing and kayaking
Tour Peninsula from the water for incredible views, fine fishing and great fun. The park's eight-mile shoreline is popular with motorboats, sailboats and kayaks. A launch ramp is located at Nicolet Bay. Day-use only vehicle and trailer parking is available near the ramp. Peninsula campers have overnight trailer parking at the amphitheater lot. Kayaks often launch at Tennison Bay, which has a shallow draft.
Overnight, offshore anchoring is allowed at Horseshoe Island and in Nicolet Bay, outside of the designated swimming area and boat launch. Tie-up to ramp piers is prohibited except for launching and take-out.
Horseshoe Island, the only island that is part of Peninsula State Park, is picture-perfect from Nicolet Bay. It lies about 1 mile north of Nicolet Bay. It is accessible only by boat. Engelmar Trail, a 1-mile rustic path, meanders the circumference of the 38-acre island. Camping and fires are prohibited. Visitors must carry out their own garbage.
Fishing
Weborg pier is a hotspot for hooking smallmouth and rock bass or perhaps brown trout. Anglers 16 years or older must have a valid Wisconsin fishing license. A Wisconsin Great Lakes Trout stamp is required for trout fishing. Fishing licenses and Great Lakes stamps can be purchased online or at local sporting goods stores.
Anglers of any age may check out basic fishing equipment free of charge at the park office. This equipment was donated by the Tackle Loaner Program. Call the park office to find out what equipment is available.