Biking
Peninsula State Park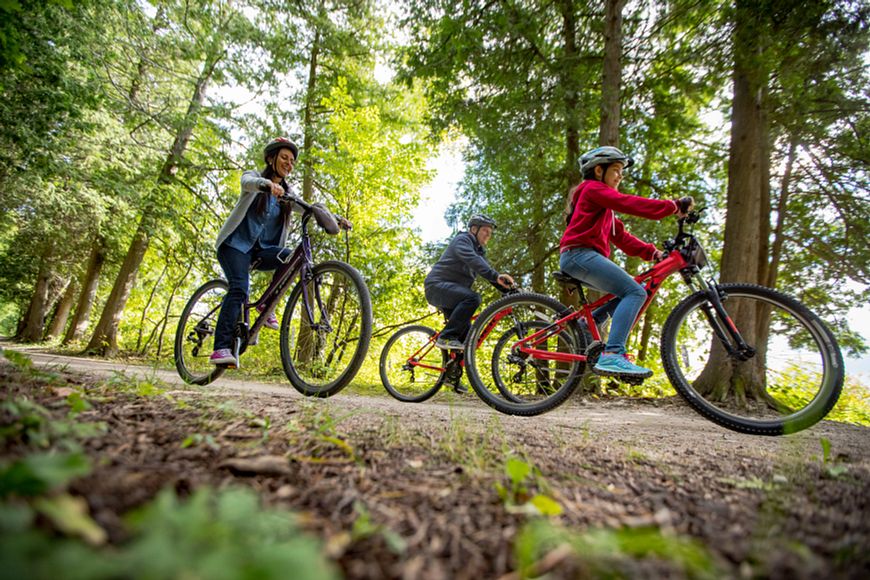 Wisconsin Department of Tourism.
Sunset Bike route (9.6 miles)
Starting near the Fish Creek entrance to the Park, the fine gravel on the relatively flat Sunset Trail accommodates bicycles, wheelchairs and hikers. The trail traverses Weborg Marsh, cedar and maple trees and cliff communities. The Sunset Bike Route connects to a return route at Nicolet Beach, for four additional miles on the Park's scenic back roads. Remember to use extreme caution on all hills and curves and always ride single file. Adult and youth bike rentals are available in Fish Creek and at the Nicolet Beach concession stand.
Hidden Bluff is a scenic 0.75-mile spur of the Sunset Trail, providing access to the nature center and a shortcut for bicyclists traveling to and from Nicolet Bay.
Off-road biking trails (12 miles)
Off-Road Bike Trails traverse 12 miles of rugged, unsurfaced terrain in the park's interior. Bicyclists who use off-road trails must be equipped and prepared to take on the challenge. State trail passes are required for riders age 16 and older.
In-line skating
In-line skating is prohibited on Shore and Bluff Roads and all roads within the Town of Gibraltar (Fish Creek area). In-line skating is allowed on Peninsula's interior roads, including Skyline, Middle, Mengelberg and Highland Roads. Peninsula has rolling terrain with steep ascents and descents, creating a challenge for even the most experienced in-line skater.