Eagle Bluff Lighthouse
Peninsula State Park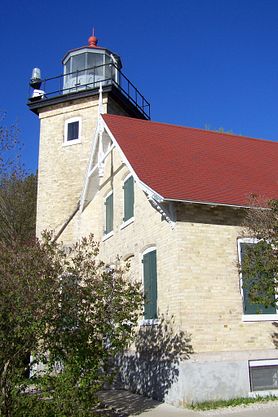 Set against a backdrop of Green Bay islands, Eagle Bluff Lighthouse offers a glimpse of yesteryear. The Door County Historical Society conducts tours from mid-May through mid-October for a fee. Group tours may be scheduled in advance by calling 920-421-3636.
The 1868 lighthouse still guides vessels through the narrow Strawberry Channel. In 1964, after successful restoration efforts, the Door County Historical Society opened the lighthouse to the public. In 1970, it was listed on the National Register of Historic Places.
The State of Wisconsin assumed ownership of the lighthouse, 1.21 acres of land, a "keepers quarters," oil house and privy on Oct. 16, 2003.