Seth Peterson Cottage
Mirror Lake State Park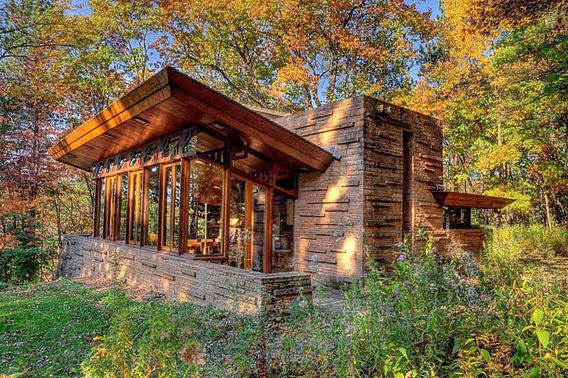 The Seth Peterson Cottage [exit DNR] was the first Frank Lloyd Wright-designed house in the world available for rental occupancy. Designed in 1958, it was one of Wright's last commissions.
Seth Peterson was a Wisconsin native with a lifelong interest in Wright and his work. He convinced the 90-year-old Wright to design the cottage. Peterson died before the cottage was finished, so later owners completed it. The Department of Natural Resources acquired the property in 1966 to add to the state park. Due to the remote location and lack of regular use, the cottage fell victim to neglect and the ravages of nature.
In 1989 concerned Mirror Lake residents and Wright devotees founded a nonprofit organization to save and restore the cottage and give it a new life. The cottage is open to rent year-round.
Cottage Tours
Seth Peterson cottage tours [exit DNR] are offered the second Sunday of every month from 1 to 3:30 p.m.