Fishing
Copper Falls State Park
Copper Falls is in the heart of a prime fishing area, with scores of lakes offering all kinds of sport fishing within easy traveling distance.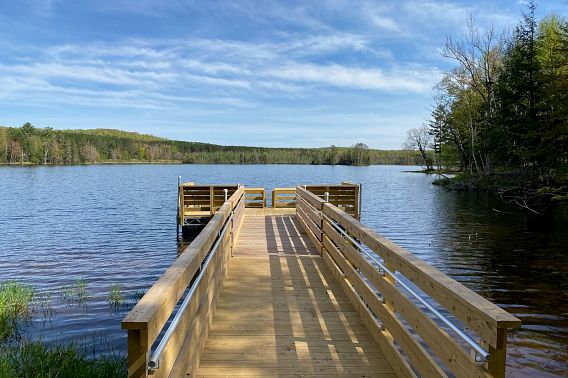 An accessible fishing pier is available on Loon Lake. Visitors can park at the beach parking lot and walk to the pier by taking the Red Granite Falls Trail and then walking a short distance down Loon Lake Drive. Two accessible parking spaces are located off of Loon Lake Drive with a paved path leading to the pier.
Visitors can catch largemouth bass, northern pike and panfish in Loon Lake. Small car-top boats and canoes and kayaks can be launched via the carry-in boat access at Loon Lake. Only electric motors are allowed.
In the park, the Bad and Tyler Forks rivers both offer fishing for rainbow, brown and brook trout. Anglers will need to pay attention to location and license requirements as there is different trout stamp requirements depending on where you are in the rivers. Anglers will also need to observe the closed section of river located between the concession stand, Tyler Forks Bridge and the Devil's Gate Bridge. This area is closed to all visitors and anglers for safety purposes.