Deer Management Assistance Program
"A partnership for healthy deer and healthy habitat"
The Wisconsin Deer Management Assistance Program (DMAP) is a cooperative effort between the Wisconsin Department of Natural Resources, landowners and hunters to provide habitat and deer herd management assistance to those interested in managing their property for wildlife. Wildlife and forestry professionals assist landowners with management practices that consider the ecological and social impacts white-tailed deer have on the landscape. In return, DMAP cooperators can choose to share habitat information, collect biological data and participate in DMAP workshops. This one-on-one relationship, stressing communication and cooperation, makes DMAP a flexible and effective deer management program for private and public lands alike.
Detailed application instructions [PDF]
Joining DMAP
Whether you have five acres or five hundred, DMAP has something to offer. All DMAP cooperators have access to a vast library of habitat management resources, direct communication with professional biologists and foresters and regular workshops on a wide variety of topics. Depending on the number of acres enrolled in DMAP, landowners may also choose to have an on-site visit with a biologist and forester, who assess the overall health and quality of wildlife habitat on the property and work with the landowner to formulate a property management plan based on the goals and objectives of the landowner.
*If recommended by a professional biologist or forester.

| DMAP Program Offerings | Level 1 | Level 2 | Level 3 |
| --- | --- | --- | --- |
| Enrollment fee | None | $75 | $150 |
| Minimum acreage requirement | 0 | 160 | 640 |
| DMAP educational resources | ✔ | ✔ | ✔ |
| Technical assistance from a local biologist and forester | ✔ | ✔ | ✔ |
| Annual DMAP Reports | ✔ | ✔ | ✔ |
| DMAP workshops and training opportunities | ✔ | ✔ | ✔ |
| Citizen science opportunities | ✔ | ✔ | ✔ |
| Information on funding resources for habitat projects | ✔ | ✔ | ✔ |
| On-site visit with a professional forester and biologist |   | ✔ | ✔ |
| Customized property management plan |   | ✔ | ✔ |
| Annual deer harvest reports |   | ✔ | ✔ |
| Reduced-price antlerless tags* |   | ✔ | ✔ |
| Priority enrollment in Snapshot Wisconsin |   |   | ✔ |
Hear From DMAP Cooperators And DMAP Specialists
Watch our February 2022 webinar and hear folks interested in joining DMAP get their questions answered by current DMAP cooperators and DMAP Specialists (formerly DNR deer biologists).
DMAP Cooperatives
One of the fundamental values of DMAP is that white-tailed deer are an important wildlife resource in Wisconsin, and should be held in the public trust for the benefit of all people. With over 400,000 acres of land enrolled across 71 counties, DMAP seeks to bring landowners and managers together to provide healthy habitats and healthy deer across the state.
One way we achieve this is by forming group cooperatives between neighboring landowners. Properties within half a mile of one another may be enrolled under the same DMAP profile, allowing cooperators to share resources and potentially enroll at a higher level of DMAP than they would be able to individually. If you are interested in joining or forming a group cooperative, you are encouraged to reach out to your neighbors and apply with them or contact your local DMAP Specialist, who may be able to put you in touch with nearby DMAP landowners.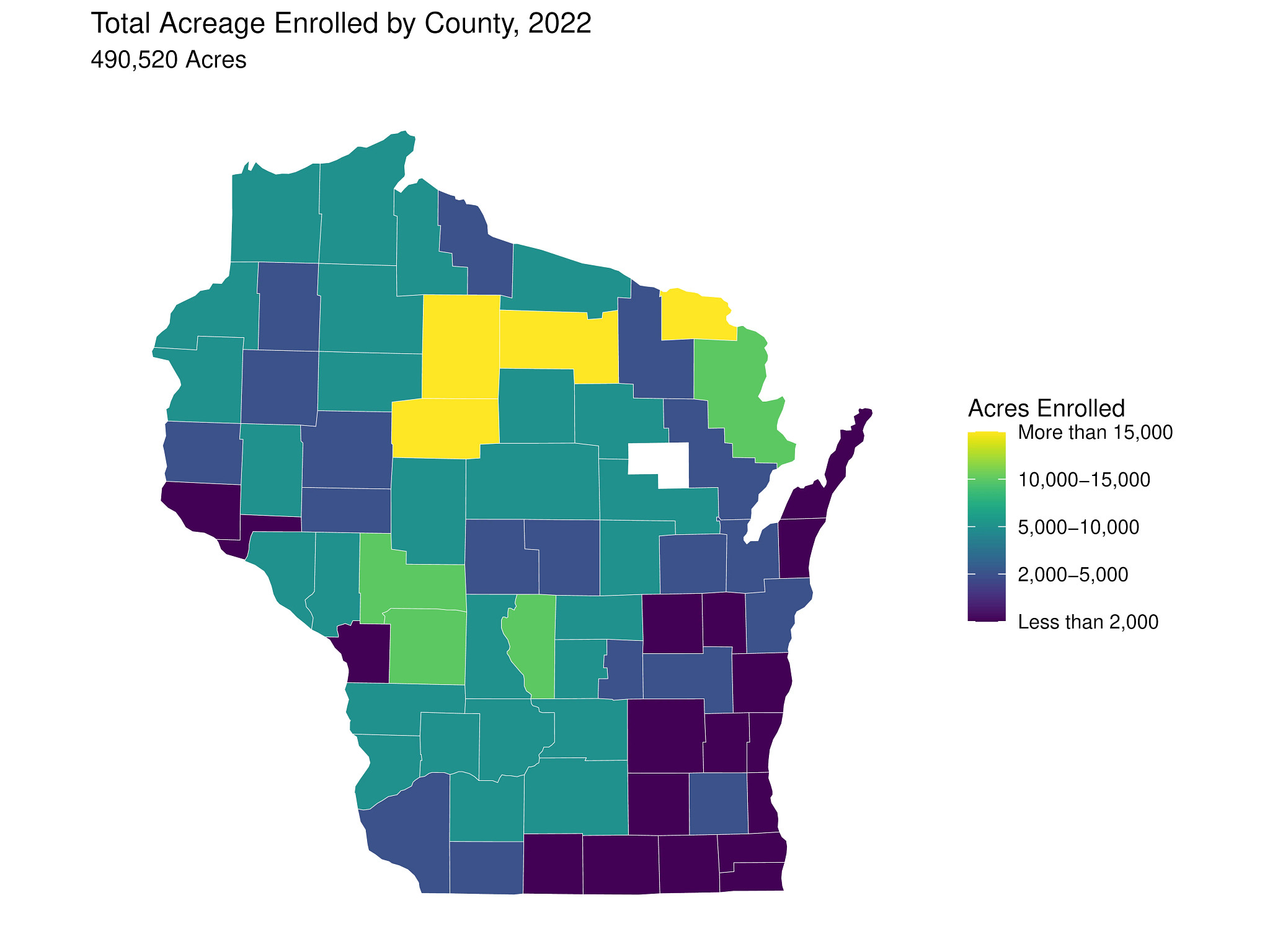 DMAP Resource Library
DMAP cooperators gain access to an extensive library of resources, including technical videos produced by DMAP Specialists, scientific articles on deer management and instructional materials on a wide variety of habitat projects. The resource library is continually being updated with content from both the DNR and partner organizations and agencies.
Examples of DMAP resources:
Application information
Enrollment in the Deer Management Assistance Program (DMAP) requires a person to create a Web Access Management System (WAMS) account (username and password) with the State of Wisconsin. This one-time account activation will give you direct access to your MyDMAP account in the future. If you are applying as a group cooperative, the WAMS username and password that you create must be shared with all members to allow them access to the cooperative MyDMAP account.
You will need the following information to complete the MyDMAP application:
name,
mailing address,
phone number,
email address,
DNR customer ID,
birth date,
property location: township/range/section.
Sources could include a plat book, tax records and the interactive map provided in MyDMAP
Sections in bold denote important information that is required from each landowner in a group cooperative.
Your privacy is important to us! Please be aware that all collected information will be secured and confidential.
DMAP Advisory Committee
The Deer Management Assistance Program (DMAP) Advisory Committee is a diverse group representing government agencies, non-governmental organizations, tribal interests and conservation groups.
The DMAP Advisory Committee reviews and makes recommendations on the implementation and progression of the Deer Management Assistance Program in Wisconsin. The committee advises the Wildlife Policy Team on a variety of topics such as program components as well as designing public input opportunities.
FAQs
What is the Deer Management Assistance Program?
The Deer Management Assistance Program (DMAP) provides habitat and herd management assistance to landowners and hunters interested in managing their property for wildlife. The department will provide technical assistance to DMAP cooperators with implementing habitat and deer management practices that will emphasize property goals while considering the ecological and social impacts of white-tailed deer.
Can landowners interested in managing habitats for wildlife other than deer enroll in DMAP?
Yes! DMAP offers recommendations for improving the habitat for various wildlife species, as well as methods for addressing deer damage to wildlife habitat. With a focus on managing natural, native food and cover, DMAP can help maximize the wildlife value of the property's existing habitat.
How do I apply for DMAP?
Apply using the MyDMAP online database. This link will direct you to a sign-up page to begin the application process.
How do I re-enroll for DMAP?
Log in to the MyDMAP online database between Feb. 1-28 and follow the prompts. Reenrollment is only necessary once every three years. 
What is the deadline to apply for DMAP?
Applications can be submitted at any time to receive DMAP benefits such as online resources and workshops immediately. Properties 160 acres or larger (DMAP Levels 2 and 3) should apply by March 1 to be eligible for a site visit and management plan in that year.
Are there any requirements for DMAP cooperators?
Cooperators that enroll in Levels 2 and 3 are required to pay an enrollment fee. Cooperators are also encouraged to record deer harvest information and track the use of DMAP antlerless tags (if issued).
Can corporations, businesses, trusts or similar entities enroll in DMAP?
Yes. However, before successful enrollment in DMAP, the corporation or similar entity must complete documentation that identifies an "authorized representative" who can make decisions on behalf of the entity.
What is a DMAP group cooperative?
A DMAP group cooperative is an association of individual property owners or their representatives who organize to manage deer and other wildlife resources, and whose members have agreed to participate in DMAP. Group cooperatives must designate a representative landowner as a primary contact. The primary contact will serve as the point of contact between DNR staff and other cooperative members. Group cooperatives can be comprised of public and/or private lands. 
What are the benefits of joining a group cooperative?
Group cooperatives are a good way for landowners to network with neighbors with similar land management goals. Group cooperatives may help individual landowners achieve the minimum acreage requirements for level 2 or 3 benefits. Landowners may also be able to share costs and equipment to conduct habitat management activities over a larger area, which may enhance habitat for a wider variety of wildlife.
Does a DMAP group cooperative only include adjoining properties?
No. However, each property enrolled in a group cooperative must be within one-half mile of another property in the cooperative. 
Do property owners in Level 2 or 3 group cooperatives receive their management plans?
No. One management plan will be written that covers all included properties. 
How many properties can be included in a DMAP group cooperative?
There is no limit to the number of properties that may be included in a group cooperative, however, they must be within one-half mile of another enrolled property. 
Can a landowner add additional properties to their group cooperative after they enroll in the program?
Yes, even after a landowner has enrolled in DMAP, they may add additional landowners/properties to their individual property or cooperative. However, those landowners/properties added following the initial enrollment date will still adhere to the initial enrollment date when determining when their three-year contract will expire.
Can someone who manages a property that they do not personally own enroll that property in DMAP?
Yes, but only with approval from the owner of the property. This includes having the landowner register in the MyDMAP database and then designating the property manager as their authorized representative.
How will DMAP be applied to public lands?
Public land managers with an interest in DMAP are welcome to apply. DNR staff will work with land managers to accomplish one or more of the following objectives:

Provide management options to help address deer management concerns and reach habitat objectives.
Promote wildlife habitat improvement projects on public properties where quality habitat is limited.
Provide citizen science and educational opportunities.
Provide additional deer hunting opportunities.

DMAP may be a good fit for public lands with urban deer issues, localized areas where deer impact vegetation or properties with existing management plans that would benefit from additional emphasis on wildlife habitat and management recommendations.
How will properties that are enrolled in the Managed Forest Law (MFL) or Forest Crop Law (FCL) program work within DMAP?
Properties enrolled in MFL or FCL may participate in DMAP. Level 2 and 3 DMAP enrollees enrolled in MFL or FCL will have a management plan for that program and a DMAP management plan. The DMAP plan will provide additional detail on wildlife habitat and management, which will complement the recommendations provided in the MFL or FCL plan.
For DMAP, are properties enrolled in the Managed Forest Law program considered private or public lands?
Currently, properties enrolled in the MFL program (open or closed) are considered private properties for DMAP. MFL properties enrolled in DMAP are eligible for private land benefits and management recommendations. If eligible for DMAP antlerless tags, properties enrolled in MFL will receive tags specific to the private DMAP property.
For those enrolled in DMAP levels 2 and 3, who will be conducting the site visit?
A local DMAP Specialist and DNR Forester will conduct the initial site visit. Site visits usually occur in the spring or summer at a time of mutual convenience to department staff and the landowner or property manager. The landowner or authorized representative must be present for the initial site visit.
Who will authorize the issuance of DMAP antlerless tags?
Local DMAP specialists will authorize the issuance of DMAP antlerless tags for a given property or group cooperative. DMAP antlerless tags will be made available for purchase through the Go Wild licensing system, similar to other license purchases. DMAP tags are issued following the site visit, at the discretion of the DMAP Specialist in consultation with the landowner or representative.
How will the department determine if DMAP antlerless tags should be issued to enrollees?
The department will consider information collected by department staff during the site assessments. Site assessments will include an evaluation of current habitat conditions, a browse severity survey, deer harvest history, an assessment of local deer numbers and property habitat goals as discussed with the landowner or representative(s).
Will DMAP antlerless tags be issued in Deer Management Units that do not have an antlerless quota for the year?
Yes, however, antlerless harvest tags are property-specific and are not guaranteed to all DMAP cooperators.
How do DMAP cooperators obtain DMAP antlerless tags?
DMAP antlerless tags for the property or cooperative are issued to the Go Wild account for landowners listed in the MyDMAP database. Go Wild will track tag purchases and count down the number of tags available for the property or cooperative as the tags are purchased. Like other harvest authorizations, DMAP antlerless tags can be printed at home, at a DNR service center or with a licensed agent for a $2 processing fee.
Can landowners sell DMAP antlerless tags to other hunters?
Yes. Landowners or representatives can sell them for no more than the original cost. DMAP antlerless tags may only be used on the DMAP property for which they were issued.
How do hunters register a deer harvested and tagged with a DMAP antlerless tag?
Hunters will use the GameReg system to register deer by calling 1-844-426-3734 or going online to gamereg.wi.gov. Upon completing the registration process, the hunter will receive a 10-character confirmation number. This will serve as proof of registration. DMAP cooperators should also enter harvest information and observations through the MyDMAP database.
Who can participate in DMAP workshops?
DMAP cooperators at all levels are encouraged to attend a DMAP workshop and bring along interested family members, neighbors, and friends. Workshops are one of the benefits offered to all DMAP cooperators, and Level 1, 2 and 3 cooperators and one or two guests are encouraged to attend one or more DMAP workshops. However, others interested in attending a workshop can sign up for DMAP at Level 1 at any time to gain eligibility for the workshop and receive other Level 1 benefits.

Workshops present information on deer and habitat management and offer an opportunity for cooperators to network with other cooperators and natural resources professionals. Topics vary by workshop but usually include deer herd health, deer management strategies, wildlife biology, forest and habitat management, funding sources and much more. Workshops are typically a mix of talks from guest speakers, hands-on activities and field trips. Summer workshops feature a DMAP property tour, while winter workshops center on deer biology and monitoring.