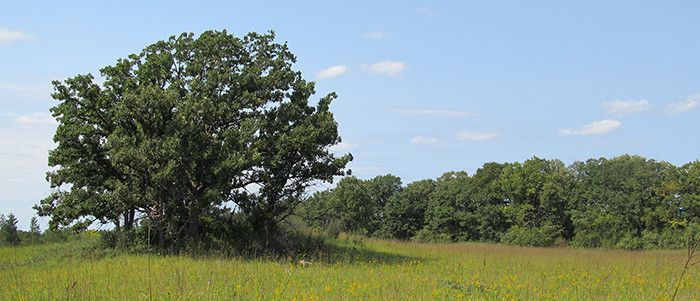 Waterloo Wildlife Area is a property of approximately 4,000 acres with a diverse range of habitat types. These habitat types include open water marsh, sedge meadow, fens (including a state natural area), lowland and upland hardwoods, some native prairie and extensive shrub carr.
The property is located in northwestern Jefferson County and southwestern Dodge County approximately 1 mile east of the city of Waterloo. Waterloo Wildlife Area is a sprawling set of state-owned properties spread across an area about 2 miles east to west and 7 miles north to south.
Though the property is still a good location for seeing ring-necked pheasant, it has also become known for its deer and wild turkey hunting opportunities. Good waterfowl hunting can be found at times on the restored wetlands. Wildlife watching opportunities abound and can be accessed from any of the parking lots on the property. A wide range of both game and non-game species can be seen, especially those associated with wetland habitats. These might include various ducks and wading birds, mink, otter, beaver, Blanding's turtles and many more. Mourning dove hunting opportunities exist on two managed sunflower fields.
Management

Historically, Waterloo Wildlife Area has been known as pheasant country. The Wisconsin Conservation Department managed the property for ring-necked pheasant hunting and collected considerable hunter/user data throughout the years of ownership. In the 1970s, Wisconsin DNR research personnel accomplished a large range of important research projects, which featured pheasant nest success, habitat manipulation for pheasants and predator/prey relationships including red fox and various raptors.

In more recent years, management emphasis has focused on wetland restoration, reestablishment and maintenance of native prairie, and protection and management of remnant native habitats. The Waterloo Prairie State Natural Area lies within the boundaries of Waterloo Wildlife Area. The Waterloo Prairie consists of two units of low, wet grasslands and feature raised calcareous fens and springs, which still harbor numerous native species of flora.

For more information on master planning for this and other wildlife areas around the state, visit the property planning page.

Recreation

The Waterloo Wildlife Area offers many recreational opportunities:

Birding;
Canoeing;
Cross-country skiing (no designated trail);
Fishing;
Hiking (no designated trail);
Hunting (especially noted for pheasant, deer, turkey, waterfowl, mourning dove and other small game);
Snowmobiling trail;
Trapping;
Wild edibles/gathering; and
Wildlife viewing.

Maps

Download [PDF] a map of this property.

If you are interested in exploring this property further, you can access an interactive map.

Useful links