Wood County Wildlife Area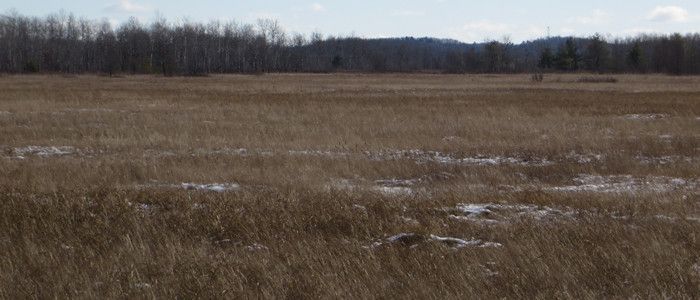 Wood County Wildlife Area is a 21,000-acre property in southwestern Wood County, approximately 20 miles north of Necedah, 25 miles south of Marshfield and 18 miles west of Wisconsin Rapids. Access to the area can be gained by town roads or County Highway X, which intersects with State Highway 173.
The area lies between the Meadow Valley Wildlife Area on the south and the Sandhill Wildlife Area on the north. Collectively, these three areas are referred to as the Sandhill-Meadow Valley Work Unit, the largest block of state-managed wildlife lands in Wisconsin. Nearly 150 square miles of public lands lie within the work unit.
Management

History

Wood County Wildlife Area lies within the bed of historic Glacial Lake Wisconsin, an area characterized by large expanses of wetlands interspersed with forested uplands and islands. The original vegetation consisted primarily of sedge, grasses, tamarack and black spruce in the wetlands and white and red pine forests mixed with oak on the uplands.

During the 1800s, the land was logged and burned to create openings. Pioneer farmers followed, but their activities were limited by naturally high water tables, short growing seasons and poor soils.

During the land boom of the early 1900s, widespread efforts were made to drain the area. The first drainage ditch in the area was constructed in 1902. In all, about 60 miles of ditches were constructed in the Town of Remington.

Ditching was somewhat successful in improving drainage, but the attempt to develop an agricultural economy failed. Poor soils dominated by peat and sand, killing frosts during the growing season, high taxes and the Great Depression hastened the end of the farming era.

Following the farming era, much of the land became tax delinquent and reverted to county ownership. By the late 1930s, most of the land was deserted, and natural vegetation reclaimed the area. Repeated wildfires maintained the fields and openings as grasslands. These areas resembled the vast treeless prairies of the western states, and prairie chickens flourished. During this period (late 1930s and early 1940s), Wood County became famous for superb prairie chicken hunting.

By the early 1940s, advancing forest and shrub growth displaced prairie openings and prairie chicken but created excellent habitat for sharp-tailed grouse. Sharp-tails prospered until the 1960s, when forest growth displaced them in favor of the more traditional wooded species, the ruffed grouse. However, remnant openings on the western portion of the area remained, providing suitable habitat for sharp-tailed grouse through to the present day.

In 1939, the Wisconsin Conservation Department negotiated a long-term lease with Wood County. The lease transferred management responsibility to the department for which the county received an annual lease payment. This lease dedicates the property as an area to be managed for wildlife production and public recreation. It reflects the commitment of Wood County and the state to a sound, long-term management program.

Management objective

Today, aspen, oak, lowland brush and sedges are the predominant vegetation types on the unit. Red, white and jack pine are also found on the area. The eastern two-thirds of the property is largely forested upland mixed with small marshes. In contrast, the western one-third has an open almost treeless aspect dominated by wetlands. Many of the original drainage ditches have been plugged and water controls installed to create flowages and provide habitat for waterfowl, aquatic mammals and other wildlife. Most flowages are shallow (less than three feet deep) and therefore unsuitable for game or panfish.

The natural habitat diversity of the property is conducive to a wide variety of wildlife. Principal game species include white-tailed deer, ruffed grouse, woodcock, squirrels, rabbits, snowshoe hares, ducks and geese. A small number of sharp-tailed grouse remain, but no hunting has been permitted since the 1950s. Muskrat, beaver, mink, otter and coyotes are the primary furbearers. Numerous other protected species attracted to the area include sandhill cranes, great blue herons, eagles, hawks, owls, shorebirds and songbirds.

Management of the area will continue to encourage a wide variety of wildlife species. The current timber management program will be the highest priority to maximize habitat diversity for forest wildlife. Wetlands will be maintained for waterfowl and furbearers, while sharp-tailed grouse will be perpetuated by prescribed burning and non-commercial cutting.

For more information on master planning for this and other wildlife areas around the state, visit the property planning page.

Recreation

The Wood County Wildlife Area offers many recreational opportunities:

Birding;
Camping (primitive is only during the spring turkey seasons and Sept. 1 through Dec. 31; see map

[PDF]

for locations);

Primitive camping is permitted at designated sites, free of charge during the spring turkey seasons and Sept. 1 through Dec. 31. Campers are required to self-register. Some of the campsites have pit toilets. Campers must bring their own water and all garbage must be removed from the campgrounds.

Cross-country skiing (no designated trail);
Hiking (no designated trail);
Hunting;
Trapping;
Wild edibles/gathering; and
Wildlife viewing.

Maps

Download [PDF] a map of this property.

If you are interested in exploring this property further, you can access an interactive map.

Useful links