FOR IMMEDIATE RELEASE: 2023-10-27
DNR To Host Public Meeting On Draft Sharp-Tailed Grouse Management Plan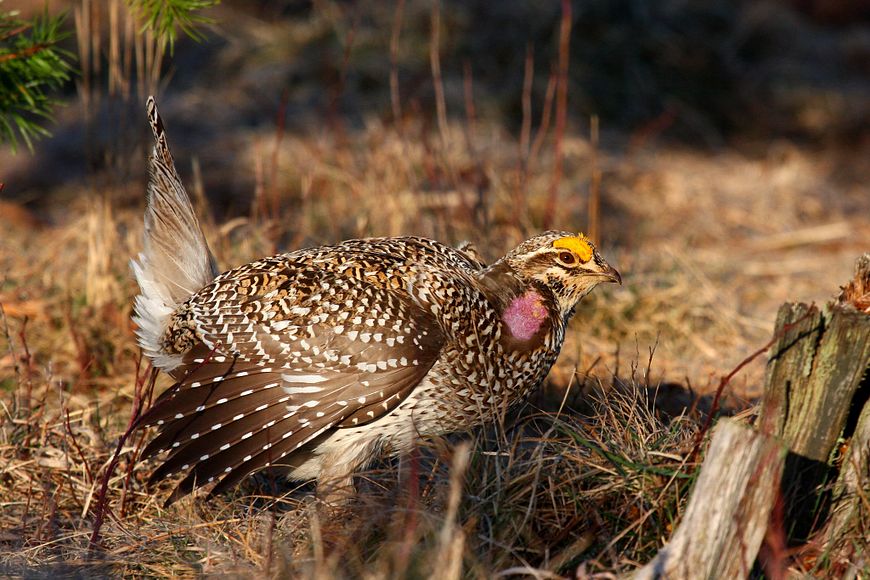 Photo credit: Wisconsin DNR
MADISON, Wis. – The Wisconsin Department of Natural Resources (DNR) today announced the draft 2023-2033 Sharp-Tailed Grouse Management Plan, which outlines objectives and strategies to guide sharp-tailed grouse management in Wisconsin.
The draft plan is open to public comment until Nov. 17 at 11:59 p.m. Additionally, the public can provide verbal comments during a public meeting on Nov. 8, being held in-person and via Zoom.
The draft Sharp-Tailed Grouse Management Plan sets a course for how the DNR intends to manage sharp-tailed grouse and the habitat they use. Highlights include:
Focusing management on the existing core range of sharp-tailed grouse in northern Wisconsin.
Developing cooperative partnerships between public and private organizations.
Implementing landscape-level habitat strategies to sustain long-term populations of sharp-tailed grouse.
Comments can be sent via email to Bob Hanson, DNR Wildlife Biologist, at Robert.Hanson@wisconsin.gov or through the mail until 11:59 p.m. on Nov. 17. Please mail comments to:
Sharp-Tailed Grouse Management Plan Comments
Crex Visitor Center
102 E. Crex Ave.
Grantsburg, WI 54840
Sharp-tailed grouse are a native resident game bird of Wisconsin. These grouse depend on young, open pine, oak barren and savanna ecosystems. Historically, sharp-tailed grouse were found throughout the state. Due to habitat loss and fragmentation, most sharp-tailed grouse in Wisconsin are now found in the northwest. Learn more about sharp-tailed grouse on the DNR's website.
---
EVENT DETAILS
What: Public meeting on the draft Sharp-Tailed Grouse Management Plan
When: Nov. 8 at 7 p.m., doors open at 6 p.m.
Where: DNR Spooner Service Center
Large Conference Room
810 W Maple St.
Spooner, WI 54801