FOR IMMEDIATE RELEASE: 2023-09-15
DNR To Host Open Houses At Various Fish Hatcheries And Spawning Facilities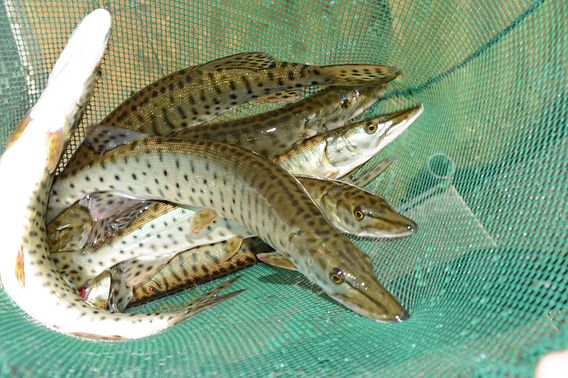 Photo credit: Wisconsin DNR
MADISON, Wis. – The Wisconsin Department of Natural Resources (DNR) today announced the dates for fall open houses at two fish hatcheries and two fish spawning facilities. Over the next month, the DNR will host open houses at the Governor Tommy G. Thompson Fish Hatchery, Besadny Anadromous Fish Facility, Root River Steelhead Facility and the Wild Rose Fish Hatchery.
Each of these free events will give attendees a chance to see fish up close and learn how hatcheries and spawning facilities help sustain Wisconsin's fish populations.
Tour the state's largest cool water fish hatchery and the world's largest muskellunge hatchery at the Governor Tommy G. Thompson Fish Hatchery on Saturday, Sept. 30 at 951 West Maple Street in Spooner. Doors will open at 10 a.m. and offer attendees a chance to see walleye, muskellunge and the various tools used to help rear and stock fish into waterbodies across the state.
The second open house event will showcase a spawning facility, and will occur on Saturday, Oct. 7 from 9 a.m. until 2 p.m. at the Besandy Anadromous Fish Facility, at N3884 Ransom Moore Lane in Kewaunee. Come watch salmon egg collection demonstrations, enjoy fishing displays and take a guided tour of the facility. The Algoma Kewaunee Great Lakes Sport Fisherman will also be providing wagon rides from the Winter Park ski area parking lot to the facility.   
Join the DNR at another fish spawning facility on Saturday, Oct. 14 from 9 a.m. – 3 p.m. at the Root River Steelhead Facility. The event will take place at 2200 Domanik Dr, Lincoln Park in Racine and will feature guided tours and fish spawning demonstrations. Volunteers from Salmon Unlimited, Trout Unlimited and the Kenosha Sport Fishing and Conservation Association will be on-hand to provide educational fishing stations where visitors can try new casting techniques and receive fly-tying lessons.
The final open house of the fall will take place on Saturday, Oct. 28 from 8 a.m. to 3 p.m. at the Wild Rose State Fish Hatchery's education center, located at N5871 State Road 22 in Wild Rose. This event will celebrate the annual fall salmon migration. There will be games and educational activities set up for people of all ages, including learning to cast workshops, fish identification tips or the chance to "swim" upriver like salmon on their migratory journey to spawning areas. Other fish activities include fish printing on tote bags, building a spinnerbait, making Kool-Aid clay and touring the original 1908 hatchery and the modern operation.
More details on each of these events can be found on the DNR's events webpage.
---
EVENT DETAILS
What: Governor Tommy G. Thompson Fish Hatchery Open House
When: 10 a.m. – 2 p.m. Saturday, Sept. 30
Where: Governor Tommy G. Thompson Fish Hatchery
951 West Maple Street
Spooner, WI 54801
What: Besandy Anadromous Fish Facility Open House
When: 9 a.m. – 2 p.m. Saturday, Oct. 7
Where: Besandy Anadromous Fish Facility
3884 Ransom Moore Lane
Kewaunee, WI 53404
What: Root River Steelhead Facility Open House
When: 9 a.m. – 3 p.m. Saturday, Oct. 14
Where: Root River Steelhead Facility
2200 Domanik Drive
Racine, WI 53404
What: Wild Rose Fall Fish Migration Open House
When: 8 a.m. – 3 p.m. Saturday, Oct. 28
Where: Wild Rose Hatchery
N5871 State Road 22
Wild Rose, WI 54984