FOR IMMEDIATE RELEASE: 2022-09-29
Building A Diverse Workforce For The Future Of Conservation
DNR Staff Reflect On A Successful Field Season Thanks To Internships And Partnerships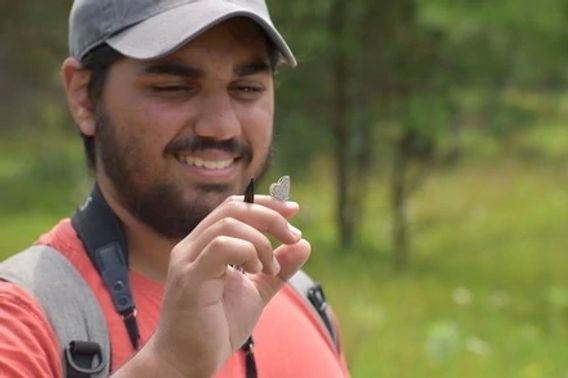 Photo credit: Wisconsin DNR
MADISON, Wis. – The Wisconsin Department of Natural Resources (DNR) wrapped up a successful 2022 summer field season thanks to more than 35 interns within the Division of Fish, Wildlife and Parks.
The 2022 intern class introduced college-aged students to a potential career in conservation through fieldwork, surveying and sampling, habitat restoration and critical administrative functions. Interns assisted the DNR with a variety of essential summer tasks including:
Sonar surveying lakes and cold water stream electrofishing
Developing and leading educational programs
Conducting bridge inspections for bat use
Removing invasive woody species
Installing State Natural Area property and boundary signage
Registering campers
Water control checks to manage wetlands
In addition to hands-on experience in the field, some interns also earned college credits.
The summer internship program was made possible through partnerships with Operation Fresh Start, the State of Wisconsin Student Diversity Internship Program, the Natural Resources Foundation of Wisconsin's Diversity in Conservation Internship Program, and established internship efforts with several University of Wisconsin campuses.
"We are committed to continuing to expand our relationships and get the next generation of conservationists the basic skills and knowledge they need for a career in wildlife, fisheries, endangered resources or parks and recreation," said Drew Feldkirchner, Bureau Director of the DNR's Natural Heritage Conservation program.
This year, the DNR cast a wider net for internship candidates by working with non-profit and university partners. Looking ahead to the 2023 field season, the DNR is also working with the College of Menominee Nation on agreements for hiring future interns. DNR staff is conducting follow-up surveys to evaluate and enhance these internship opportunities, with an emphasis on breaking down barriers to careers in natural resources.
Visit the DNR's Internship Program webpage to learn more about future internship opportunities.