FOR IMMEDIATE RELEASE: 2022-09-14
DNR Honors Pepin County Volunteers As Top Hunter Education Instructor Group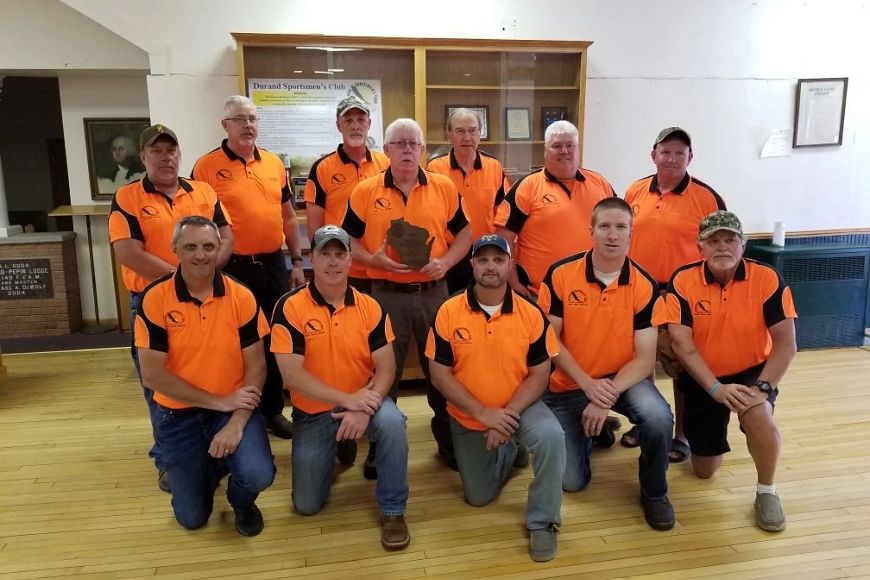 Photo credit: Wisconsin DNR
MADISON, Wis. – The Wisconsin Department of Natural Resources (DNR) today announced that the Durand Sportsmen's Club of Pepin County was named the DNR's 2021 Wisconsin Hunter Education Instructor Group of the Year.
Following statewide nominations to the DNR hunter education awards committee, the Durand Sportsmen's Club was selected by peers based upon the group's exceptional record providing training and education for over 30 years.
Since the 1950s, this all-volunteer organization has had members sharing their expertise and skills. This award from the DNR honors their outstanding dedication to hunter safety education. Anyone who has significantly advanced the cause of safe hunting on a voluntary basis through extraordinary service in training or education is eligible.
"The dedication and commitment to the future of safe hunting in Wisconsin by the Durand Sportsmen's Club is recognized and appreciated. It is remarkable the level and variety of what they offer," said Ashley van Egtern, DNR hunter education program specialist. "This group not only conducts the traditional hunter education class, but also the internet field day classes. That is a heavy lift and so appreciated by all their students who have been lucky to participate in their sessions."
The Durand volunteer instructors honored included: Steve Berger, Christopher Berger, Robert Biederman, Cory Breidung, Michael Hurlburt, Adam Jacobson, Randy Johnson, David Linderud, Scott Mason, Christopher Walker, David Wollum and William Wrasse.
Volunteer instructors are key to having successful hunter education programs. The volunteers are motivated people who have an interest in recreational safety and who are willing to donate a few hours of their time each year to teach safety education classes in your area.
Becoming a volunteer instructor is a great way to help save lives, prevent injuries, meet people in your community and positively influence the attitudes and actions of other resource users. Both as a group and as individuals, instructors represent a proud and honorable tradition of volunteer citizen involvement.
To learn more about becoming a volunteer instructor, visit the DNR website here.