FOR IMMEDIATE RELEASE: 2022-07-14
Invasive Species Council Announces 2022 Invader Crusader Award Winners
Individuals And Groups Honored For Work To Control Invasive Species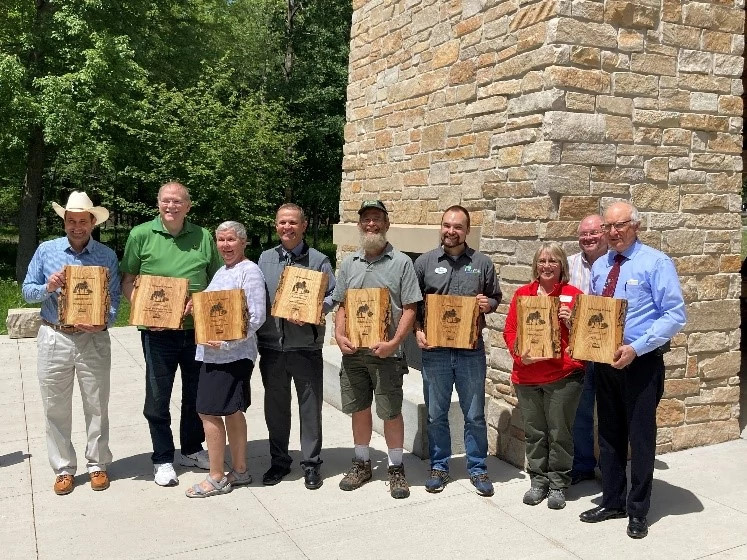 Photo credit: Wisconsin DNR
MADISON, Wis. – The Wisconsin Department of Natural Resources (DNR) today announced the winners of the 2022 Invasive Species Council Invader Crusader Awards.
The Invader Crusader award winners are selected by the Wisconsin Invasive Species Council as part of Invasive Species Action Month in June. The governor-appointed council advises the DNR and the state legislature on invasive species issues. Each year, the council honors Invader Crusaders: Individuals, groups or organizations who have made significant contributions to prevent, monitor or control invasive species that can harm Wisconsin's ecosystems, economy and in some cases, public health.
Nominations come from residents and organizations, and awards are given in several categories. 2022 Invader Crusader Award winners and the organizations they volunteer or work for are listed below.
Professional Individuals Category Winners
Jeanne Scherer: Statewide outreach coordinator for the University of Wisconsin Division of Extension and Wisconsin DNR, Jeanne's impacts are evident throughout Wisconsin. Jeanne developed a diverse network of partners across Wisconsin to address aquatic invasive species issues, manages the State's Purple Loosestrife Biocontrol program and supports the Lake Monitoring and Protection Network.
Jim Elleson: Founder of Quercus Land Stewardship Services, Jim's work has had an impact across Wisconsin and surrounding states. Jim built his company motivated by a strong land ethic and is a mentor to his employees. Quercus employs 20 full-time employees, burns thousands of acres annually and controls invasive species throughout the year.
Chris Acy: Volunteer & Member Coordinator of the Fox-Wolf Watershed Alliance, Chris has helped prevent aquatic invasive species through multiple programs including Adopt-a-Launch, Purple Loosestrife Biocontrol and kayaking trips to remove invasives. He supports the aquatic invasive species program through continued public education and outreach in classrooms and at events.
Robert "Bob" Stroess: An administrative warden at the Wisconsin DNR, Bob focuses on the commercial fish and aquatic species issues. Bob developed and implemented an education program for all conservation wardens. He is also the lead investigator for ongoing cases related to illegal fish and crayfish sales. He also coordinates activities with other states and industries.
Professional Group Category Winners
Friends of Lapham Peak Unit, Kettle Moraine State Forest, Inc: The Friends of Lapham Peak Unit provide opportunities for volunteers year-round and have been removing a wide variety of invasives from the property. In 2021, they burned more than 15,000 cubic feet of brush, restored prairies and raised funds for an annual prairie burn. Their activities have helped rare insects and monarch butterflies, and provided opportunities for many regional students.
Paw Print Park Pack: "The Pack" has helped control invasive species across a 16-acre dog park at the Prairie Knoll Park. The Pack has helped to control invasive species at Prairie Knoll Park by securing funding to plant and seed natives, coordinating donations and collecting native seed. Their actions have promoted an increase in bird species and pollinator insects.
Paul Tusler: Paul has served as a steward for the Knights Templar Club of Langlade County which has a 2,200-acre private reserve. He created, organized and spearheaded a monitoring and invasive species management program. He has been an advocate of the Clean Boats Clean Waters program, written protocols for boat launches, led a signage effort for boaters and provides educational opportunities at presentations and excursions to lake sites.
The Hansen Family: Raymond "Skip" and Richard "Dick" Hansen have worked with Golden Sands RC&D on invasive species and lake projects. Dick has worked with the Central Wisconsin Invasives Partnership to promote invasive species education. Skip has worked on the Eurasian Water Milfoil Dive Team. The family has worked on diverse projects and raised Purple Loosestrife Biocontrol beetles, treated upland invasive species and conducted prescribed burns.
Thank you and congratulations to this year's award recipients and nominees for their dedication to the prevention, control and eradication of invasive species in Wisconsin. More information about invasive species and resources for helping to prevent the spread is available on the DNR website.