FOR IMMEDIATE RELEASE: 2021-12-16
Contact: Drew Feldkirchner, DNR Natural Heritage Conservation Director Drew.Feldkirchner@wisconsin.gov or 608-235-3905
Thomas Meyer, DNR Conservation Biologist
Thomas.Meyer@wisconsin.gov or 608-400-1008  
Learn About State Natural Areas, Home To Wisconsin's Endangered Species
2021 Marks 70 Years Of State Natural Areas And Their Role In Conserving Nature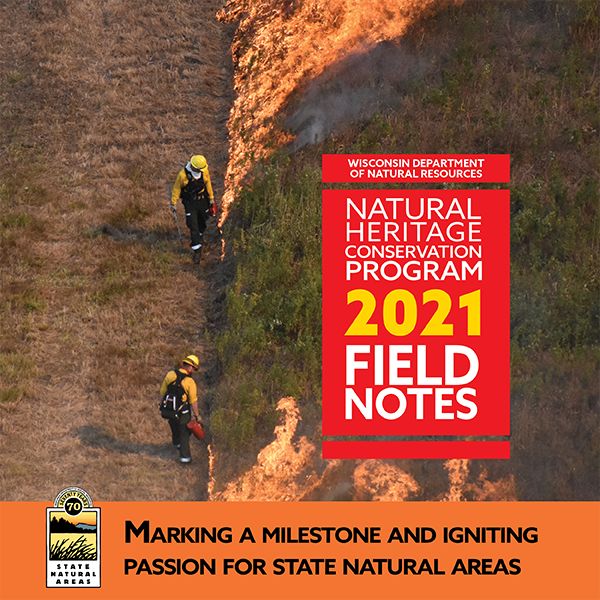 Photo credit: Wisconsin DNR
MADISON, Wis. – The Wisconsin Department of Natural Resources (DNR) is encouraging nature enthusiasts to learn more about Wisconsin's state natural areas and the rare species that inhabit them in the 2021 Field Notes publication now available online.
This year marks the 70th anniversary of the DNR's State Natural Areas Program. To help celebrate the milestone, this year's Field Notes highlights Wisconsin's first and largest state natural areas and a beautiful, rare blue songbird turning up along the Mississippi River.
Field Notes also showcases the DNR's progress in protecting Wisconsin's best remaining prairies, forests, wetlands and geological wonders.
"Creating our system of state natural areas was one of the best ideas to come from Wisconsin," said Drew Feldkirchner, DNR Natural Heritage Conservation Director. "We're very fortunate our leaders had the foresight and commitment to create the natural areas program 70 years ago. Our latest edition of Field Notes celebrates the ongoing work and the progress made, inviting a new generation to get involved in caring for these special places."
A hard copy of the 2021 Field Notes is also available in the DNR's winter issue of Wisconsin Natural Resources magazine out now. Purchase the magazine between now and February 2022 to receive the commemorative issue in your mailbox. Subscribe online at wnrmag.com or call 1-800-678-9472 toll-free.
The Wisconsin Legislature created the nation's first state natural area program in November 1951. Lawmakers responded to concerns from renowned Wisconsin conservationist Aldo Leopold, botanist John Curtis and others that Wisconsin's distinct ecosystems, also known as "natural communities," were fast disappearing.  
Wisconsin has 99 different natural communities, and many are globally rare, including tall grass prairie, pine barrens and oak savanna. Today, state natural area systems feature 96% of the native ecosystems present in Wisconsin dating back to the 1800s. In addition, state natural areas are home to 90% of the plant species and 75% of the wildlife species listed as endangered or threatened in Wisconsin.
The State Natural Areas Program has since grown to include sites owned by the state and more than 60 partners, including the U.S. Forest Service, The Nature Conservancy, other land trusts and local governments and universities.
Nearly all state natural areas are open to the public for hiking, hunting, bird-watching, nature study and photography, but most of them are largely undeveloped because the primary purpose of these public lands is to protect the natural communities they inhabit.
For that reason, state natural areas often do not have trails, restrooms, parking lots or other amenities people are used to at state parks. The DNR asks visitors to enjoy these ecologically sensitive sites responsibly.
More information about Wisconsin's State Natural Areas Program is available here.