FOR IMMEDIATE RELEASE: 2021-11-09
Record-Setting Recycling Values Help Wisconsin Communities
Recycling Professionals From Across The State Weigh In On Positive Impacts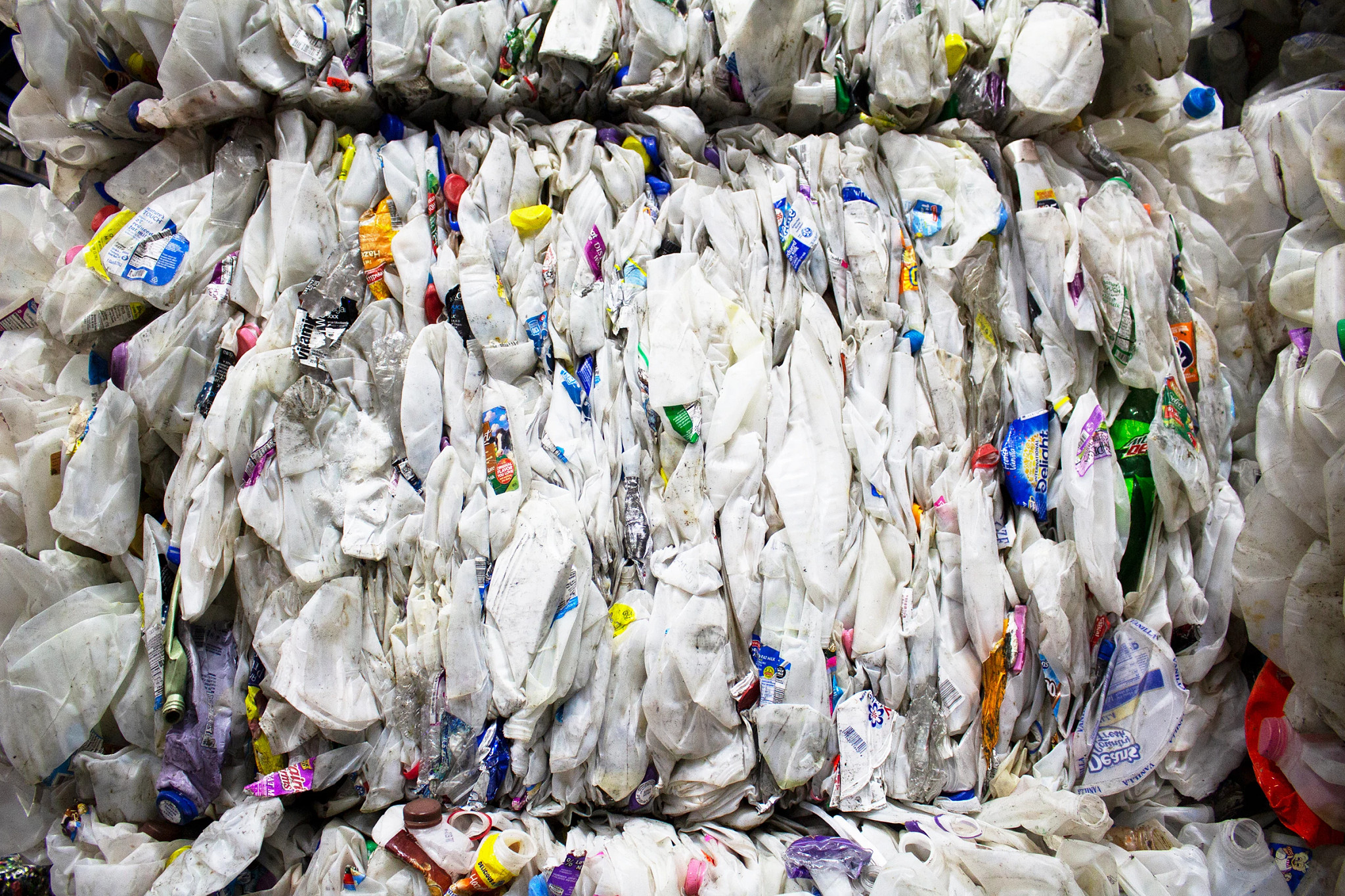 Photo credit: Marissa Michalkiewicz, Outagamie County
MADISON, Wis. –  The Wisconsin Department of Natural Resources (DNR) reports local Wisconsin recycling programs are benefiting from record-high values of recyclable materials driven by increased demand.
High recyclable material values have led to examples of lower local per-capita recycling costs and increased recycling revenues at a variety of recycling facilities across Wisconsin, a reversal from two years ago when shifts in global markets caused challenges for recycling programs nationwide.
In 2019, reports indicating shrinking demand for recycled materials were widespread, and recyclable materials values were seen by some as an economic "crisis" in recycling.
Current Recyclable Material Value
Mixed paper sold for little to no value in 2019. Currently, mixed paper sells for over $100 per ton, while plastic has seen a comparable boost due to the need for various single-use items as a result of COVID-19, as well as brand owners increasing their use of post-consumer recycled content.
High density polyethylene natural plastic (#2 HDPE), the material milk jugs are made of, brings in a record $2,000 per ton, more than aluminum, a longtime highest-value recyclable commodity.  
"It's been a remarkable year. I have been in the recycling field for 32 years and have never seen milk jugs more valuable than aluminum," said Steve Melstrom, Pierce County Solid Waste Administrator. "Thanks to the current high value of recyclable materials, recycling revenues have exceeded the county's budget projections." 
Demand for cardboard and paper has been fueled by box manufacturers eager to provide shipping containers for an expanding e-commerce society.
"Market demand for cardboard and plastics has been tremendous," said Jennifer Semrau, DNR Waste Reduction and Diversion Coordinator. Semrau reports that while recycling values vary across the state, current Midwest price indexes show cardboard is worth six times more than at the close of 2019, and demand for other materials like milk jugs, soda bottles, paper and cans, have improved significantly.
Industry experts note that recycling markets have always fluctuated over time, as recycling commodity values respond to changing demand and supply trends in the industry.
"We've been hearing a lot about supply chains recently, but most people don't realize that the commodities they recycle are a key link in the supply chain," said Semrau.
In 2020, Wisconsin fed over 750,000 tons of recycled paper, plastics, glass and metals into regional and national supply chains. Recycling supplies Wisconsin paper mills and other markets in the Midwest, conserves natural resources and landfill space, decreases energy usage and greenhouse gas emissions, and can save local governments money.
To access 2020 recycling data, visit the DNR's Wisconsin Recycling and Solid Waste Studies and Reports webpage.
Local Communities Benefit From High Recycling Values
"Higher market values will keep local per-capita recycling costs well below projections made at the start of 2021," said Taylor Sorenson, Waupaca County's Recycling Coordinator.
The value of the recyclables helps compensate for the majority of processing costs along with savings from avoided landfill tipping fees.
"The increase in recycling revenues has helped offset the cost of garbage disposal in several communities," said Mark Walter, Brown County's Business Development Manager.
"One of our villages mentioned that the recycling revenue they will receive this year will pay for their landfill tipping fees," he said. "This gives the village the flexibility to look at alternative disposal efforts like curbside food waste and organics collections."
Maintaining Demand For Recyclables
One way to keep this demand for recyclables high is to minimize contamination in the recycling stream.
Residents and businesses can assist these efforts by keeping unrecyclable items out of the recycling bin. This will reduce labor and disposal costs at sorting facilities and improve the quality and competitiveness of recyclable commodities relative to virgin materials.
Visit the DNR's What To Recycle webpage for list of items to avoid putting in the recycling bin, a list of local recycling programs and drop-off centers and for more information on recycling in Wisconsin.