FOR IMMEDIATE RELEASE: 2021-04-15
New Fish Consumption Advisory For Silver Creek
Elevated Levels Of PFAS Found In Brook And Brown Trout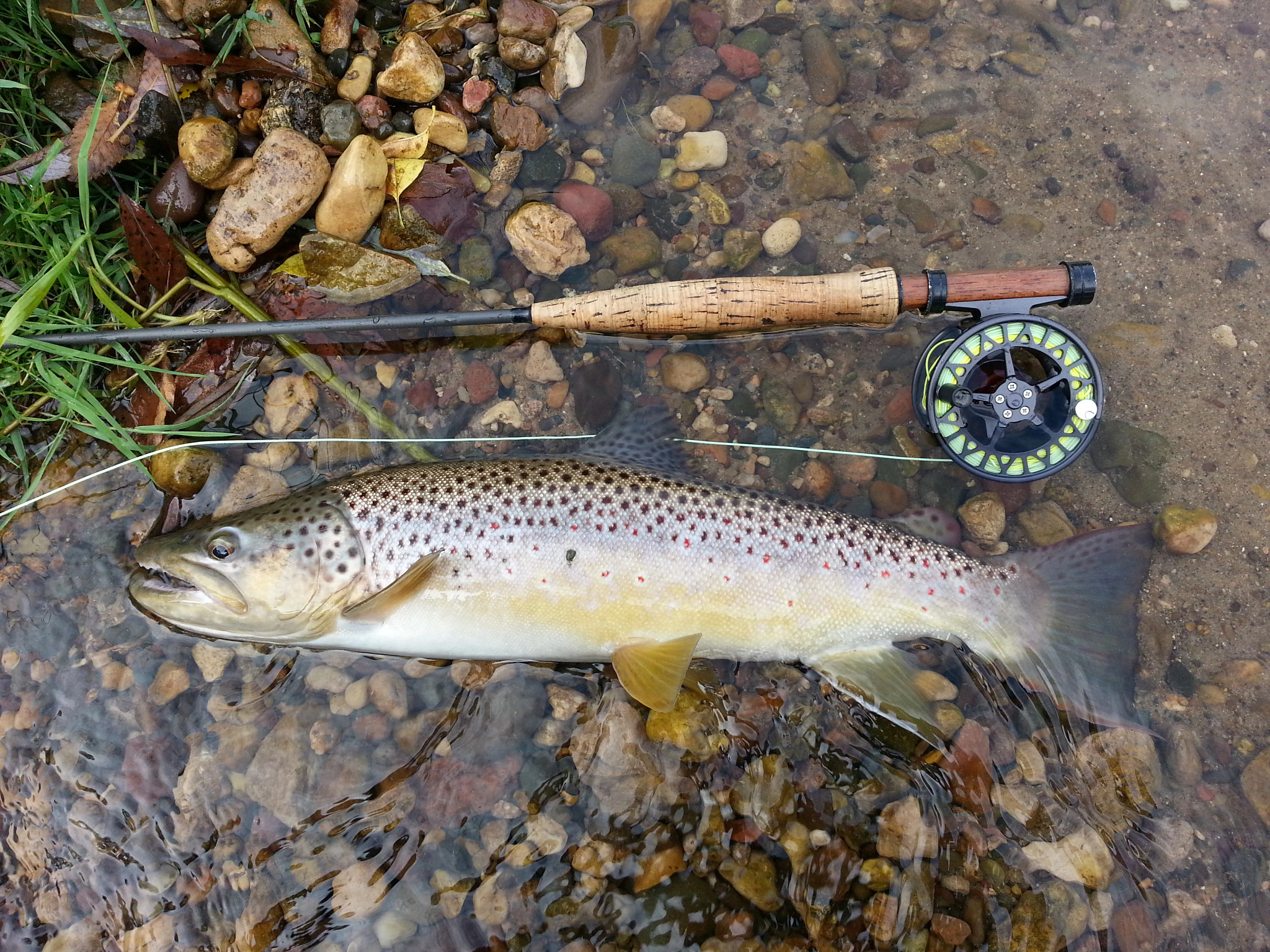 Photo credit: Wisconsin DNR
MADISON, Wis. – The Wisconsin Department of Natural Resources (DNR) and the Department of Health Services (DHS) are recommending a new fish consumption advisory of one meal per month for brook and brown trout in Silver Creek located in Monroe County.
As part of the DNR's statewide PFAS monitoring efforts, trout were collected in July 2020 from two locations in Silver Creek. Elevated levels of PFOS (perfluorooctane sulfonate), the most common type of PFAS (per- and polyfluoroalkyl substances), were found in brook and brown trout in Silver Creek. This is the first PFOS based consumption advisory for inland trout species in Wisconsin.
PFAS are a group of over 5,000 human-made chemicals that have been used for decades in various products, such as non-stick cookware, fast food wrappers, stain-resistant sprays and certain types of firefighting foams. These contaminants have made their way into the environment and pose health risks, such as harm to the immune and reproductive systems, which increase when fish with elevated levels of PFAS are consumed.
Silver Creek is a popular destination for anglers who fish for trout at Fort McCoy. Wild brook and brown trout are common in Silver Creek where larger sized fish are present. Anglers wishing to fish Silver Creek are required to have a Fort McCoy fishing permit granted by the U.S. Army, as well as a 2021-2022 Wisconsin fishing license.
Based on the levels of PFOS found in these samples, the DNR and DHS are updating the recommended consumption advisory for brook and brown trout from the statewide safe-eating guidelines to one meal per month for everyone.
"Limiting your exposure to PFAS by choosing fish that are low in PFAS, and avoiding eating fish with elevated levels of PFAS, is the best way to reduce your risk while still maintaining the health benefits of fish consumption," said Dr. Jonathan Meiman, Chief Medical Officer and State Epidemiologist for Occupational and Environmental Health at the Wisconsin Department of Health Services.
Currently, the extent of the contamination in Silver Creek is unknown. The DNR and Fort McCoy will conduct further testing later this year.
Additional consumption advice for other waters can be found on the DNR's fish consumption webpage. To learn more about PFAS and associated health risks, visit the DNR's PFAS webpage.
For more information on PFAS and associated human health effects, visit the DHS's PFAS webpage.