FOR IMMEDIATE RELEASE: 2021-03-25
Multiple State Agencies Responding To PFAS Contamination On French Island
Interim Area-wide Drinking Water Advisory Issued For PFAS
Editor's Note: The previous press release contained an incorrect mailing address and survey link. The correct address and link may be found below.
MADISON, Wis. – The Department of Natural Resources (DNR), Department of Health Services (DHS), Wisconsin Air National Guard (WANG) and Wisconsin Emergency Management (WEM) are taking steps to provide bottled water to residents with private wells that are impacted or suspected to be impacted by PFAS contamination on French Island in La Crosse County.
In cooperation with the DNR, today DHS issued an interim, area-wide drinking water advisory for French Island residents due to concerns with PFAS being found in private drinking water wells on the island.
The City of La Crosse is conducting a site investigation associated with PFAS contamination found in municipal wells on French Island. The city has identified PFAS contamination in the soil and groundwater on the airport property, and in groundwater south of the airport, due to the use of PFAS-containing firefighting foam. The foam was likely used in training, testing and in response to airplane crashes.
The DNR and DHS will host a virtual information session at 6:30 p.m. tonight, March 25, to update local residents about the PFAS contamination found in some private wells and share how residents can access safe drinking water provided by local businesses and the DNR. Please click here to watch the information session: https://youtu.be/kz-29ndUMCI
The City of La Crosse will continue to provide drinking water to residents currently in the investigation area where PFAS has been confirmed at concentrations at or above the DHS-recommended groundwater standard or are of DHS health concern due to multiple PFAS compounds present at elevated levels of concern. 
Under the interim advisory, residents in the City of La Crosse investigation area who currently are not receiving bottled water from the city are eligible for DNR-provided bottled water.
Given this interim area-wide drinking water advisory, the state is taking the following steps to aid in providing safe drinking water to residents with private drinking water supplies with known or suspected PFAS contamination including: 
Providing Carryout Cases Of Bottled Water: Prior to temporary emergency water agreements being in place, immediate access to bottled water is being made available through donations from Hy-Vee, Kwik Trip and CVS. Cases will be available for pick-up from 3-6 p.m. on Thursday, March 25 at the following two locations.
Olivet Lutheran Church, 2100 Bainbridge Street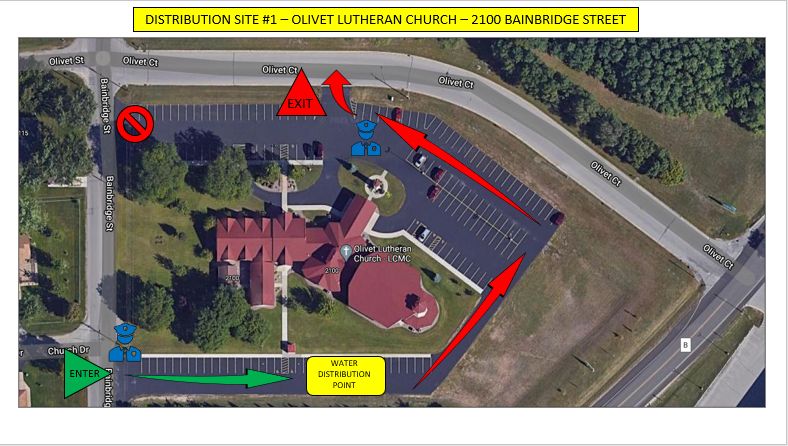 Days Inn, 101 Sky Harbour Drive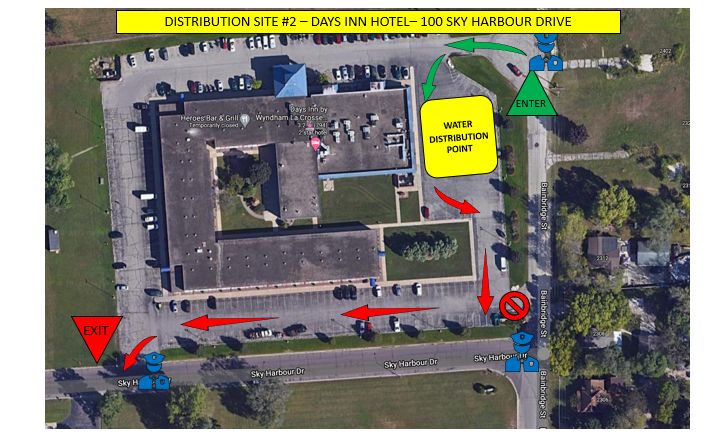 ---
Providing Bottled Water To Homes: For residents with private water supplies, the DNR will provide the option of bottled water to be delivered in five gallon containers to those residents' homes, through a state contract with Culligan. Residents will need to sign up for this service through the DNR and sign an access agreement with the state and vendor to begin receiving water in the coming week. Residents should not contact Culligan directly if they are requesting the state to pay for the bottled water.
Sampling Subset Of Private Water Supply Wells: The DNR and its contractor are evaluating the available information – including existing private sampling results and location of over 90 additional wells sampled to date – to develop a sampling plan for a subset of the Island's private water supply wells. Based on sampling results, the state will determine whether to continue or modify the interim, area-wide drinking water advisory for PFAS. This effort will take up to 90 days. The DNR and its contractor, Wood Environmental, will be contacting selected residents for access to wells being sampled as part of this focused investigation.
Request Temporary Alternative Drinking Water 
To request a temporary alternative water supply from the DNR, please complete this form and send to: 
Wisconsin Department of Natural Resources
c/o Jenna Soyer – RR/5
P.O. Box 7921
Madison, WI 53703
Email: DNRCampbellPFAS@wisconsin.gov

The Town of Campbell, on French Island, has approximately 4,300 residents who rely on nearly 1,200 private wells to supply drinking water.
The City of La Crosse is providing bottled water to 54 residents associated with the groundwater plume south of the city of La Crosse airport. A number of residents and the Town of Campbell have taken their own samples to determine if PFAS has impacted water supply sources in the Town. Most water supply well samples provided to the DNR have detections for PFAS.
An additional 92 private well samples have been taken voluntarily by the Town and residents, with results expected in the next 30 days. The Town's residents rely on individual wells, rather than a municipal water supply system.
PFAS (per- and polyfluoroalkyl substances) are a group of human-made chemicals used for decades in numerous products, including non-stick cookware, fast food wrappers, stain-resistant sprays and certain types of firefighting foam. These contaminants have made their way into the environment through accidental spills of PFAS-containing materials, discharges of PFAS-containing wastewater to treatment plants and certain types of firefighting foams.
PFAS do not break down in the environment and have been discovered at concentrations of concern in groundwater, surface water and drinking water. These chemicals are known to bioaccumulate in the tissues of fish and wildlife and are also known to accumulate in the human body, posing several risks to human health.
More information about the current PFAS contamination on French Island can be found on the City of La Crosse website and the Town of Campbell website. Additional site data is available on the DNR website here. For the latest on PFAS Contamination in the Town of Campbell and City of La Crosse on French Island, please subscribe here for email updates.
Information about PFAS can also be found on the DNR's PFAS webpage and on the Wisconsin DHS website.