75 Years of Catch and Research
Fisheries management benefits from decades of data collection on Vilas County lakes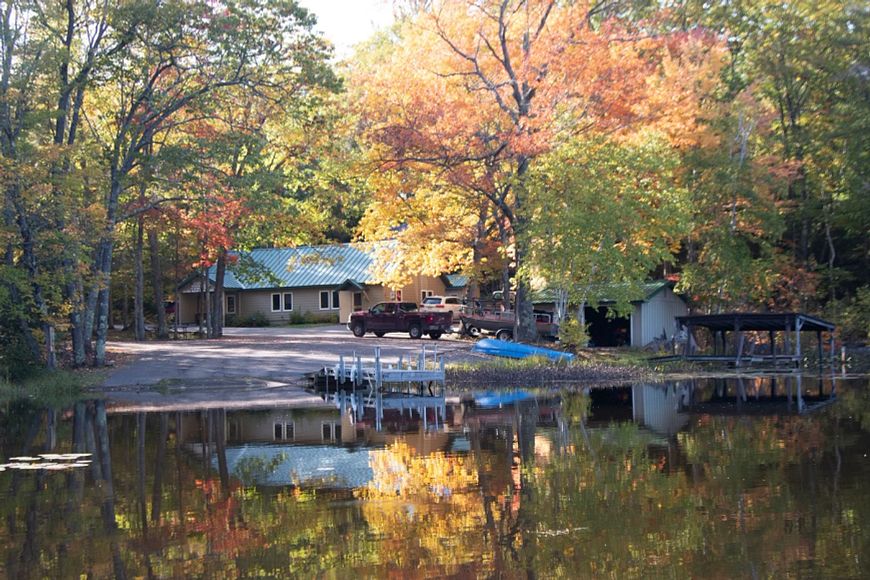 RYAN BOWER
Ryan Bower
At five beautiful lakes in Vilas County, there is an opportunity for fishing to be about more than just casting a line. Here, at the Northern Highland Fishery Research Area, angling and science go hand in fin — and they have for 75 years.
On June 20, the DNR will mark the 75th anniversary of the NHFRA, the agency's longest-running fisheries research project. It has been a rich resource for researchers since it began and is well known by fisheries professionals and the research community, though lesser so by the public.
Originally called the Five Lakes Research Project, the NHFRA is named after the lakes that comprise it: Nebish, Pallette, Mystery, Spruce and Escanaba, where the headquarters are located about 10 miles south of Boulder Junction.
The research area was established by the Wisconsin Conservation Department in 1946 in response to requests by anglers that a group of lakes be set aside for long-term sport fishing research. This specific area was chosen because of its location and diversity of lake types.
The NHFRA is an umbrella project including multiple research initiatives that have contributed much over the years to the understanding of how fish communities respond to fishing regulations, environmental changes and angler practices. Many of the DNR's fishing regulations were first tested on lakes in the NHFRA.
One of the NHFRA's most notable and unique contributions is its angler survey data set, one of the longest continuous fish harvest data sets in the world. The data set stems from a mandatory fishing survey first imposed on all five lakes when the NHFRA was initially established.
Anglers on the lakes are required to stop by the Escanaba Lake creel station twice when fishing — once before heading out and once after. A free permit is issued, and a survey is completed.
Staff will ask anglers questions such as what was used for bait, if they used a boat or kayak, what they were fishing for and if a fishing guide was employed. If fish are harvested, staff record the length, weight, sex and a rough age for each catch. More recently, staff have started collecting catch-and-release information as well.
The answers help the DNR determine catch rates and trends in equipment use over time. That data provides a measure of targeted effort for each species and guide popularity.
And that's it. Just a few short questions, and anglers will have contributed to one of the longest-running, complete angler surveys in the world! The collective data creates a complete record of every angler who has fished the lakes and every fish that has been legally harvested there since 1946.
PERFECT SPOT FOR SCIENCE
Having such a complete data set is extremely rare in the world of natural resources, and the resulting knowledge gained from monitoring and evaluating fisheries regulations over the last 75 years is immense.
The NHFRA is the perfect place for such fisheries science to take place. The lake shorelines are undeveloped, often having fallen trees and other cozy hiding spots where young fish can grow up.
The lakes also are tucked deep enough into the Northern Highlands-American Legion State Forest that there is a calm and natural beauty to the lakes, making the angling experience that much richer and more authentic.
The DNR Trout Lake Forestry Station and the UW-Madison Trout Lake Station, other important research facilities in the state forest, are only a few miles away, adding to the importance of this location from a research perspective.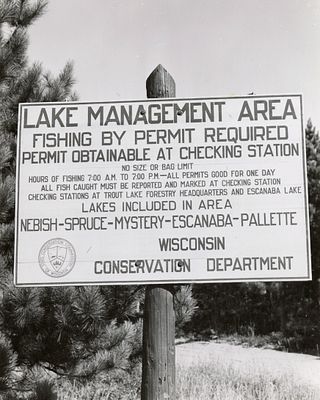 STABER W. REESE
Since the lakes in this area comprise very different lake types, choosing this area meant researchers could see how experimental regulations might impact the different lakes found in Wisconsin.
Mystery and Spruce lakes, for example, are sphagnum bog lakes, having darker water and simple fish communities similar to many of the other bog lakes in the state.
On the other hand, Escanaba Lake is a drainage lake and has a large diversity of fish species. Notably, it is one of the most studied walleye lakes in the world.
Nebish and Pallette lakes are classic kettle and water-table lakes, so their water level is dominated by precipitation.
From studying these five lakes and their fish communities, researchers can test and evaluate new fisheries regulations that could then be adopted in other comparable lakes across the state.
GETTING IT STARTED
Immediately after the NHFRA was established, the first research work began. It was a blanket regulation for all five lakes imposing no bag limit, no size limit and no closed season for all species unless specifically stated — during an experiment, for example.
The regulation aimed to better understand how the fish communities would react to unrestricted harvest, explained Greg Sass, DNR fisheries research team lead and current head of the NHFRA.
"Anglers were worried about stunting in fish populations," Sass said. "The initial purpose of the NHFRA lakes was to better understand the role of angler harvest in increasing the size structure and individual growth rates of fishes."
At the same time, the compulsory angler survey was implemented across the research area. The data from angler permits began creating the now massive data set used for research purposes and establishing annual catch and harvest rates for each species within the NHFRA.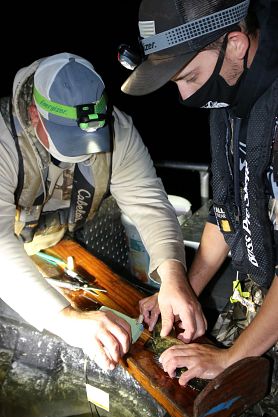 RYAN BOWER
RESEARCH AND TREATY RIGHTS
The most notable use of the data set happened in the mid-1980s. That's when the Ojibwe began to harvest walleye and muskellunge through traditional spearfishing on off-reservation waterbodies in northern Wisconsin's Ceded Territory.
This was done as part of their off-reservation hunting, fishing and gathering rights secured in the treaties of 1837 and 1842 and affirmed in federal court in the 1980s.
Since this additional harvest could impact total exploitation rates — and a new federal mandate declared walleye were not to be overharvested in the Ceded Territory — the DNR and tribal collaborators started building a walleye and muskellunge joint fisheries management plan to ensure the sustainability of these resources.
Data from the angler survey played a critical role in the landmark plan, known as the Ceded Territory of Wisconsin Walleye Management Plan.
"We would have been in a much different place, trying to figure out (harvest quotas), if we didn't have 40 years of data from Escanaba Lake," Sass said, noting there was no standardized walleye monitoring program to collect data aside from the NHFRA until years later.
"Escanaba Lake might not be the best scenario to represent every walleye lake in northern Wisconsin, but it was the best information and science available at the time — and they used it."
VALUABLE TRAINING GROUND
In addition to aiding science and fisheries management decisions in Wisconsin, the NHFRA also has served as a training ground for many career fisheries professionals.
After time spent at the NHFRA in their early years, these professionals have gone on to be bureau chiefs, district supervisors, team supervisors, hatchery managers, fisheries biologists and fisheries technicians for the DNR and other conservation organizations.
Working at the creel station or on one of the NHFRA's projects offers valuable experience with technical skills and research.
"One thing we offer that other programs can't is independent study," Sass said. "That is something students interested in graduate school have sought from us. It gives them an extra year or two of experience before they go to graduate school."
Many young professionals have leveraged the NHFRA's 75-year data set and developed their own research from working at the site. More than 30 graduate students nationally have used the data set as a basis for master's thesis work and doctoral dissertations.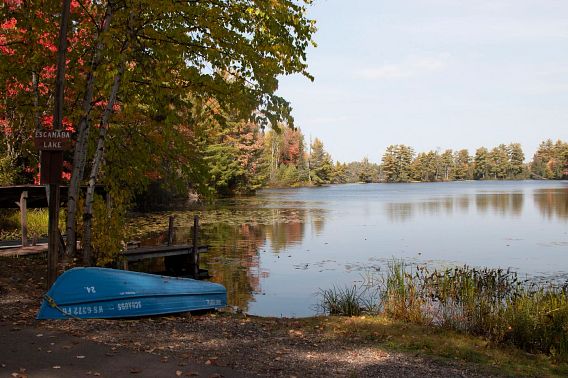 RYAN BOWER
SAME LAKE, DIFFERENT LOOK
As the NHFRA's lakes and their fish communities have changed over the years, jobs and fishing opportunities have come and gone, particularly on Escanaba Lake.
Fish community shifts, new regulations and the growth of non-fishing recreational activities are just a few of the ways Escanaba Lake has transformed since the start of the NHFRA. Data from the angler survey tells much about the lake's long history.
The fish community in Escanaba Lake in the 1940s looked very different than it does now. Largemouth bass, smallmouth bass, bluegill, pumpkinseed, black crappie and yellow perch were the dominant fish species in the lake until the 1950s, according to angler survey data.
In the mid-'50s, walleye were established due to previous stocking efforts in the lake, and a self-sustaining population was soon created.
Within 10 years, many of the once-dominant species were in decline, and largemouth bass, smallmouth bass, black crappie and bluegill were almost entirely absent from the creel data set.
The introduction of walleye did more than just alter the fish community. It created new angling opportunities and even added a few jobs to the area.
"Escanaba Lake was known as Boulder Junction's 'fry pan' because of its renowned fishing," Sass said. "It was a viable career to guide anglers, and Escanaba Lake was frequented by guides because of its plentiful walleye."
With no bag limits, Sass added, "Anglers could take as many as they caught."
Walleye were heavily harvested for several decades before an experimental regulation would shake things up.
NEW RULE BRINGS CHANGE
In 2003, researchers set the first walleye regulation on Escanaba Lake since the NHFRA began. This regulation was a 28-inch minimum length limit and a bag limit of one for walleye.
Before the regulation went into effect, NHFRA data reflected 57 years of unrestricted harvest on Escanaba Lake, and it was experiencing an exploitation rate of nearly 35%. Researchers wanted to learn how the walleye population would respond to a shift from heavy harvest to essentially none.
Sass said they were most interested in how this change in harvest would impact adult abundance, juvenile recruitment, age and size structure and individual growth rates. The new regulation also was enacted to test whether more walleye would exceed 28 inches in length over time.
Researchers also changed Escanaba Lake's regulation because it served as a good comparison to another regulation change happening at a nearby lake, Sherman Lake, where a new rule increased harvest to 50%. Escanaba Lake would serve as an unexploited reference lake for Sherman.
Escanaba Lake's regulation was so successful at stopping exploitation that no walleye have been legally harvested from the lake since the rule went into effect. The change was not popular, though.
"My predecessor took a whole bunch of heat when the regulations were changed. Even to this day, I have retired guides turn around and ask me in church when we are going to open up Escanaba Lake again," Sass said.
"It has been hard for people to let go of that on Escanaba Lake."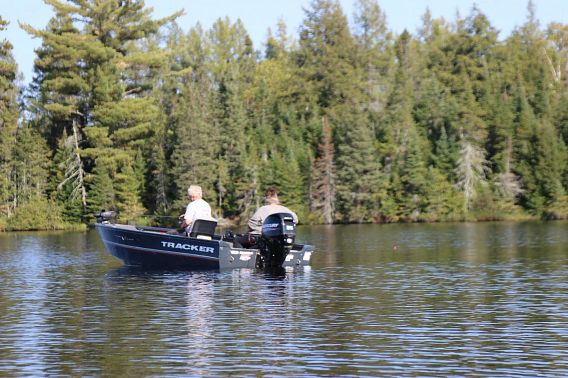 RYAN BOWER
PLAN FOR THE NEXT MOVE
Such interactions show just how much the lake means to the anglers and guides who have been fishing the lakes for decades. But Escanaba Lake is a research lake. It and the other lakes in the NHFRA were set aside for exactly this purpose — to test new regulations.
The current walleye regulation on Escanaba Lake was scheduled to last for 20 years and will end in 2022, at which point a new regulation will be put into place.
Just as the current regulation was a test of transitioning from intense harvest to no harvest, the next proposed regulation is aimed to address a more recent harvest-related concern — declining walleye natural recruitment and productivity in the Ceded Territory.
The proposed plan is to establish a yearly harvest quota to remove all annual production as well as an additional 25% of surplus production to test for overharvest, which has been identified on other Ceded Territory lakes.
ACTIVITIES SHIFT
An unintended consequence of the 2003 walleye regulation was a shift in how people enjoy the lake. Sass described a big surge in the number of people who wanted to enjoy the natural beauty of the lakes and surrounding area.
Hiking trails and cross-country ski trails became more popular, and the number of paddlers increased as well, according to the NHFRA data set. Sass said people have been taking advantage of the campsites around the lakes more, too.
"Most of the anglers who are here frequently enjoy the solitude and beauty of the lakes," he said. "The lakes are not developed, and you've got lots of recreational opportunities, great wildlife and good fishing.
"We still see plenty of anglers who want to harvest fish, but our records show less harvest than in the past. That seems to be a common theme across all the research lakes."
According to the data, voluntary catch-and-release has grown in popularity since the mid-1980s, despite no closed season or minimum length limits for most species. Such angling does have benefits for the lake, including lessened harvest pressure.
"Escanaba Lake has become a place where guides come to practice. It's a place where guides bring their clients who have reached their bag limit already but want to continue angling," Sass said.
PAST, PRESENT AND FUTURE
Despite not always being popular, the Escanaba Lake walleye regulation will provide lessons for managing Wisconsin's other lakes and solidify the importance of experiments like this to the greater angling community.
And the NHFRA will continue to lead research in emerging fisheries issues and their potential solutions.
"It is important to remember our past and our core mission, but at the same time, we need to adapt and be poised to meet the newest emerging research needs," Sass said. "I want to take a more holistic, ecosystem approach to what influences our fish populations.
"For a lot of our history, (our approach) was solely based on harvest. The system is much more than that."
To be part of the long-running work now being done by Sass and his colleagues, consider a trip to the Northern Highland Fishery Research Area. Enjoy the beauty of these magnificent lakes and contribute to years of science by doing something every angler loves — fishing.
Ryan Bower is a communications specialist working in the DNR's Division of Fish, Wildlife and Parks.
ABOUT THE NHFRA
Check the DNR website for more on the agency's
research efforts
, including the Northern Highland Fishery Research Area.