Property holds promise for rare bumble bee
Woodland Dunes welcomes rusty patched sightings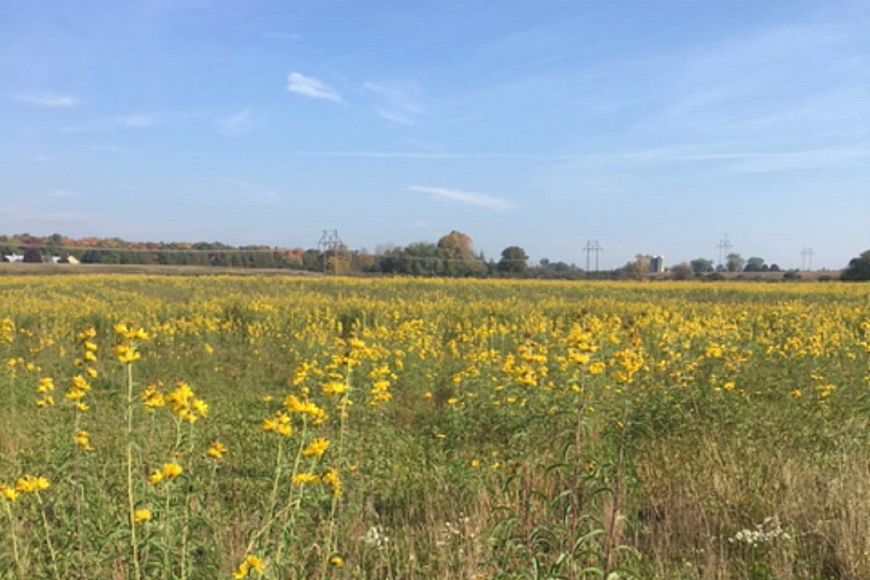 WOODLAND DUNES
Nancy Nabak
Where can a person find bee harmony? One place that's certain is the nearly 100 acres of bequeathed property now part of Woodland Dunes Nature Center and Preserve in Two Rivers.
"The former owner had a true love for the nature that surrounded her in the fields, forest and wetlands," said Jim Knickelbine, executive director of Woodland Dunes. "And she wished the community of wildlife to continue."
Over the years, farming subsided here and open fields reverted back to grasses and wildflowers. These habitat conditions became home for meadowlarks, grasshopper sparrows and other grassland birds. Thousands of milkweed plants also grew, adding additional support for pollinators.
"When I first started working at Woodland Dunes, we had just taken ownership of this beautiful habitat, said Jen Klein, land management coordinator. "One of the first things we did was enroll it into several U.S. Department of Agriculture programs to enhance the prairies for native birds and pollinators."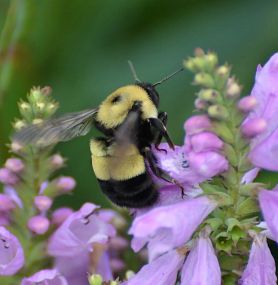 JAY WATSON
One pollinator in particular that's a focus at Woodland Dunes is the rusty patched bumble bee. The U.S. Fish and Wildlife Service designates Woodland Dunes a high potential zone for the presence of this federally endangered bee.
In July 2020, DNR conservation biologist Jay Watson conducted a pollinator survey on the Woodland Dunes Preserve and found the rusty patched, a species of special concern in Wisconsin. It was the second time in two years the bee had been found by DNR biologists at Woodland Dunes.
QUICK ACTION WILL HELP TO PROTECT HABITAT
Unfortunately, the type of habitat that best supports the rusty patched bumble bee has been encroached upon by honeysuckle, threatening the woodland edges and shading out areas for spring flowers.
Taking quick action, Woodland Dunes wrote a grant proposal to the James E. Dutton Foundation. Based in Merrill, the nonprofit foundation supports projects that benefit wildlife, the environment and outdoors education.
The grant request was approved, allowing Woodland Dunes to hire two summer interns to create and maintain potential rusty patched nesting areas, floral resources and overwintering habitat. The project will begin sometime in June — after the bee queens have awakened from hibernation.
The honeysuckle will be removed by hand to minimize bee disturbance and allow foraging and nectaring activities over the summer. The work will end in August or early September to avoid disrupting the bees' overwintering hibernation needs.
"We have the perfect situation on this property for the rusty patched to thrive," Klein said. "They need that combination of wildflowers and forest edge to complete their life cycle.
"If we make a conscious effort to keep invasive shrubs from encroaching, the bees will do well here."
Nancy Nabak is communication coordinator for Woodland Dunes Nature Center and Preserve.
LEARN MORE ABOUT WOODLAND DUNES
Woodland Dunes Nature Center and Preserve, located between Two Rivers and Manitowoc, features more than 1,500 acres of forests, wetlands and prairies, with 7 miles of hiking trails. For details, see woodlanddunes.org.
Read more from the Summer issue about the rusty patched bumble bee and an unexpected nest discovery in Milwaukee County.
And check out bumble bee insert in the the Summer issue for more tips on how you can help the rusty patched bumble bee and other pollinators, including a list of beneficial native plants to add to your landscape.