Legacy of a Legend
Hank Aaron State Trail remains fitting honor for baseball icon who died in January
DAVE SCHLABOWSKE
Andrea Zani
It's not easy to honor someone with a legacy as important as that of Hank Aaron, but the Wisconsin pedestrian and bicycle trail named for the baseball legend is meant to do just that.
The Hank Aaron State Trail connects the Milwaukee lakefront with the city's Major League Baseball ballpark — a fitting tribute to the man who played professionally in Milwaukee for 14 seasons.
Aaron, who died on Jan. 22 at age 86, began his career with the Milwaukee Braves in 1954 and finished it with the Milwaukee Brewers in 1976, spending time in Atlanta in between when the Braves moved south. The Brewers, who already have a statue of Aaron outside their ballpark, are wearing Hammerin' Hank's No. 44 on their jersey sleeves this season.
In addition to setting standards for baseball categories such as home runs, runs batted in, extra-base hits and total bases (with all but his home run record still standing), Aaron also set a standard as a person, modeling decency, commitment and community involvement even as he broke racial barriers in baseball and beyond.
That's why, for Aaron, the honor of having the state trail named for him was about more than baseball. Aaron understood the importance of the trail's urban location, and having his name associated with it prompted Aaron to be involved in more than name only.
The trail opened with a small segment in 2000, and Aaron was on hand in 2006 when a larger section was completed. He returned to Milwaukee from his home in Atlanta for numerous other trail-related events through the years.
"Hank Aaron was authentically humble and was truly honored to have the trail named after him," said Melissa Cook, who was manager of the trail during her time at the DNR before retiring.
Cook's comments were shared by the Friends of Hank Aaron State Trail in noting Aaron's death. FOHAST offers promotion, fund-raising, community programs and many other types of support for the trail. The DNR handles maintenance.
"At the dedication of the trail, he gave a speech and mentioned how honored he was, but then talked about how he hoped the trail would show people of future generations how much it meant to 'a young ballplayer so many, many years ago' to be welcomed by the people of Milwaukee," Cook recalled.
"At one point, when we were briefing him on the progress of the trail, he was so pleased that it would serve so many diverse neighborhoods and particularly children."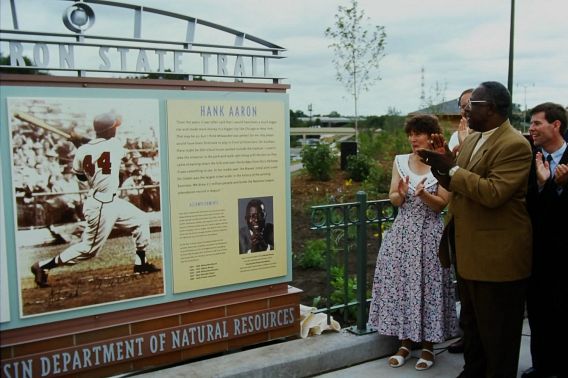 ROBERT QUEEN
STILL WORKING TO CONNECT
To that end of serving area youth, the work continues.
The nonprofit FOHAST has partnered with supporters and the Wisconsin Bike Federation to bring bicycle programming to young people in the Milwaukee area. Since 2008, the Bike Adventure Camps for Kids program has welcomed more than 1,200 area kids.
Turns out, the 14-mile paved trail winding through dozens of neighborhoods and past multiple city landmarks is the perfect place to introduce young children and teens to bicycling and the outdoors.
Check the FOHAST website to learn more about these camps.
Other programming from FOHAST and the Bike Fed has reached hundreds more in the Milwaukee area utilizing the Hank Aaron State Trail. Events sponsored by the groups separately or together have included organized walks, runs and rides; family bike workshops teaching safety and basic maintenance; and signage efforts and other work to make the trail more easily accessible.
Recently, the Bike Fed honored Aaron and celebrated the trail with an online "visual story" featuring area children and families learning to enjoy the trail. Excerpts were featured in the Summer print issue of Wisconsin Natural Resources magazine.
The words and photos also show how programming from the Bike Fed and FOHAST was adjusted for COVID-19. 
"Together, we continue our work to honor Hank Aaron's legacy with special focus on achieving Aaron's mission to improve access to his namesake trail for Black and Latinx Milwaukeeans," the Bike Fed noted. "We adapted our programming to build new models of engagement."
See the Bike Fed's website for the full online tribute to "Hammerin' Hank's Bicycle Legacy."
Andrea Zani is managing editor of Wisconsin Natural Resources magazine.
IN HONOR OF AARON
Following Hank Aaron's death in January, Wisconsin Gov. Tony Evers proclaimed Hank Aaron Day on Feb. 5, which would have been the baseball legend's 87th birthday. A framed copy of the proclamation is being prepared as a gift to Aaron's widow, Billye, and will be accompanied by commemorative letters and photographs from Hank Aaron State Trail partners.
The effort is being coordinated by the DNR and Friends of Hank Aaron State Trail. A celebration of Aaron also is planned for this year's Run/Walk the Hank event, tentatively set for Aug. 14, with details pending COVID-19 restrictions.
For more on the trail, including trail maps, go to hankaaronstatetrail.org and dnr.wi.gov/topic/parks/hankaaron.