Making Adventure
Wisconsin's great outdoors inspire state-based gear manufacturers
Anne Sayers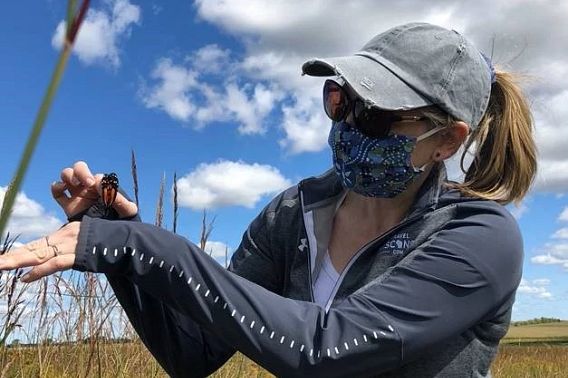 COURTESY OF ANNE SAYERS
The charisma of  Wisconsin's outdoors is undeniable. Its beauty, the awe-inspiring views and the variety of landscapes never fail to refresh the soul.
I can hike the same trail day after day and see something different each time, or maybe that's just because I'm looking for birds.
Having lived everywhere but the Midwest before choosing to attend UW-Madison, I had no idea what I was missing. While I wasn't fishing for my forever home, I was instantly charmed by the intensity of the four seasons, the constant presence of water and a sense of community in embracing the outdoors.
Soon enough, the lure of  Wisconsin's outdoors reeled me in for good.
It turns out I'm not the only one. The state's charisma plays a major role in turning visitors into residents, attracting businesses to locate here and recruiting workforce talent.
It's no coincidence Wisconsin is home to dozens of outdoor manufacturers and ranks among the top states in the nation for outdoor recreation-related jobs. These brands either grew out of  Wisconsin's outdoor lifestyle or were drawn in because of it.
As a self-proclaimed bird nerd, imagine my delight when I learned my Eagle Optics binoculars were designed by a company (now  Vortex Optics) in Barneveld, population about 1,200.
Based in rural Iowa County,  Vortex Optics expanded its product lines to better serve hunters, offering spotting scopes, range finders, rifle scopes and red dot sites in addition to binoculars. The company now employs nearly 300 people.
Several other outdoor brands are located in the rolling hills of the state's southwest corner — including Lands' End, Duluth Trading Co., and Arctica, a ski and snowsports apparel company — but the area is not an anomaly. Sprinkled across the state, outdoor manufacturers take advantage of the natural resources around them.
BOATS, RODS, PADDLES AND JOBS
Located in Gillett, northwest of Green Bay, Northport Marine manufactures fishing and pontoon boats under the brands MirroCraft and Montego Bay, respectively. The company got its start in 1956 in Manitowoc and proudly references its Wisconsin heritage on the website.
Primarily utilizing the lakes and rivers of Oconto County for photo shoots, the company's catalogs and marketing materials are distributed across the country and feature the pristine waters of  Wisconsin.
Two other well-known brands have impressive facts to boast. St. Croix Rods, based in Park Falls and billing itself as "the best rods on Earth," is the largest handcrafter of fishing rods in the country. In Osceola, Bending Branches, which recently acquired and moved production of Aqua-Bound to Wisconsin, is the world's largest manufacturer of paddles for canoes, kayaks and stand-up boards.
St. Croix Rods employs about 170 people in Wisconsin, and 32 pairs of hands touch each rod crafted in its factory.  With the addition of the new  Victory rod to their lineup, the company is preparing to add more jobs.
"We want to be good stewards of our Northwoods community, and adding good-paying, meaningful jobs for our people means victory to us," said Jesse Simpkins, director of marketing.
In its marketing videos, Bending Branches notes paddling is more than a job for employees:  "It's a way of life. It's in our DNA and drives the passion we have for serving fellow paddlers."
Marketing manager Andrew Stern added:  "We are very fortunate to live in a state with an Office of Outdoor Recreation that obviously cares about growing our industry and outdoor recreation in general."
Likewise, the company demonstrates its care for the outdoors through the locally sourced wood for which their brand of paddles is known.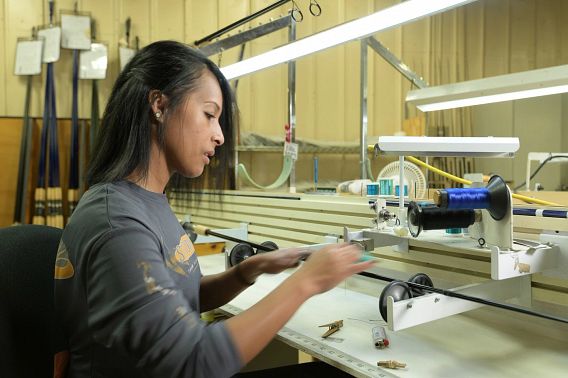 ST. CROIX RODS
KEEPING A COMPETITIVE EDGE
That's because in Wisconsin, we don't just fish, paddle, hunt and go birding, we craft the gear that makes these experiences memorable. Being able to get outside inspires us; it keeps these makers and their businesses passion-filled and competitive in the long-term.
There is a direct connection between the state's natural resources, how we enjoy them and the economic health and overall well-being of  Wisconsin and its residents. It is the mission of the Department of Tourism's Office of Outdoor Recreation to support and uplift this essential industry.
With focus and leadership to connect the dots, we can leverage the state's natural playground, its legacy of stewardship and our fun-loving affection for the outdoors to make Wisconsin the top choice for outdoor manufacturers and travelers alike.
Anne Sayers is the acting secretary of the Wisconsin Department of Tourism, where she combines her love for marketing, organizational management and all things Wisconsin. Find more travel inspiration for your next adventure at travelwisconsin.com.
JUST OUTSIDE THE DOOR
Find out why these outdoor brands proudly call Wisconsin home when you explore their back yards. Enjoy these Wisconsin gems and see how the state's natural resources inspire the outdoor gear that's made by the adjacent companies.
Flambeau River State Forest, near St. Croix Rods
Two branches of the Flambeau River flow through the forest. Nine boat landings offer access to the river and many lakes where an angler can motor, paddle or just wade in from shore to cast a line. Stay a while at one of the two campgrounds, many canoe campsites or the property's accessible yurt.
Barneveld Prairie State Natural Area, near Vortex Optics
Located adjacent to the Vortex headquarters, this remnant of tallgrass prairie boasts several grassland bird species now declining in population. A sensitive area, the trails are primitive and unmarked, but open year-round.
Oconto River State Trail, near Northport Marine
Along the banks of the Oconto River, the former railroad is a favorite hiking and biking path with easy access to the river for sightseeing, paddling and fishing. In Oconto, access the river or the Bay of Green Bay for more boating options. In the winter, snowmobiling is permitted on the trail.
— WISCONSIN DEPARTMENT OF TOURISM