Long list of 'firsts' for Wisconsin forestry
Work through the decades forms foundation for today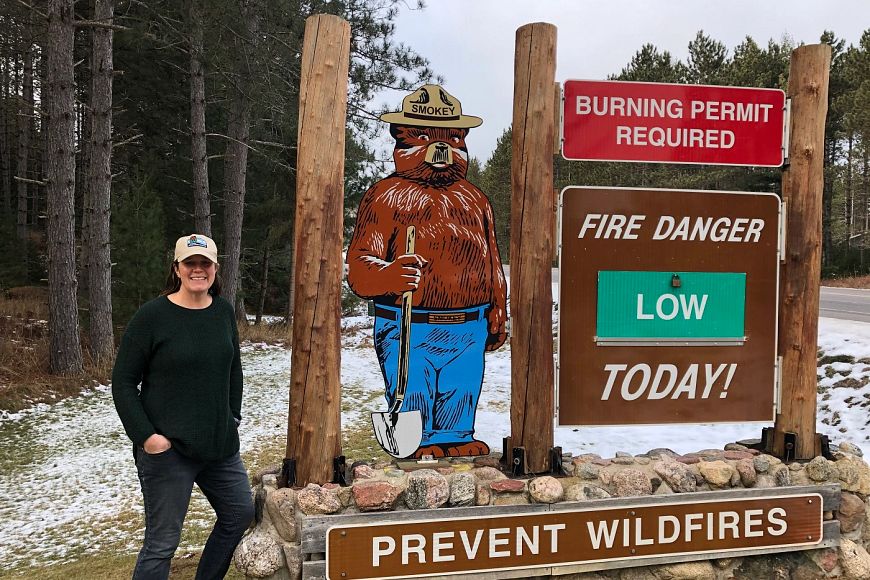 BRYCE BERKLUND
Many of the programs that form the foundation of the DNR's Division of Forestry began in the early 1900s under the leadership of Wisconsin's first chief state forester, E.M. Griffith, and other early forestry leaders.
Through the decades, state forestry leaders have built on the foundations of these early efforts and established new programs to meet today's needs. Here are a few "firsts" in Wisconsin forest history.
1809 — First sawmill built in Wisconsin, near present day De Pere.
1867 — First forestry commission authorized by the State Legislature to study forest destruction.
1871 — Peshtigo fire in Marinette County burns over 1 million acres and claims more than 1,200 lives.
1892 – First official observance of Arbor Day in Wisconsin.
1895 — Organized forest fire prevention begins as Wisconsin adopts first town fire warden laws.
1899 — Wisconsin leads the nation in lumber production, and the lumber industry affects nearly every aspect of the state's economy.
1904 — E.M. Griffith becomes the state's first professionally trained forester.
1910 — U.S. Forest Service opens the Forest Products Laboratory in Madison, the first wood products research institution in the nation.
1911 — First state nursery is established at Trout Lake in Vilas County. Since then, state nurseries have produced more than 1.6 billion seedlings for reforestation purposes.
1911 — State hires its first group of 12 foresters.
1915 — Jack Vilas makes an aerial forest patrol flight from Trout Lake, marking the first time anywhere an aircraft is used for detecting forest fires.1918 — Milwaukee's forestry program begins with the hiring of Otto Spidel as city forester.
1925 — The UW-Madison College of Agriculture begins a farm forestry program, and Fred Wilson is Wisconsin's first UW-Extension forester.
1927 — First forest land tax relief legislation is enacted with the passage of the Forest Crop Law.
1927 — The County Forest Reserve Law is enacted as a method of reforesting land suitable only for growing trees.
1928 — Langlade County establishes the first county forest, and Laona and Crandon establish the first school forests.
1933 — Civilian Conservation Corps is formed, providing employment during the Depression for 93,094 Wisconsin men at 38 camps, with much of the work related to forestry.
1935 — Wisconsin's first statewide forest inventory is conducted.
1944 — USDA Forest Service creates Smokey Bear to teach wildfire prevention. Six years later, Wisconsin unveils the first Smokey costume.
1949 — State Forestry Board implements a program for survey and control of forest insects.
1950  — Wisconsin unveils the first Smokey Bear costume in Mercer.
1958 — Soil Bank Program increases tree planting to record levels.
1968 — Wisconsin Conservation Department and environmental protection functions from other state agencies are incorporated under one umbrella, creating the Wisconsin Department of Natural Resources.
1970 — UW-Madison and UW-Stevens Point begin offering degrees in forestry.
1979 – Wisconsin Woodland Owners Association forms.
1995 — State statutes are revised to include the principle of sustainable forest management.
1999 — The Karner Blue Butterfly Habitat Conservation Plan is approved, providing an innovative, statewide approach to species recovery that includes forest habitat considerations.
2004 — Ten state forests receive third-party sustainable forestry certification. Today, nearly 7.5 million acres of forest land in Wisconsin are certified.
2008 — Emerald ash borer, a major cause of ash mortality, arrives in Wisconsin; it has now been detected in 58 of the state's 72 counties.
2015 — Through the Good Neighbor Authority program, DNR begins partnering with counties and consulting foresters to help implement the Chequamegon-Nicolet National Forest land management plan, including forest management and other restoration activities.
2020 — Wisconsin ranks second in the national Tree City USA program with 195 communities participating.
2020 — Heather Berklund is hired as the first woman to lead Wisconsin's state forestry program. "E.M. Griffith, our first state forester, foresaw a bright future for Wisconsin's forests," Berklund said. "I share his vision and look forward to continuing to work with our partners as we continue to build on this rich history of Wisconsin forestry."
—    DNR STAFF