Taste of Wisconsin
As weather warms, foragers discover their sweet spot
Kyle Cherek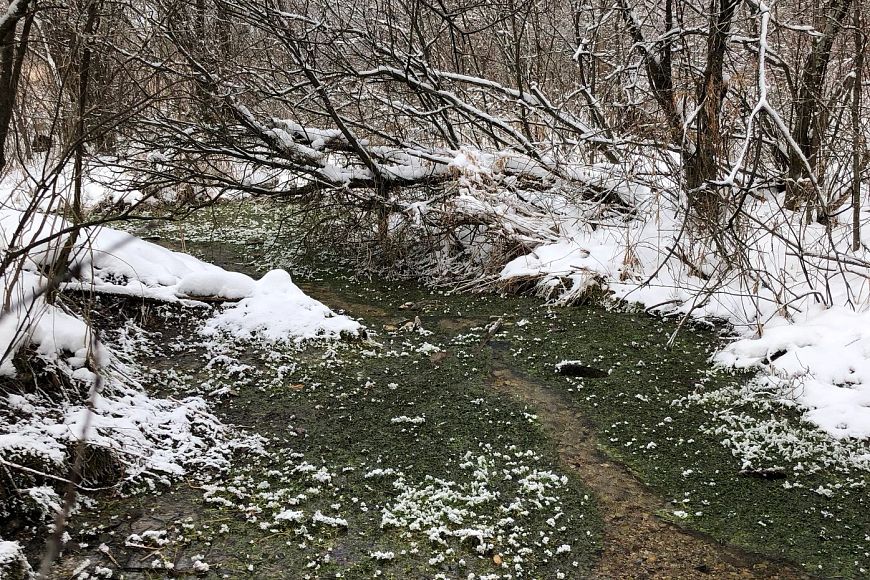 KYLE CHEREK
There's probably more written about spring by poets and prose writers than any other season.
T.S. Elliot called April "the cruelest month," and the late Wisconsin journalist Doug Larson, known for his long-running column in the Green Bay Press-Gazette, once wrote: "Spring is when you feel like whistling, even with a shoe full of mush."
I'm apt to agree with Larson; spring is easily the most mercurial season. The gorgeous warm melt of a 65-degree day can quickly be diminished to what feels like a hallucination by an overnight snow.
In my years of filming with the PBS show "Wisconsin Foodie," production always shied away from spring because of just this reason. Plans for a segment on a farm or any location outdoors would be pressed sideways via the wild card of the weather.
By early spring, however, farmers and chefs alike were both twitching to "get on with it" — "it" being planting and planning for the farmers and "anything but root vegetables" for chefs, as one once declared to me.
About the only folks who found their spark in the food world in the zig-zagging waves of cold and warmth were the foragers.
Not the casual ones, mind you, the "I'm going for a walk in the woods" kind. No, I mean the kind of foragers who look out across fern and fauna and see more than a dozen good things to eat — sprouting, budding or spawning, as the case may be.
WATERCRESS GOES WITH THE FLOW
Three springs ago, I got a call from my brother-in-law Joe, one such dedicated forager, to let me know he was bringing me a mother lode of watercress (Nasturtium officinale).
This semiaquatic perennial can grow while submerged or snugged up to wet soil. It will grow happily in lakes, ponds, rivers, streams, springs and simply moist ground, but its sweet spot is the shallow bubbling springs that refuse to freeze over, even in our deep Wisconsin winters.
Joe had found just that sort of spot in southeastern Wisconsin, a spring on a long since abandoned farm. The falling-down barn gave way to a vibrant green path of watercress covering the creek made by the ever-burbling spring.
This white watercress tasted smooth with a mild biting hot finish after a few chews. My wife and I experimented with a couple of recipes, and I spent the next day dropping off huge bunches of the watercress to a few very grateful chef buddies who worked it into their evening specials.
The joy of bringing them a fresh green and growing thing foraged from the local landscape made the errand worth it. "You're the only one who would know what to do with it," Joe said of the bounty of watercress.
In truth, I had only eaten watercress prepared by those who did know what to do with it, but a few Google searches and we had a slew of recipes for soups, salads or as a sauteed side. My favorite was one cooked down with a glance of oil to use as a side with honey and soy glazed pork tenderloin with rice.
Foraging watercress is easy — it's the deep-green growing thing just atop fresh moving water. Winter and early spring are the right times to do it, though in my experience only the hardy will brave any real cold to forage it.
Watercress thrives in July sunshine, but its flavor heats right up, too. Think of a mating of arugula and pure wasabi. Maybe there are some who like that kind of heat, but I'll pass.
MORELS MOST POPULAR
Easily the widest-foraged anything across Wisconsin is morel mushrooms. On "Wisconsin Foodie," one early episode centered around a morel hunt we filmed with Britt Bunyard, a noted mycologist and editor of Fungi Magazine. It was short on drama of the find, with no morel sightings, but fun just the same.
More than a decade later, the show had better luck. Filming in the state's Driftless Region, our guide took us to a mild slope where we just couldn't stop seeing morels. Moreover, the enormity of the mushrooms was beyond the best I'd seen — a full hand size or better.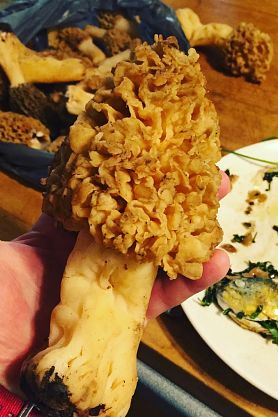 DNR FILES
Lucky foragers may find morels that grow to be a full hand size or better.
Morels (Morchella esculenta) tend to grow around or under a slew of different trees, from ash to elm to sycamore and even fruit trees, though I've had my best luck with ash. Morels are great spring foraging, but they echo the season's own capricious spirit.
The temperature has to be just right, low 60s to 70s, with a ground temperature in the 50s. A light drizzly misting sort of precipitation the night before or early that morning helps, too.
Make no mistake, Wisconsin is the unequivocal center for morel hunting. You can take my word for it, consult the plethora of culinary magazines that have featured the state's morels or make note of something more fun — the Muscoda Morel Mushroom Festival.
In non-COVID times, the festival is a fixture each May, transforming this small western Wisconsin town into the morel capital of the world. The Muscoda American Legion is ground zero for thousands of morels foraged by locals in the few days leading up to the festival. The morels are cleaned, weighed, bagged and sold as a fundraiser for the community.
As far as recipes for morels, there are a ton at keyboard or smartphone reach. I like this one because it incorporates another spring favorite, asparagus. The recipe also includes heavy cream, a nod to our beloved Dairy State. It serves two just fine.
Kyle Cherek is a culinary historian, food  essayist and former host of the Emmy Award-winning TV show "Wisconsin Foodie" on PBS. He and his wife own Amuse Bouche Entertainment Productions and together create unique culinary events including presentations, cooking demonstrations and storytelling dinners.
Morels and asparagus with creamy pasta
INGREDIENTS
3 ounces fresh morel mushrooms, wiped clean
4 tablespoons unsalted butter plus a splash of olive oil to taste
1 small shallot, finely chopped (about 1 tablespoon), or substitute a red or yellow onion
1 pound asparagus, trimmed and cut on the diagonal into 1½-inch slices
1¼ cups heavy cream
2 teaspoons fresh thyme leaves (dried are OK if they're from a good source)
Kosher salt and freshly ground black pepper
6 ounces linguine or fettuccine
3 tablespoons freshly grated Parmigiano-Reggiano (must be fresh; dried and processed just won't do)
INSTRUCTIONS
If the morels are on the big side, cut them in half lengthwise. You want them about the size of your thumb. Melt the butter in a large skillet over medium heat. Add the diced shallots and cook for about one minute but do not brown. Add optional olive oil.
Add the morels and saute, stirring occasionally until tender, probably seven to 10 minutes. Add the sliced asparagus, cream and thyme and simmer until the asparagus is tender but not too soft and the sauce is slightly thickened, probably five minutes on medium heat. Season as desired with salt and pepper.
On another burner, cook the pasta until al dente. Drain and toss with the asparagus and morels. Grate the Parmigiano-Reggiano over it all and toss gently to coat the pasta, morels and asparagus with unctuous cheese. Serve immediately.